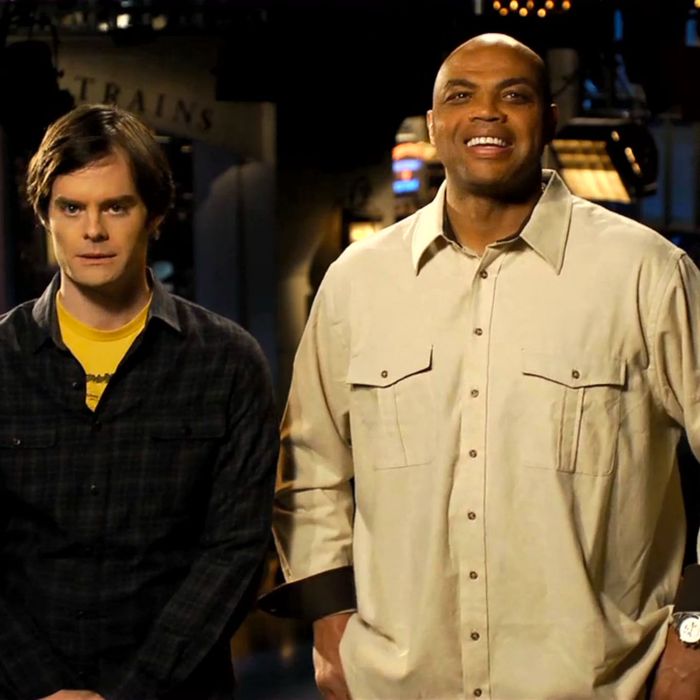 Former NBA star/current NBA commentator Charles Barkley makes his third appearance as guest host on Saturday Night Live tomorrow, and given his reputation for telling it like it is, the NBC censor may want to avoid possible FCC actions by turning on the old ten-second delay. But Barkley isn't the only guest coming to the show who can get attention from the public by sharing unvarnished, sometimes controversial opinions: Will musical guest Kelly Clarkson get a platform (other than Twitter) from which to endorse Ron Paul?
11:30 p.m. Cold Open: Michele Bachmann (Kristen Wiig) tearfully tells supporters she's suspending her presidential campaign, while her husband Marcus (Bobby Moynihan) mugs behind her.
11:37 p.m. Monologue: Host Charles Barkley is interrupted by his new TNT colleague, Shaquille O'Neal (cameo as himself).
11:43 p.m. On "The Charles Barkley Show," host Barkley (Kenan Thompson) welcomes his old NBA cronies Magic Johnson (Barkley) and Larry Bird (Jason Sudeikis).
11:47 p.m. Commercial Parody: Weight Watchers pitchpersons Charles Barkley (as himself) and Jennifer Hudson (Nasim Pedrad) get competitive in delivering their calls to action.
11:50 p.m. A harried customer (Barkley) tries to return items at Target, only to be thwarted by a distracted cashier (Wiig).
11:57 p.m. Commercial Parody: NBC announces some of the contestants under consideration for upcoming seasons of The Celebrity Apprentice, including Dolph Lundgren (Bill Hader), Tempestt Bledsoe (Pedrad), and Jimmy McMillan (Thompson).
12:02 p.m. Barkley appears in "What Up With That?" as an elaborately costumed cello virtuoso.
12:05 p.m. On The Bachelor, Ben Flajnik (Hader) is captivated by an extraordinarily tall and well-built Bachelorette (Barkley).
12:10 a.m. [Kelly Clarkson performs.]
12:16 a.m. "Weekend Update" features Kelly Clarkson (as herself) joining Ron Paul (Paul Brittain) to explain why she's supporting his presidential campaign; and two actual cross-dressing pharmaceutical reps (Armisen and Sudeikis) complain that the new sitcom Work It does a poor job of portraying their plight.
12:28 a.m. Commercial Parody: Charles Barkley will appear in the sequel to The Girl With the Dragon Tattoo.
12:37 a.m. Two A-Holes (Wiig and Sudeikis) interact with candidates seeking their votes in the New Hampshire primary.
12:47 a.m. [Kelly Clarkson performs.]
12:53 a.m. Barkley presents the world's oldest extant basketball footage to show how much the game has evolved.
12:59 a.m. Good night!