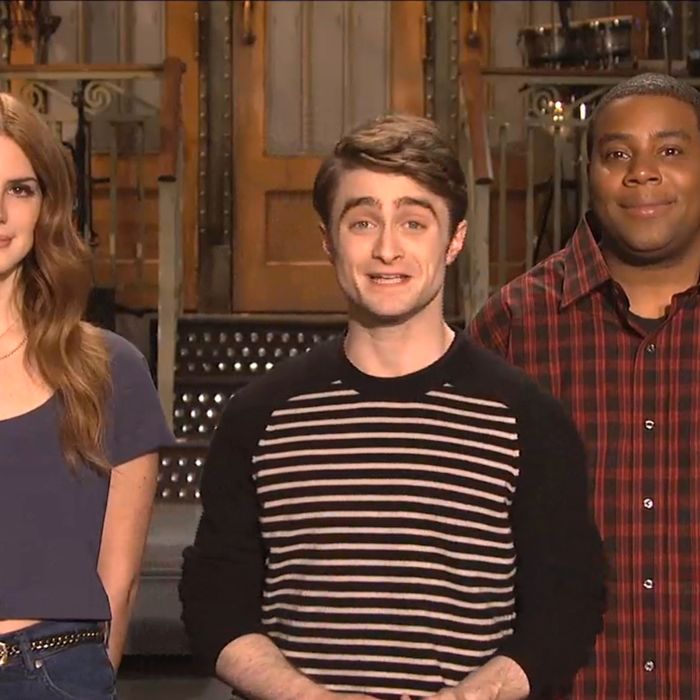 Daniel Radcliffe has conquered Broadway (in Equus and How to Succeed in Business Without Really Trying), held his own opposite Ricky Gervais (in Extras), and defeated the very embodiment of evil in the Harry Potter movies. But tomorrow night, he will take on the challenge of live TV when he makes his debut on Saturday Night Live. How will the show's producers put Radcliffe's gifts to good use while also covering the events of the week? Here are some educated guesses.
 11:30 p.m. Cold Open: Speaking to supporters after the New Hampshire primary, Jon Huntsman (Taran Killam) tries to put a positive spin on his third-place finish.
11:37 p.m. Monologue: Host Daniel Radcliffe opens the floor for questions from the audience, only to be barraged with arcane inquiries about the Harry Potter franchise.
11:39 p.m. Commercial Parody: Producers of the Wonderful Pistachios TV campaign continue lining up odious pop-culture personalities to promote their product. This spot stars Courtney Stodden (Abby Elliott) and Doug Hutchison (Fred Armisen).
11:41 p.m. Ricky Gervais (Jason Sudeikis) hosts the Golden Globe Awards, inciting increasingly hostile responses from celebrity attendees.
11:48 p.m. Two A-Holes (Sudeikis and Kristen Wiig) volunteer on Ron Paul's presidential campaign.
11:53 p.m. Commercial Parody: Child beauty queen Eden Wood (Radcliffe) endorses Wonderful Pistachios.
11:57 p.m. Tim Gunn (Killam) and Ty Pennington (Radcliffe) anchor a segment of their new daytime talk show, The Revolution.
12:01 a.m. Commercial Parody: Kim Kardashian (Nasim Pedrad) starts to endorse Wonderful Pistachios, only to be replaced by an adorable dog.
12:07 a.m. [Lana Del Rey performs.]
12:13 a.m. "Weekend Update" features early impressions of life on earth from Blue Ivy Carter (Pedrad); and Rahm Emanuel (Andy Samberg) commenting on the resignation of White House Chief of Staff Bill Daley.
12:30 a.m. Radcliffe (as himself) sits for an interview with Hollywood Dish hosts Brady Trunk (Bill Hader) and Anastasia Sticks (Wiig).
12:38 a.m. A pair of enthusiastic nerds (Radcliffe and Samberg) go crazy at CES.
12:43 a.m. Digital Short: PBS's runaway hit Downton Abbey gets a folksy twist in Downtown Arby's.
12:47 a.m. [Lana Del Rey performs.]
12:53 a.m. In the bar of a Charleston, South Carolina, Embassy Suites, Jon Huntsman's daughters (Pedrad, Elliott, and Vanessa Bayer) have a meet-cute with Mitt Romney's sons (Paul Brittain, Samberg, Armisen, Radcliffe, and Killam).
12:59 a.m. Good-night!