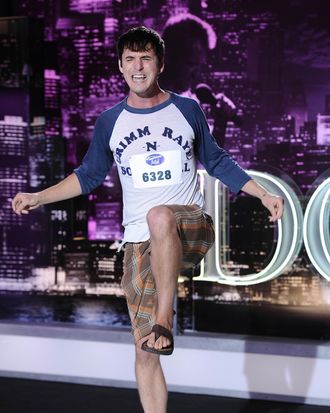 Photo: Michael Becker/FOX
While I never liked the early audition rounds of American Idol that humiliate naïve, tuneless wannabes, over ten years I became resigned to their existence. But after watching two fairly successful Idol knock-offs, Fox's X-Factor and NBC's The Voice, avoid cruelty in their opening rounds, Idol's latest dump-the-chumps segments reignited my ire. They also reminded me of how tonally off these segments always were. When the show returned this week, celebrity judges Jennifer Lopez, Steven Tyler and Randy Jackson continued the eye-rolling and nose-pinching and "Who let you in here?" shtick. It was less brutal than it was during the Simon Cowell era, but still obnoxious. And dated. And unnecessary.
For all its flaws, American Idol is sunny and embracing, a narrative of self-improvement in which ambitious and talented newcomers learn to be professional. The producers should dump these parts of the audition episodes, as they contribute nothing to the series. They don't even rate a mention in recaps. All they do is make the show's warmth seem phony, and make the judges look like wealthy assholes picking on people who were set up to fail.
I'm not talking about the wannabe-professionals who might conceivably become professionals someday — the ones who the judges select because they have hints of talent and charisma. We should expect those people to be able to take criticism and shrug off abuse because they have the potential to make it in showbiz, and showbiz demands a thick skin. (And yet when it comes to them, the judges somehow forget how to criticize.) I'm talking about the deluded souls who never really had a shot — the ones who sing in the shower or on karaoke night or in a church choir, then take off from their jobs and travel to an audition city believing they've got that elusive "It", only to be greeted with aghast stares or cutting remarks while the camera zooms for a better look at their tears.
For every William Hung, who parlayed his disastrous audition into a brief stint as a late night punchline, or Chris Wylde, a comedian who punked the show in 2005 by pretending to be a rapping nanny, or Savannah contestant Mawuena Kodjo, a tone-deaf West African immigrant and country music fan who was treated with kid gloves by the panel on Wednesday's show and then paraded around the parking lot like a freak of nature by Ryan Seacrest, there are dozens more who have no capacity to deal with this sort of exposure. And there's no good reason to put them through it. At least the people who tried out for The Gong Show back in the 1970s knew they were invited on because they sucked. They weren't walking into a trap.
After contestant Joshua Chavis finished his disastrous tryout in Savannah last week, Jackson smugly asked Tyler, "Should we hear one more, Steven, what are we thinking?" "Ha, ha, ha," Tyler replied. This was followed by footage of Chavis crying while American Idol cameras pursued him. Seacrest segued out of the montage with, "While Joshua goes back home to finish his hissy fit…." What a bunch of dicks.
Yes, I know, everyone who tries out for American Idol has seen the show, so they know what might happen to them. But here's the thing: Jackson, Lopez and Tyler don't personally see every single person who tries out. There aren't enough hours in the day. They only see the people who were sent on by layers of judges underneath them, the herd-thinners. Nobody tasked with herd thinning believes that the tone-deaf Pollyannas have a shot. These people get sent because every Idol season has started out with generous dollops of humiliation. And tradition, no matter how specious, eventually becomes a hallowed part of the brand, sacred and untouchable.
But it doesn't have to be. The Idol method, which has softened since the Cowell era but still feels nasty, now feels like a vestigial appendage of a time when the show had the airwaves to itself. The Voice pilot kicked off with the judges listening only to people who were decent singers and it didn't seem to hurt the show's popularity. Simon Cowell's Idol revamp X Factor gave airtime to a few people who probably shouldn't have been let through, but the worst of the lot were more talented than most of the terminal cases who get let through on Idol, and the live audience balanced things out, creating a Showtime at the Apollo atmosphere that let performers rally the crowd and exit with dignity. Apparently Cowell, who built his reputation and Idol's early ratings success on sneering bitchery, no longer feels that random hazing is integral to the brand. So why should Idol?