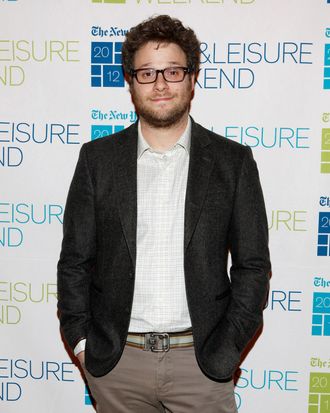 Seth Rogen.
Photo: Cindy Ord/Getty Images
It was reported this week that Seth Rogen will make his directorial debut on the comedic end-of-the-world movie The Apocalypse, but when we caught up with Rogen at last night's TimesTalks, he admitted, "It's funny — until a contract's totally closed I don't think a movie's happening, and the contract's not completely closed on this one. So I feel like I don't want to jinx anything, but I hope I'm the best director of all time." Rogen joked that though the conceit of The Apocalypse finds him and his famous friends trapped in James Franco's apartment while the world ends, his mother already has him well prepared for catastrophic events. "My mother made me have [a kit] when I moved into my own house in California," he laughed. "When I got a house she was like, 'You're going to have an earthquake preparedness kit' … I've literally never opened it. There could be nothing in it at all. That would be a sick fucking joke."
Rogen was at the TimesTalks at The New York Times Art & Leisure Weekend to discuss 50/50 with his friend and screenwriter, Will Reiser, and when Vulture asked about the well-liked movie's Oscar chances, Rogen was blunt: "I think Will, honestly, has the best shot of being nominated out of anyone with the movie." Perhaps that's for the best, as Rogen says he doesn't have much of a game plan for accepting awards. "I got nominated for an Emmy once [for writing on HBO's Da Ali G Show] and I did not write a speech," he said. "I knew we weren't going to win. I was 100 percent sure that The Daily Show was going to beat us." Anyway, said Rogen, "I feel like if I won an award and I was giving my speech and the music started, that's all I'd remember, the humiliation I felt when the music started. It would mar the entire experience for me." Take note, awards ceremony conductors of the world: Your overeager cues can hurt.