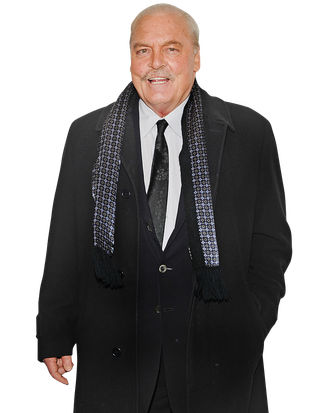 Stacy Keach.
Photo: Theo Wargo/ WireImage
At a certain point in the seventies, Stacy Keach seemed on a career arc similar to contemporaries Robert De Niro, Dustin Hoffman, and Al Pacino. Onstage, he had won four Drama Desk Awards and been nominated for a Tony, while onscreen, he was working with directors like Robert Altman (Brewster McCloud) and John Huston (Fat City). But Keach tried so strenuously to avoid being pigeonholed (hence his turn as a stoner cop in Cheech and Chong's Up in Smoke) and remained so committed to theater that his moment passed him by; he found a different sort of stardom in the eighties on TV's The New Mike Hammer, then nearly undermined that when he got arrested in London for cocaine possession. Since those days he has ping-ponged from projects great and small (American History X, Titus, narrating World's Most Amazing Videos), but has always kept busy: Currently he's receiving raves playing the brush-it-under-the-rug patriarch Lyman Wyeth in Other Desert Cities on Broadway. And when The Bourne Legacy is released later this year, it will mark the first time Stacy Keach has appeared in a Hollywood blockbuster since — well, since forever. We asked the affable Keach if he would take us through his résumé a bit, and his anecdotes of film's most venerated and bizarre figures did not disappoint. 
You've been prominent in theater, television, and movies for 45 years, yet you've picked up and shed many personas along the way. What happens when you get recognized in public?
I used to go to the airport and have people say, "Didn't you used to be Mike Hammer?" Then it became, "Didn't you used to be Papa Titus?" But recently someone came up to me and said, "Didn't you used to be Stacy Keach?"
You had done some television as a teen but were essentially a stage actor. Was it difficult making the transition from theater to movies?
At first I was uptight in front of the camera, worrying about it probing my inner soul. But on my second movie, End of the Road, the cinematographer was Gordon Willis. [It was Willis's first movie.] He saw that and said, "Let me introduce you to Mitchell." He had personalized the camera. He said, "This is Stacy Keach, you'll be shooting him for the next few weeks." So whenever I was on the set, I'd say, "Hi, Mitch, how's it going," and it helped relax me even though I probably seemed a little crazy."
In the seventies, you were on the verge of movie stardom, yet you seemed to have consciously avoided that route with the roles you chose.
When I first started acting in movies, an agent said, "You're wonderful, but people don't know who you are." People want to typecast you; it's human nature. When I was filming New Centurions with George C. Scott, we were shooting a night scene and a guy on the street shouted, "Hello, Patton." George stopped in the middle of his take and said to the guy, "I'm not Patton, I'm George C Scott." He took that very seriously.
My objective was to have as varied a selection of roles as possible. It probably did hurt my career. And then I decided to do television, to do Caribe [a short-lived 1975 cop show]. Frankly, I did that so I could have enough financial resources to do Shakespeare for $500 a week and still raise a family. When I did comedy like [Up in Smoke] my objective was not to change perceptions of who I am but to extend my own behavioral vocabulary. But it confuses people. My choices have had a cost attached to it. But I've gotten to play Hamlet, and Richard III, and King Lear, and I would not give that up for anything.

So what made you commit to the Mike Hammer series in the eighties?
In the fifties, I loved Mickey Spillane. I kept his books under my bed. They were like soft porn in those days — my parents would shout in, "Are you reading that crud again?" I loved the street poetry and the wit in his metaphors and I wanted find the humor in his character and the conscience. 
But when you got busted for cocaine it endangered the whole project.
I thought it was over, I really did. When CBS took me back I was really grateful. I went to Washington to testify about my problem. Nancy Reagan even took me under her wing.
I've drawn from the experience since then at times. In Prison Break, I tried to model the warden after the warden I had in England who had great compassion and wanted to help inmates rehabilitate themselves rather than punish them.
You worked with John Huston twice, in Fat City and The Life and Times of Judge Roy Bean.
I also acted with him in a movie called The Greatest Battle. The movie is just awful, but it had some great moments. I was playing a quasi-good Nazi soldier, Henry Fonda played an American general, and John played an Irish professor. But the director [Umberto Lenzi] was Italian and didn't speak any English. There's a scene where we were sitting around a dinner table discussing why Hitler did not shake hands with Jesse Owens. I was worried about my German accent — I didn't want to do too much — but couldn't ask the director. So I asked John, since he'd directed me. "He said, 'Don't talk to me, I'm only an actor here … and I'm not sure about my accent either.'"
Orson Welles served as narrator in that movie, but you worked with him again in Butterfly, the notorious movie featuring incest between your character and the widely panned Pia Zadora.
I loved the original James M. Cain story — I was always fascinated by Cain. And I got to work with Orson. He still had the extraordinary ability to pinpoint what a scene was about. He was enormous then. He played the judge and he'd arrive on set before anybody else and sit in judge's robes and then be the last one out. The two of us had dinner at the MGM Grand Hotel and a little old lady came up for his autograph and he said, "Not while I'm eating, dear." He had two orders of roast beef and baked potato … because he was on a diet. But we talked about Shakespeare and I was in heaven.
You've made some other unusual choices. Mountain of the Cannibal God, another Italian-made movie, is remembered — if it is at all — because animals were harmed for the movie. A monitor lizard was gutted on-camera and the director used footage of a monkey being eaten by a python.
Actors make choices for different reasons. I wanted to go to Sri Lanka and I wanted to work with Ursula Andress. I was having a great time, getting to see the world. The most memorable moment came when we were filming this scene where our raft collapses in the river and we swim ashore, Ursula, myself and the guide played by Claudio Cassinelli. A cobra was supposed to come up in the weeds, and Claudio had to grab the snake from behind the head and kill it. It was all very carefully staged with snake handlers showing him what to do. But he was terrified and it took till take 20 or 50 or something till he could get himself to grab the snake. Then the next day we were filming the part leading up to that where we're swimming to shore and while we're in the water, a white cobra started climbing on Ursula's back. Only this time it was for real. The snake was about to kill her. But Claudio just grabbed the snake like he had learned to do the day before and he saved her life. I wish I could have done that.
What's your favorite movie most people have never seen?
The 9th Configuration. I played a psychiatrist in an asylum for soldiers. It was written by William Peter Blatty [of The Exorcist fame]. It was very esoteric. I loved the role and the movie.
You've done so many others, we could go on and on, from a modern Western like Doc to Children of the Corn 666: Isaac's Return.
Oh my God. Children of the Corn had one of my better death scenes. I was electrocuted. In Other Desert Cities, my character used to be an actor and I could relate to his line, "Nobody at Warners died like me. It's one thing I had a knack for." I have to put together all my death scenes on film. I've thought about doing that; I have to get back to it. My best ever was in Class of 1999 when a robot comes up from behind me and puts his hand through me and takes out my heart.