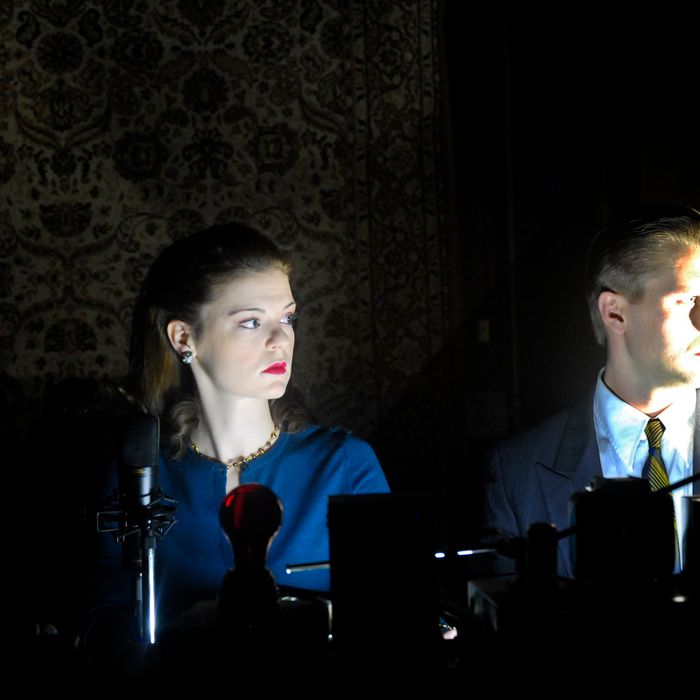 Stephanie Wright Thompson and Joe Curnutte in 'Samuel & Alasdair: A Personal History of the Robot War.'
Photo: Ian Saville
It's finally cold outside, the big holiday openings are behind us, and the time has come to hunker down in theater's root cellar, where weird, dark, delicious things are growing. The midwinter experimental festivals are cranking up: Under the Radar (headquartered at the Public) and COIL (from P.S. 122). But beyond the precincts of festival programming, other small, worthy shows are stirring: One in particular, Samuel and Alasdair: A Personal History of the Robot War — imported to the subterranean New Ohio Theatre from the Brick in Williamsburg — is a masterful lo-fi goof on sci-fi doom, slyly combining postapocalyptic cold-war kitsch and cracker-barrel nostalgia with a beautiful, bleak, bare-bones love story.



More on it in a bit. First, let's talk Goodbar, the staged concept album that's kicking off the Under the Radar Festival. Concocted by the playful glam-punk outfit Bambï (umlaut noted!) and the conspicuously un-umlauted theater troupe Waterwell (Tom Ridgely and Bengal Tiger Tony nominee Arian Moayed), this video-assisted, costume-bedecked concert musical is freely adapted from Judith Rossner's sexual-revolution docu-horror novel Looking for Mr. Goodbar, itself based on the real-life tabloid-perfect murder of a beloved young female schoolteacher with a risky double life in the rough-and-tumble seventies singles scene. (The infamous 1977 film version starring Diane Keaton and Richard Gere makes no appearance, nor does its disco-infected soundtrack.)

"Theresa," our lost and lovelorn heroine, is played by Bambï front woman Hanna Cheek: She wears bruises on her upper arms like stripes of rank, and suffers body-image issues from a scar along her spine, which was twisted at birth. ("We've got to open you up / To straighten you out" is the best lyrical motif Goodbar has going for it.)  Cheek's co-rocker, Kevin Townley, supplies voices, growls, and hip thrusts for the many men who enter Theresa's life after she invents "Terry," her bed-hopping, bar-cruising alter ego. Today, the Goodbar story has been reduced to a metonym for seventies sexual masochism, a reactionary bedtime story. Bambï and Waterwell respond by converting all emotional content to style and strut: Todd Solondz meets Todd Haynes meets Sweeney Todd. Which sounds fun, and is: The propulsive songs throw off sparks, and it's a great live spectacle, in the vein of last fall's Karen O-vaganza Stop the Virgens.

But, like that show, this one suffers from a hole in the heart. When the tempo slows, so does our interest: There's very little human contact or content here. What, exactly, is Goodbar saying, with its dazzling costume changes (courtesy of the talented Erik Bergrin) and telethons worth of celebrity video-cameos (from Kelli O'Hara, Bobby Cannavale, and Moby, among others)? Ira Glass, in a potentially image-shifting pivot, shows up as a college-prof Lothario who, with some help from the Catholic Church, puts Theresa on the path to degradation. The cumulative effect of all his close-up lip-licking and suggestive pencil-sharpening is 100 percent ridiculous. What's the attitude toward the source material? Mere Millennial contempt? Voyeuristic interest? It's hard to get close enough to this show to tell. Goodbar is surprisingly sanitary and sexless, and despite all the onstage grope-miming and pelvic-popping and corset-of-dinosaur-vertebrae-wearing, Cheek and Townley come off as the safest, chastest twosome this side of Will and Grace. After a harrowing prologue — Theresa's killer's excruciatingly detailed confession — Goodbar keeps us at a decorous distance, neither seduced nor repelled: We're watching Lady Gaga's punk-infused grad thesis. If she can't be somebody's someone, Theresa sings, she'll be "nobody's everything instead." That's the kind of thinking that lands you in a big nowhere. Goodbar lights that nowhere up, but illuminates only vacuity.

Contrast that with The Mad Ones' Samuel and Alasdair: A Personal History of the Robot War, a show that's in absolute control of its own irony knob. Set in the musty studios of "Soviet Free Radio" in Irkutsk, Samuel — we slowly come to realize — is set not in the communist past, but in an alternate present: North America was destroyed decades before, in a surprise robot invasion. (The details are scant, muddled by propaganda, and totally unimportant.) The Soviet Union, last superpower standing, made common cause with other surviving nations and staved off the attackers, but only temporarily. Now four broadcast veterans — host (co-creator Joe Curnutte), pundit/expert (co-creator Marc Bovino), chanteuse (Stephanie Wright Thompson), and one-man house band (Michael Dalto) — put on their weekly hour of golden-age American nostalgia while putting up with power outages, bizarre intruding transmissions, and the unmistakable sense of something massive and malignant drawing closer and closer.

No show could be better suited to the subterranean bomb shelter that is the New Ohio's new home. The Mad Ones have dressed the space with faded Constructivist poster art and looming towers of cardboard boxes, and equipped it with every cobbled-together obsolescence of Golden Age Radio, from chunky ribbon microphones  to vacuum tubes. But Samuel is more than the sum of these parts: Unlike a great many shows that make use of these same elements (genre fiction, retro nostalgia, etc.), this production is built primarily on the remarkable chemistry of its ensemble. Their grim looks bespeak long personal histories that never need to be explained or belabored; they rarely break the frame of the radio show itself, and when they do, the effect is sensational. Their exaggerated situation is funny and fatal all at once, with no need for any extra underlining. If the show's metaphors sound like an ad hoc hipster play chest, I assure you: This is one of the most smoothly functional theatrical metaphors you'll have seen in a while, a great, small play about decline and denial and the subtler, unspoken bonds of devotion. Without a crumb of optimism, Samuel & Alasdair is still a spot of warmth in a cold world.
Goodbar is at the Public Theater through January 15.

Samuel & Alasdair is at the New Ohio Theatre through January 21.