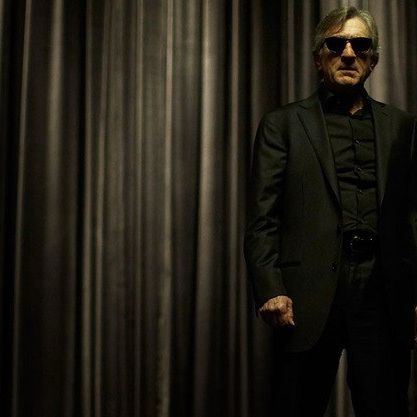 Robert De Niro in 'Red Lights.'
The day-two movies at this year's Sundance Film Festival brought with them some big names and controversial buzz. Here's what Vulture saw:
Red Lights
Plot: Director Rodrigo Cortes follows up Buried — where he buried Ryan Reynolds alive and made a splash at Sundance a few years back — with this story of scientists Dr. Margaret Matheson (Sigourney Weaver) and Dr. Tom Buckley (Cillian Murphy), who travel around debunking the work of psychics, mediums, and all other paranormal phenomena. Things get weird and complicated when Matheson's long-time rival, Simon Silver (Robert De Niro), comes out of a 30-year retirement to demonstrate his talents at healing, mind control, and projecting his thoughts onto film … but is he for real?
Reaction: Fun, suspenseful schlock, Red Lights (the name refers to the telltale signs of fraud that Matheson and Buckley are trained to spot) is quite enjoyable — that is, if you can get past the fact that it's also completely over-the-top and ridiculous. All three leads rip into their meaty parts, and there's a great, extremely violent, completely gratuitous fight in a bathroom complete with lots of blood and broken porcelain. And, no, the final six minutes do not make any sense, and it's not worth trying to figure out what they mean.
Simon Killer
Plot: In the second film from director Antonio Campos (Afterschool), an American in Paris (Brady Corbet) walks around in a daze, masturbates, falls into a relationship with a French prostitute, and freeloads off of anyone who will have him. Then, things get violent.
Reaction: Here we have perhaps the most polarizing film of the fest so far. The misogynistic mope-fest feels aimlessly improvised until about halfway through, when the filmmakers decided, "Well, something needs to happen," and then turned their lead character into an amoral psychotic. Buzz was not kind in the lobby afterwards, and while Movieline's Jen Yamato was somewhat sympathetic, Jeff Wells called it "an empty, meandering audience-torture film."
Celeste and Jesse Forever
Plot: Celeste (Rashida Jones, who also co-wrote) and Jesse (Andy Samberg) are longtime loves who decide to amicably divorce since man-child Jesse can't quite pull his act together. ("He doesn't have a checking account," complains Celeste to a friend.) The wrench in the works? After the split, Jesse does grow up under the aegis of a new girlfriend, and Celeste can't bear that it's happening without her.
Reaction: Jones and Samberg are best known for their contributions to NBC comedy, but this movie really works when both get dramatic. Celeste and Jesse can't seem to figure out what their new arrangement entails, so they keep messing it up in ways that are at first predictable and then turn poignant: When a confused Jesse spoons Celeste and whispers that he can't believe a major landmark in his life is happening without her, the wrenching look on the face of Jones says it all. A quibble: While the filmmakers admirably sidestepped that glossy romcom look, we wish the cinematography wasn't so dingy! Both the Hollywood Reporter and Variety mostly appreciated the modest goals of the movie, though the AV Club's Noel Murray dissented, finding the screenplay "shapeless and witless."
Keep the Lights On
Plot: Filmmaker Eric (Thure Lindhart) falls for golden-boy publishing whiz Paul (Dustin-Lance-Black-a-like Zachary Booth), but Paul's crack habit and tendency to go off the grid takes a toll over their nine-year relationship.
Reaction: Who the hell is Thure Lindhart? The Danish actor is apparently a big star abroad, but expect Hollywood to catch up after his terrific performance in this film by director Ira Sachs. Strong and sure, the film is a somewhat dramatized take on the tumultuous relationship Sachs had with publishing agent Bill Clegg, which Clegg wrote about in his memoir, Portrait of an Addict as a Young Man.
Monsieur Lazhar
Plot: When a teacher at a Montreal grade school hangs herself in a classroom, her place is taken by Bachir Lahzar (Mohamed Fellag), an Algerian immigrant with a mysterious past. He may not be a real teacher — in fact, he lies about his 19 years of experience — but he's wise enough to help guide kids through post-traumatic stress.
Reaction: There was hardly a disappointing beat in this Canadian drama, which is on the shortlist of Oscar nominees for Best Foreign Language Film. The New York Times calls it an "affecting drama," and the lighter moments drew genuine laughs from the audience at the Sundance press screening. Big kudos to the kids — this is by far one of the best classroom ensemble casts since School of Rock. (And take note, it's slated to open in New York this April.)
Beasts of the Southern Wild
Plot: Inspired by the people who refused to leave New Orleans after Katrina, Benh Zeitlin's directorial debut is a ode to Bayou life told through the eyes of a six year-old girl named Hushpuppy (Quvenzhané Wallis), who lives in a makeshift village in the Louisiana delta with her father, Wink (Dwight Henry). Wink teaches Hushpuppy how to live off the gulf, while a matronly medicine woman tells her tales of the world beyond the levees, which includes Ice Age boars that awaken from hibernation and wreak destruction through lands of Hushpuppy's imagination. When a storm floods their lands, the survivors take their village afloat, and Hushpuppy embarks on a bittersweet journey to become "king" of the Tub.
Reaction: It's impossible to do justice to the beautiful camerawork, evocative score, and incredible work by non-actors in this film. Wallis, who was discovered out of 3,500 candidates in a nine-month search, gives one of the most remarkable performances you'll ever see by a child actor, and Henry, a real-life bakery owner, is moving as her rage-against-the machine father trying to teach her to be a man. Steeped in magical realism, it is so much more about living and loving than about a straightforward plot (which happens to be a bit of a mess, though that doesn't matter much). On the first day of Sundance, programming director John Cooper told Vulture, "This movie is all I'm hot for these days. I'm going to get all Oprah and weird on you, but I think it's saying that we're human and we're searching and it's okay not to have answers, and it's okay to be in struggle. I mean, struggle is fun in some ways. Struggle is interesting. Who wants to lead dull lives?" He's right. This is a movie worth getting hot for.
Related: Sundance Buzz Meter: How Did the First-Day Movies Fare?
Sundance: The Electrifying Search for Sugar