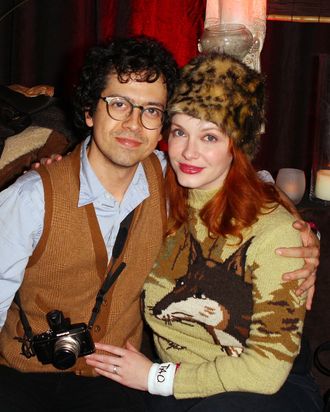 Geoffrey Arend and Christina Hendricks.
Photo: Joe Scarnici/2012 Getty Images
Geoffrey Arend is best known for his quirky roles in Body of Proof and (500) Days of Summer (as well as his real-life role as husband to Christina Hendricks), but in the Sundance romantic comedy Save the Date, he plays a bellowing indie-rock star so convincingly that you want to go on iTunes and download his songs immediately after screening the movie. When we caught up with Arend last night at Chefdance, he confessed that he's working on his own eighties-music-inspired project called Star Hold, but he's had plenty of practice at playing rock star — in fact, for a friend's musical covers party two years ago, "I did Hedwig and the Angry Inch in full getup," said Arend. "My wife would come home and I'd be walking around in white platform boots, just practicing, because I knew if I tried to rock out I'd just break my ankles because I'd never walked in platform boots before. So she'd come home and I'm dressed regularly for two thirds of my body and then I've got on these white platform boots, and she's like, 'I gotta go to bed.'" But Hendricks, too, has had to wear some perilous shoes for Mad Men! "I know, but you never expect your husband to walk around like a drag queen, you know what I mean?" laughed Arend.
In the movie, Arend and Martin Starr (still not a drug dealer) are a two-man rock band, and in many of the concert scenes, Arend is wearing either an open kimono or no shirt at all. "It's a strange thing," admitted Arend. "I don't think many people expect me to be shirtless in a movie like this." Still, he knows how essential a bare chest is to rock music, and he was delighted to find one new fan following his lead when he and Starr played a blistering set in Los Angeles for the movie. "The entire crowd at the Echo went nuts," said Arend. "I mean, one kid — the greatest moment of filming for me — we finished [the song] 'Babies' and this kid had taken his shirt off and was twirling his shirt. He was an extra! He twirled his shirt around his head and the music stopped and he realized he didn't have his shirt on, so he got embarrassed. He thought he was at a regular rock show and I turned to Martin and I was like, 'I think we did it.'"