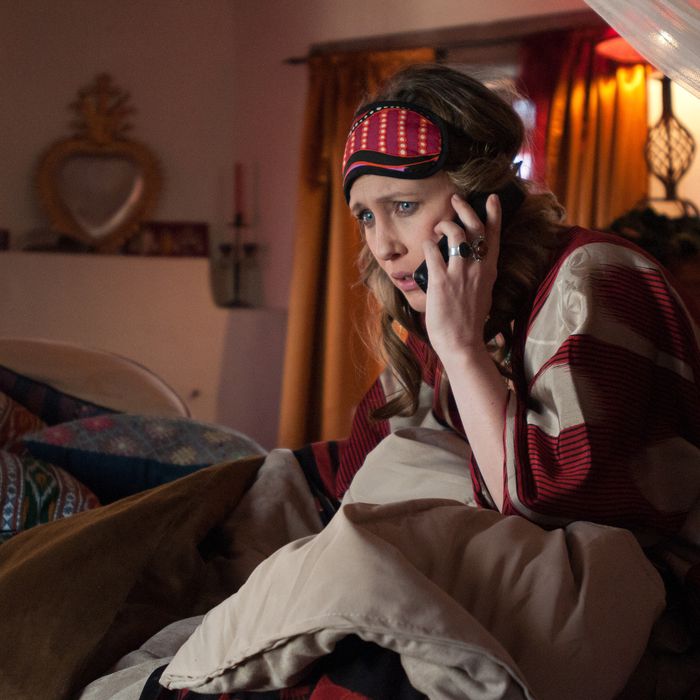 Goats
Photo: Gregory E. Peters/? 2011 Red Crown Productions, LLC.
You've already heard the buzz on yesterday's Sundance offerings, Julie Delpy's 2 Days in New York and the gonzo John Dies in the End. Now here's the breakdown of day six's offerings, phone sex and all.

GOATS
Plot: A 15-year-old (Graham Phillips, a.k.a. Zach from The Good Wife), raised by a self-absorbed New Age–y mother (Vera Farmiga) and a goat-trekking stoner/gardener known as Goat Man (David Duchovny), decides to go off to an East Coast boarding school, where he is forced to learn to fare on his own, and reconnects with his estranged father (Ty Burrell) and his father's new wife (Keri Russell).
The Reaction: At first, our disappointment with this torpid comedy stemmed from us misreading the description — we thought it was about a boy who was raised by actual goats and then went off to boarding school, which would have been a much better movie. But as it dragged on and on, big payoffs, or any payoffs at all, never came. Fans of The Good Wife will be happy to see Phillips in a larger role, but as far as young actors in Sundance movies go, he's way out of his depth and every adult is insufferably annoying, particularly, and most disappointingly, Farmiga. The Hollywood Reporter called out the "poorly-structured script and ineffective lead performances" and how it "aimlessly" fumbles "to achieve genuine audience engagement." Yeah, it's a mess.
For a Good Time, Call …
Plot: Written by Lauren Anne Miller (Seth Rogen's wife) and Katie Anne Naylon, this raunchy comedy follows the adventures of two mismatched and cash-strapped roommates, straight-laced Lauren (Miller, in her first acting role) and firecracker Katie (Ari Graynor), who start a phone sex line. With Justin Long as their mutual gay BFF who sets them up in Katie's grandmother's apartment and cameos from Kevin Smith and Rogen as men who call in. Fun fact: Naylon was once a phone sex operator.
The Reaction: The audience at the premiere was laughing hard for this feel-good comedy, which, beneath its out-there premise and many, many dildo jokes, has a lot of insight into love and the complexities of female relationships. It's light and drags a bit in the middle, but the ending is beyond delightful, and it's incredibly refreshing to see a comedy from the female perspective that doesn't make its heroines out to be either bitches (ahem, Bachelorette) or mopey messes incapable of fixing their own problems. It's also guaranteed to vault Graynor to the next level of comedy stars. John DeFore of the Hollywood Reporter praised the end sequence "so ludicrously stuffed with dumb double-entendres it's hard not to grin," and Eric Kohn of Indiewire called it "a jubilant celebration of raunchiness" that's "alternately grating and hilarious, often for the same reasons." Focus Features picked it up for around $2 million.
Shadow Dancer
Plot: Director James Marsh has had huge success with his documentaries Man on Wire and Project Nim, which debuted at Sundance last year, but this year he's back with his second dramatic feature, a slow-burn thriller. As a child in a Republican family in Belfast in the seventies, Colette McVeigh (Andrea Riseborough) watches helplessly as her little brother is carried into their home, covered in blood after having been caught in a crossfire. Twenty years later, she's a single mother active in the IRA with her two brothers. An aborted bombing attempt in the London subway lands her in the hands of an MI5 officer (Clive Owen), who gives her a choice: Become an informant, or go to prison and never see her son again.
The Reaction: As mentioned above, this is a slow burn, as in Tinker Tailor Soldier Spy slow, with about that level of confusion — and yet somehow it's pretty riveting. The story isn't a new one, but Marsh's way of telling it, through the eyes of a frightened Riseborough, is revelatory. Riseborough is remarkable; the camera is trained on her face for most of the movie, and she doesn't speak for the first twenty minutes, or much at all. The movie loses steam and drifts into PBS mini-series territory whenever she's not onscreen, but the ride is impressive. The Guardian called it "an opaque, slow-burning but brilliant thriller about the compulsions of terrorism" and "a poetic and unapologetically arthouse story of betrayal and loyalty."

Escape Fire: The Fight to Rescue American Healthcare
Plot: A documentary tackling an impossibly huge subject: the crisis in American health care, why it's so off the rails (both in terms of cost and results), and — perhaps most important — what can be done about it.
Reaction: Where Michael Moore's Sicko went the anguished-agitprop route, Susan Fromke and Matthew Heineman's approach is altogether more sober, interviewing health-care professionals, policy-makers, and actual patients about not only why health care is so expensive, but also why it's so lousy. That's not to say that this is a dry film. There are some genuinely harrowing moments, including a hair-raising journey on an Air Force plane transporting wounded soldiers. A surprisingly thorough, touching look at a tough subject.
The Ambassador
Plot: Danish documentarian/provocateur Mads Brügger, who made a splash at Sundance a couple of years ago with his controversial North Korean exposé The Red Chapel, gets himself a diplomatic passport and heads to Africa to indulge in and expose criminality as he attempts to smuggle blood diamonds.
Reaction: One of the more outlandish documentaries at this year's Sundance, Brugger's film, shot entirely on hidden cameras, may feel too stunt-y for some viewers — did any of us doubt that central Africa was a hotbed of corruption? — but it's also impossibly engaging and exciting, and Brugger is a lively subject, especially when he really starts to get comfortable in his newfound identity as an old school imperialist.