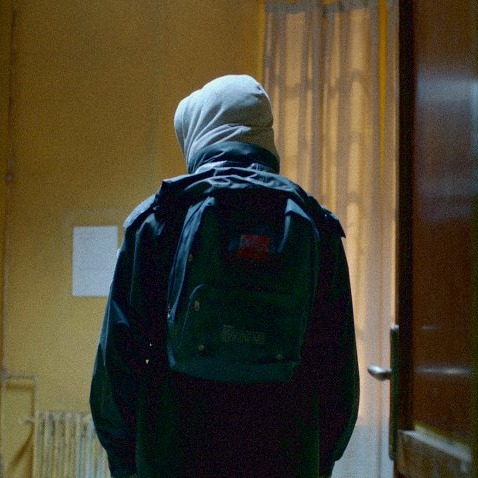 This Sunday, the Sundance Film Festival will announce its winners. In the meantime, there are still a few movies left to see, including an unsettling new documentary that packs a twisty punch.
The Imposter
Plot: This documentary by U.K. filmmaker Bart Layton follows the bizarre story of 13 year-old Nicholas Barclay who disappeared from San Antonio, Texas, only to reappear three and a half years later in Spain. His overjoyed family immediately welcomes him back … despite his new accent and suspiciously changed appearance. To the viewer, there's no doubt that this found boy is not the boy who went missing, but the family trusts implicitly that this is their lost Nicholas.
Reaction: Highly entertaining in a pulpy, America's Most Wanted way (much of the storytelling is done through dramatic reenactments featuring the titular imposter himself), Layton's film is a true-story psychological thriller. The access Layton got to both the imposter and the family is remarkable, but the film succeeds most as a fascinating look at the power of perception and how sometimes, if you want something badly enough, you'll believe anything is true. (Plus, like any great crime novel, there's a shocking twist at the end.) The Hollywood Reporter's rave singled out "the clever use of blurred visuals and bursts of screen static" that "add to the creepy feel of this unrelenting mind-bender," while HitFix described it as "F For Fake mixed in with a bit of The Talented Mr. Ripley, only theoretically all true." The Village Voice tempered things somewhat: "It's a beautifully crafted non-fiction narrative, with nothing to say." In other words, it won't change your life, but it sure is fun to watch.
Filly Brown
Plot: Majo Tonorio is a consciousness-raising rapper in Los Angeles going by the name of "Filly Brown," and she's trying to find enough money to get her mother out of prison – a goal that makes her dangerously vulnerable to record label big-shots, who want to make her over into a sexed-up Nicki Minaj-type.
Reaction: Sundance has proven itself to be an essential launchpad for young Latina actresses, whether it's Michelle Rodriguez (who blew Sundance audiences away over a decade ago with Grand Jury prize winner Girlfight) or America Ferrera (who was discovered here for her first film Real Women Have Curves). Add to that list Gina Rodriguez, who impressed despite Filly Brown's rote making-it-in-the-biz story. Rodriguez can spit rhymes and project glowering defiance, but when she softens and smiles, it's contagious.
California Solo
Plot: When washed-up Scottish rock star Lachlan MacAldonich (played by Robert Carlyle of Trainspotting) gets arrested for a DUI, he's in danger of being deported from his new life in Los Angeles unless he can convince his estranged ex-wife and teenage daughter to help keep him in the country.
Reaction: It's beautifully shot and Carlyle is a fine actor, but the movie just meanders and nothing about MacAldonich's situation makes you care whether he gets deported or not. It's essentially a very long character study that would have made a good 20-minute short. The Hollywood Reporter praised Carlyle's "soulful" performance but called the movie ultimately "underpowered." It did make a German housemate of ours realize that he should start working immediately to trade his green card for permanent citizenship, so that's a plus.
Related
Sundance Day 7 Buzz Meter: Bradley Cooper Tries to Find The Words
Sundance Day 6 Buzz Meter: David Duchovny's Disappointing Goat Man
Sundance Day 5 Buzz Meter: Chris Rock's Culture Clash
Sundance Day 4 Buzz Meter: John Krasinski's Infidelities, Alison Brie's Wedding Blues
Sundance Day 3 Buzz Meter: Richard Gere's White Collar Crimes
Sundance Day 2 Buzz Meter: Campy Red Lights, Frustrating Simon Killer
Sundance Buzz Meter: How Did the First-Day Movies Fare?