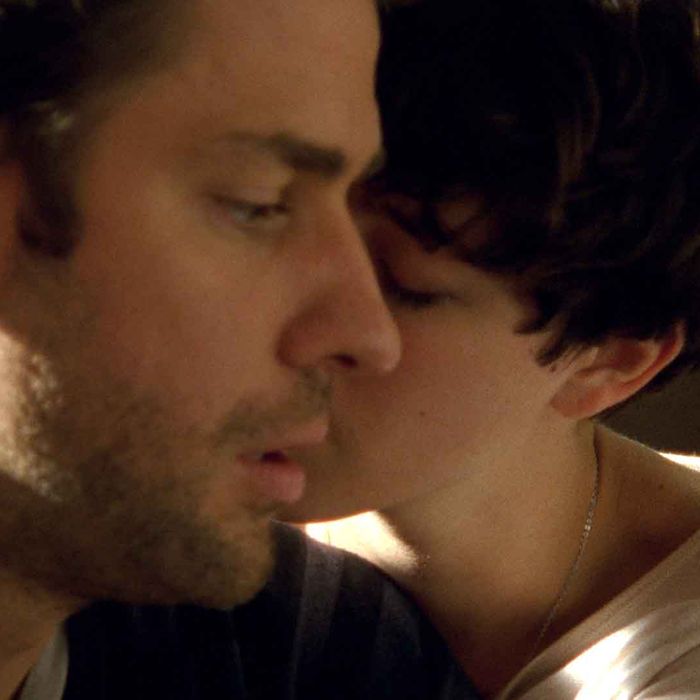 John Krasinski and Olivia Thirlby in 'Nobody Walks.'
For TV actors moonlighting in movies, the fourth day of the Sundance Film Festival was something of a summit, including films that starred John Krasinski, Alison Brie, Aaron Paul, and Aubrey Plaza. How did they fare? Let's find out.

Nobody Walks
Plot: When Martine (Olivia Thirlby) comes to stay with an affluent family in Silver Lake in order to work on her short film, she's plunged into the middle of some simmering sexual tension. Peter (John Krasinski) develops an intense crush on Martine in short order, while his therapist wife (Rosemarie DeWitt) mulls the advances of her patient (Justin Kirk); meanwhile, Peter's teenage stepdaughter (India Ennenga) moons over a cute older guy who isn't interested.
Reaction: Despite being totally watchable and perceptively written by Ry Russo-Young and Lena Dunham, Nobody Walks comes off like Lisa Cholodenko lite. Part of the problem is that Krasinski and Thirlby anchor the main plotline yet don't strike many sparks; meanwhile, DeWitt and Ennenga are more intriguing, but their stories barely brush up against the other cast members'. (Shouldn't Thirlby have more to do with them?) Still, let's give it up for one beautiful newcomer introduced in the film: the ultragorgeous Silver Lake house Nobody Walks is set in.
Save the Date
Plot: Two sisters (Lizzy Caplan and Alison Brie) wrestle with romantic entanglements: Commitment-phobe Caplan has just broken up with Geoffrey Arend but finds herself immediately drawn to Mark Webber, while type-A Brie prepares for her wedding to Martin Starr, Arend's bandmate.
Reaction: A solid pitch down the indie rom-com middle, Save the Date breaks no new ground but is appealing anyway thanks to its solid casting. Caplan's trade of Arend for Webber is a little confounding — what makes one slender, somewhat shy hipster more attractive than the other? — but Caplan is working some serious Zooey Deschanel rom-com realness, and Brie and Starr have a fun rapport.
Safety Not Guaranteed
Plot: Aubrey Plaza plays a magazine intern who helps editor Jake Johnson track down a weirdo (Mark Duplass) who's placed a time travel ad in the classifieds, but she's unexpectedly drawn to the man, and maybe his attempt to build a time machine isn't simply a crackpot notion …
Reaction: This indie sci-fi comedy played exceptionally well at its premiere yesterday, and while it's all heart, we were hoping for a tighter screenplay: Too much of the film is spent on a thematically related but extraneous subplot where Johnson tries to woo a high school fling, while the Plaza-Duplass relationship feels like it's stalling so it can save the answer to its big time travel question for the very last scene. Still, expect a lucrative sale for this one, which has tons of mainstream breakout potential.
Detropia
Plot: An impressionistic documentary from Sundance vets Rachel Grady and Heidi Ewing about all the ways that Detroit is turning into a ghost town in the wake of the financial crisis. They follow a union president as he struggles with automakers, a club owner as he reflects on the past, and even two young artists who are helping reclaim the city's forgotten neighborhoods.
Reaction: A ghost movie about a ghost town. Grady and Ewing shirk typical doc devices (talking heads, narration, archival footage) in favor of haunting images showing the devastation and emptiness of the town. The result is more a mood piece than the exposé some might hope for, but it's elegiac, beautiful, and quietly devastating.
The Comedy
Plot: An ironically bearded, ironically fat hipster (Tim Heidecker) who is about to inherit a massive fortune spends his time not having relationships, not caring for his ailing father, and not doing anything meaningful with his life besides offering cutting, sarcastic remarks in every possible situation, however inappropriate.
Reaction: It's not a comedy, for starters. Rather, this is the dark runoff of the Judd Apatow–Zach Galifianakis universe — an episodic, hard-to-take, in-your-face movie about the lead character's unremitting awfulness and alienation. As such, it's not particularly original or well conceived, but it has a strange, stupid bravery all its own. Better acting might have helped.
Smashed
Plot: Kate (Mary Elizabeth Winstead) and Charlie (Aaron Paul) are married alcoholics. When Kate's drinking lands her in a few troubling scenarios (waking up in the middle of nowhere, vomiting in front of her kids at elementary school), she decides to sober up. Charlie, however, keeps drinking, and the downward spiral of their relationship begins.
Reaction: The audience at the premiere lapped this movie up, and afterwards, we heard at least four raves about Winstead's performance. Despite adoring all the actors in the film, we weren't as taken with it. Granted, when it works, it really works: A climactic argument between Winstead and Paul rings very true, and Nick Offerman (no surprise) gets some of the best one-liners as Kate's formerly alcoholic colleague. You also have to admire director James Ponsoldt for incorporating so much good-natured humor into a film about alcoholism. As amiable as the film is, though, the story could have plumbed deeper and the characters are a shade too predictable.
Related
Sundance Day 3 Buzz Meter: Richard Gere's White Collar Crimes
Sundance Day 2 Buzz Meter: Campy Red Lights, Frustrating Simon Killer
Sundance Buzz Meter: How Did the First-Day Movies Fare?