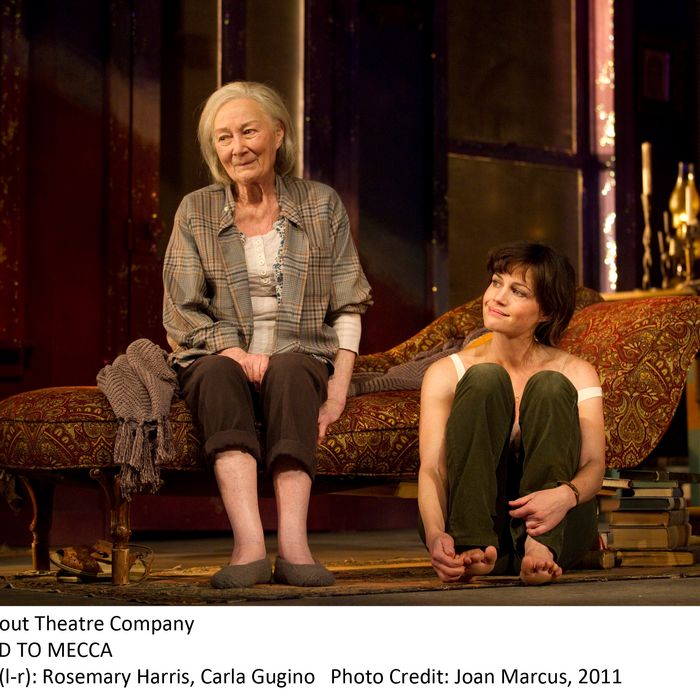 Rosemary Harris and Carla Gugino in 'The Road to Mecca,' opening January 17.
Photo: Joan Marcus
A "preview" implies that I've got some special knowledge of what's to come in 2012. Nothing could be further from the truth. Other than the few shows I've actually seen in previous productions, I know as little about the coming crop (crop! I said crop!) as you do, and likely less than some of you. So as I shuffle my Tarot deck — focusing less on the shows themselves, and more on the conversations they're likely to spark — don't mistake anything I say for an endorsement or a condemnation. The following caveat should be in force always, but is especially true today: I'm just sounding off here. Set your blather-filters on high.
MUSICALS
Continuing a recent trend, we'll see several original musicals hit Broadway this calendar-year, a great many of them based on movies: weepies Once and Ghost will arrive in time for 2011–2012 Tony consideration, and by next season, Big Fish, Leap of Faith, Diner, and Flashdance will be hot on their heels. (Rebecca is apparently adapted straight from the Daphne du Maurier novel and won't directly reference the Hitchcock film.) Coming off the hissing deflation of Catch Me If You Can, the theater commentariat seems poised to go negative on screen-to-stage adaptations: Prepare for a new round of this-is-what's-wrong-with-Broadway philippics.

Statistically speaking, more than one of these shows will probably fulfill those doomsday prophecies. There's no denying the tsunami of timidity and sweaty-palmed brand-grasping that's swamping the theater biz right now, the result of Broadway's top-heavy, always-ready-to-capsize business model and the influence of similar trends in Hollywood (where almost nothing gets produced unless it piggybacks on some proven franchise). But does that mean it's always a sign of creative bankruptcy when a film becomes a musical? Fans of Hairspray and A Little Night Music — two shows no thinking person would lump together — would probably disagree.

The problem with some recent musicals based on films isn't the perceived bottom-line cynicism behind their creation, although that's certainly a factor. The problem is passion: Catch Me, for example, had a musical-theater dream team behind it, yet from the beginning, its development seemed driven mostly by agreed-upon marketing edicts (the movie was popular enough, the sixties are hot right now, etc. etc.). No single, singular vision animated the show — there was nothing forcing it into being, just a sense that it could and should work, according to the Bain chart. (And musicals, I think, must be forced. They don't come naturally, even to naturals.) Catch Me, at its most exquisite, was clearly an exercise in problem-solving: How do we retro-design all of this very-cinematic storytelling for the stage? How do we musicalize this or that particular moment? What's quintessentially "Broadway" about our hero and how do we isolate and amplify those qualities? These questions were all answered dutifully, not ecstatically, and therefore not sufficiently. The result was a piece of heavy theatrical engineering, a Spruce Goose of a show, airworthy but effortful, occasionally gravity-defeating but never gravity-defying. Not every adaptation meets the same fate, but it helps to have a vision as well as a team of pedigreed hired hands and a flash mob of lightly invested producers who "believe" in the show only to the tune of a few hundred thousand dollars apiece. (And "vision," as Julie Taymor has shown us, is hardly the elixir of success — especially when said "vision" is an angry mismatch with the "brand" on offer.) Musicals exist only when money collides with madness at a very special angle. Those conditions aren't easily reproduced under the best of circumstances. You can see why audiences — and investors — feel safer at revivals.

And if it's revivals you want, don't worry: Beyond Porgy and Bess, you'll see Ricky Martin prove he's not a "sissy" to Patti LuPone when he takes on Che in the revivified Evita, and then experience the cross-crunching chords of good ol' Jesus Christ Superstar. (With Godspell more or less holding its own at Circle in the Square, will Jesus duel himself for Tony supremacy? This is a question for the theologians, and for South Park's writing staff.) Not every musical offering is distilled from silver nitrate, of course: By next season, we'll (it's hoped) see David Cromer's long-awaited Broadway expansion of Yank! and a new tuner about Houdini, written by noted conjuration enthusiast Stephen Schwartz (Wicked, Pippin, The Magic Show) and starring someone named Hugh Jackman, an obscure Australian cabaret artist best known for The Prestige.

Off Broadway remains mostly Hollywood-free: Indie rockers Stew and Heidi Rodewald (Passing Strange) will debut their latest theatri-concert concoction The Total Bent at the Public, while the team behind [title of show] delivers Now. Here This. at the Vineyard. At that same theater: John Kander's latest Ebbless offering, The Landing, a quartet of musical vignettes. We can't complain there's nothing new under the sun. We can complain about what's new under the sun, of course. And we will, constructively, it is hoped, and not too dickishly.  

PLAYS

Bruce Norris's gentrification drama and Off Broadway hit Clybourne Park and sportsdramatist Eric Simonson's Magic/Bird (from the team that brought you the dubious Lombardi) are still searching for homes. But David Auburn (Proof) has already booked a house and star (John Lithgow) for his latest, The Columnist, about the real-life Washington insider Joseph Alsop, a welter of eminently stageworthy contradictions: he was a closeted conservative Republican, Vietnam hawk and Kennedy supporter, who defied the KGB's attempts to blackmail him for his sexuality. The whimsical Peter and the Starcatcher is slated to fly from Off Broadway to On, and so is the celebrated Judy Garland bioplay-with-music End of the Rainbow, off accolades in its native England. (And next fall, brace for a new David Mamet play, with another title that should give the 500-point-sans-serif-crimson-lettering industry a goose: The Anarchist.) New works from Will Eno (Title and Deed), Katori Hall (Hurt Village) and that shadowy stage Sasquatch Kenneth Lonergan (still untitled) await us Off Broadway as well.

On the revival front, it's another season's exercise in trying not to look starstruck: the always-welcome Carla Gugino adorns Athol Fugard's The Road to Mecca, a shorn Cynthia Nixon brings Wit to Broadway, Kevin Spacey and the Bridge Project are set to give us Richard III at BAM, and Philip Seymour Hoffman prepares to redefine Willy Loman in Death of a Salesman (with future Spider-man Andrew Garfield as Biff). Blair Underwood will bellow "Stella!" in a new Streetcar, and, over the summer, we'll have The Big Bang Theory's Jim Parsons (who was quite superb in The Normal Heart) taking on what's best shorthand-described as "the Jimmy Stewart role" in Harvey, the story of a genial souse who befriends an invisible six-foot rabbit. Also over the summer: Ugly Betty's America Ferrera in The Miss Firecracker Contest, Beth Henley's 1984 chicken-fried gothic comedy. (TV stars are stars too! No "summer reruns" jibes, please.) The always-in-demand Sam Gold will direct Adam Driver in a revival of John Osbourne's seminal drama Look Back in Anger, then hop over to a new adaptation of Uncle Vanya by his most celebrated collaborator, the master-laconicist Annie Baker. (Next fall, Gold takes on William Inge's classic Picnic, and after that, I'm guessing he'll become White House Chief of Staff, if only to stay busy.) Janeane Garofalo stars in playwright Erika Sheffer's Off Broadway debut, Russian Transport, from the vaguely Gen-X-y outfit The New Group (the home-turf of Ethan Hawke).  And Peter Dubois is at work on a non-musical adaptation of Manuel Puig's Kiss of the Spider Woman.  

Whew! Am I leaving anything out? Of course I am — loads of stuff, from gold-tinged Gershwin shows to mid-modern French farces. But there's your taste. For the full meal, please stay seated. And don't fill up on Smash.