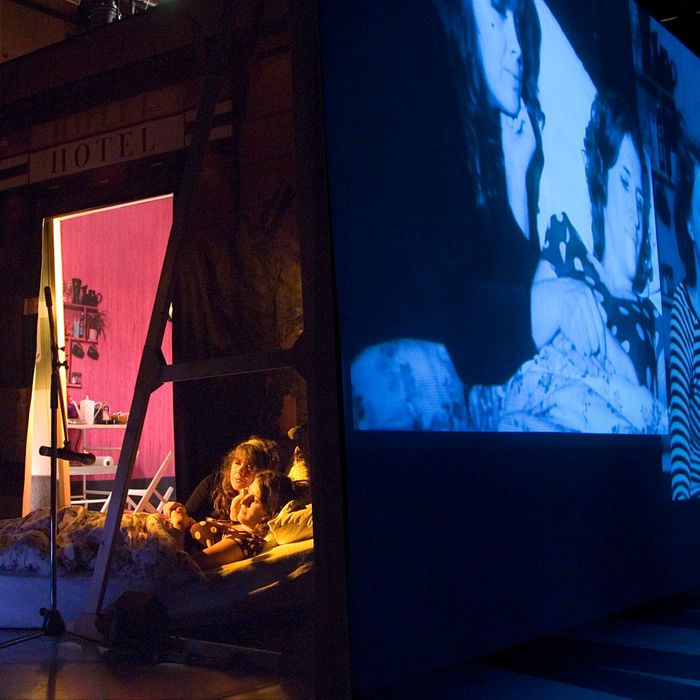 Gobsquad's 'Kitchen (You've Never Had It So Good),' at the Public Theater.
Photo: David Baltzer/? davidbaltzer/bildbuehne.de
Andy Warhol's 1965 film Kitchen: Is it 70 solid minutes of stoned, half-scripted prattle in a cramped New York City kitchen — or, as Norman Mailer suggested, a mighty prophecy of the culture to come? Or maybe, if you're the witty U.K./German conceptual theater collective Gob Squad, it was just a preview to a great participatory stage experiment. Kitchen (You've Never Had It So Good) runs live current through the irony circuit Warhol invented: First the period-bewigged cast members querulously attempt to recapture not just Kitchen, but also Sleep, Blowjob, and other films. (Three discrete projections run concurrently on a giant screen that divides players and crowd.) Then, one by one, they replace themselves with stunned audience conscripts. Many bystanders will get their "fifteen minutes"; some will get quite a bit more.
Stage-and-screen combinations seem to be enjoying a midwinter surge. The recently concluded World of Wires — which I caught lamentably late in its run, and which must return immediately — was theater artist Jay Scheib's latest experiment in "live cinema," where the sets and the blocking serve the sightlines of both a roving camera (operated by Scheib himself) and the audience. (The viewer's attention is split between the screens and the action on stage.) World (based loosely on a seventies Fassbinder TV series about a computer-generated virtual environment) opened with one of the most thrillingly witty displays of illusion I've even seen on a stage or a screen — a genuine challenge to one's fixed notion of reality — and then barreled through another 90 minutes of riveting near anarchy. I'm hereby sending a brain transmission out to some Off Broadway/nonprofit Morpheus: Please, reboot this soon.  

Kitchen (You Never Had It So Good) is running at the Public Theater through February 5.