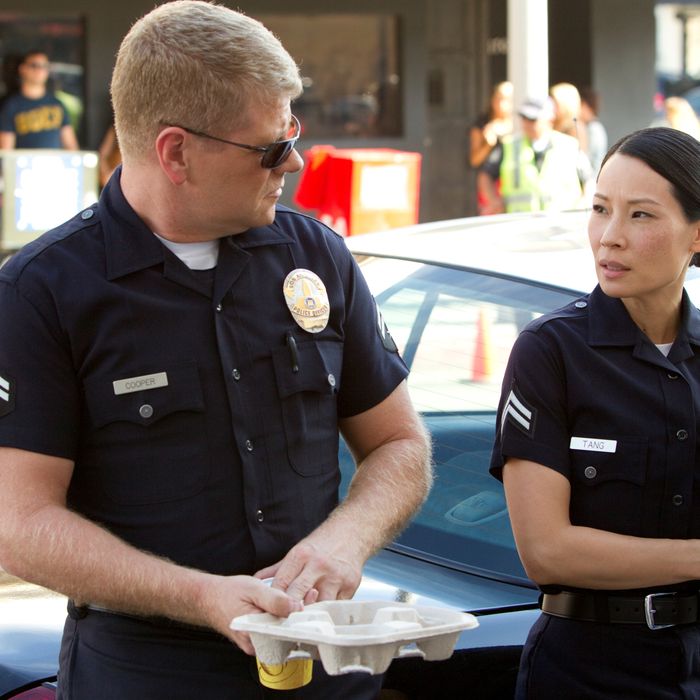 Photo: Doug Hyun/Turner Network Television. A Time Warner Company.All Rights Reserved.
Watching TNT's cop series Southland (Tuesday 10 pm/9 c) puts knots in my stomach, and I mean that as praise. It's the most engrossing cop series since season one of NBC's Homicide, and maybe the most raggedy and real. Chaos erupts out of nowhere, zooming in from off-screen, and then escalates into horror or takes a right turn into absurdity. There are several moments in the premiere that illustrate what I'm talking about. In one of them, Sgt. Cooper (Michael Cudlitz), who has just returned to active duty after last season's personal disasters, and his new partner, Officer Jessica Tang (new castmember Lucy Liu), pull over a young black man for running a red light. The ingrained resentments assert themselves; the driver talks trash to the cops and refuses to get out of the car, Cooper threatens him with violence, the whole situation verges on hysteria, and then suddenly there's a roar of gunning engines from off-screen. A black sport utility vehicle cuts across several lanes of traffic and screeches to a halt right in front of the pulled-over car, the terrified officers draw their guns …  and out jumps the young man's mother. She just happened to be driving by and saw her son's car pulled over by police. She dresses her son down for texting behind the wheel and disrespecting police officers and tells him he'll never drive that car again. "It's gonna take Jesus and two more white folks to keep me from kicking your ass!" she shouts.
This scene, like a lot of scenes on Southland, is so ridiculous and surprising that you figure it must have been drawn from some cop's experience. A lot of scenes on Southland have that ripped-from-the-diary quality. As a result the show feels more lived in than most cop dramas. The fact that most of the series takes place on patrol – just rolling or walking through LA watching cops do their jobs, however exciting or boring that may be – gives the series a documentary quality; the COPS-like handheld camerawork, which is loose but never sloppy, seals it.  I also admire the stripped-down characterizations and terse cutting. This is a world of external evidence; third person limited, as your English teacher might have put it. We're almost never privy to anybody's fantasies or memories, only to their statements and actions. And there's no fat on any of the scenes; they always start as deep into a moment as they can and then cut out quickly, sometimes before a character can finish a sentence. The show's depiction of racial and ethnic tension is also superb. It isn't lingered over; it's just there, hovering over most of the cops' interactions with citizens, poisoning the air. 
None of these stylistic affectations would be worth a damn without great characters, and Southland has plenty. First among equals is Cooper, the most surprising and non-stereotypical gay character since Omar on The Wire. He's back on patrol duty after double-rehab for painkiller addiction and surgery to fix the back problems that caused the addiction.  We sense how on-edge he is when new partner asks innocuous questions and we see from his defensive expressions that he assumes she knows his biggest secrets. (When Cooper is told that Tang requested him because she was "tired of being hit on" by male partners, he seems to think it's because she knew about his sexual orientation; then she corrects him, telling him he's known to be "squared away," i.e. an outstanding officer.) Tang is in a rebuilding phase, too, for reasons that we'll uncover at the end of the episode, when Cooper finally sees the notorious YouTube video that his colleagues keep alluding to. Officer Ben Sherman (Ben McKenzie), the rookie and our audience surrogate, is now partnered with Sammy Bryant (Shawn Hatosy), who has accepted a demotion from detective and become a patrolman again. And we get glimpses of other characters, old and new. C. Thomas Howell's Dewey Dudek is still on patrol, and as much of a braying jackass as always. Lou Diamond Phillips joins the cast as Ferguson, a bigot who needles Ben for being a bleeding heart but is in many ways an outstanding officer. We get the sense that he hates Ben because Ben represents a young, idealistic Ferguson who hasn't existed in a long time.
The episode's spine belongs to Lydia Adams (Regina King, an actress for whom no praise is adequate), who finds herself reunited with one of her criminal informants, an addict who went to high school with her and takes great pride in pretending that she and Lydia were friends back then. Pay close attention to the mental gymnastics that Lydia goes through as she deals with the informant, switching on a dime between bitter exasperation, contemptuous sarcasm, bottomless empathy, and self-righteous lecturing about how she grew up in the same neighborhood and turned out great. "People have a choice no matter what hand you're dealt," she says. "You can rise above it or you can drown."   She's torn between not giving a damn and beating herself up for not caring enough. This is what it's like to feel responsible for an addict. It's yet another example of Southland taking on a subject that most shows get wrong and doing it right.