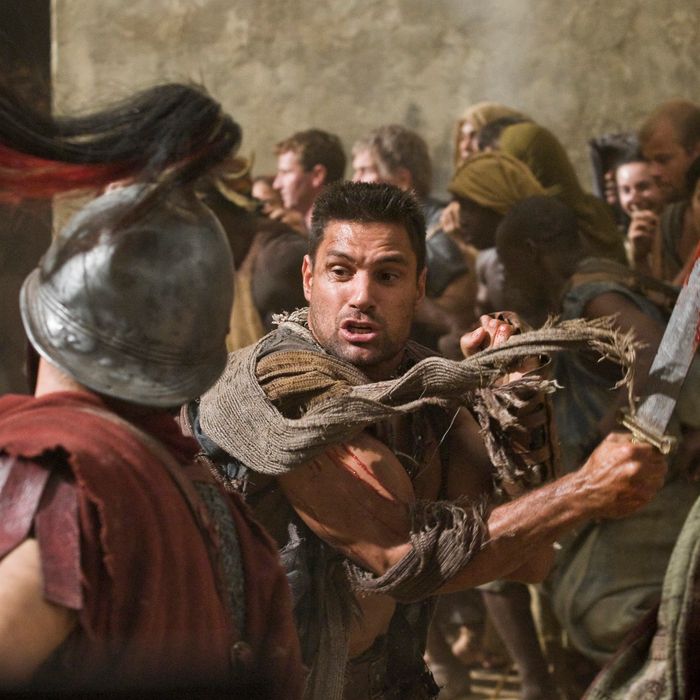 Photo: Matt Klitscher/Starz Entertainment
Spartacus is back with a new Spartacus. Both the new actor and the revamped series take some getting used to. For the most part, the reincarnation works, in large part because this cable franchise doesn't have a pedigree to sully. The latest edition, Spartacus: Vengeance, picks up where the original 2010 hit Spartacus: Blood and Sand left off, with the title character and his lusty band of former slaves afflicting their former Roman masters, and the Romans trying to contain the rebellion. Liam McIntyre takes over the title role, replacing Andy Whitfield, who died of cancer last year. Whitfield, whose sinewy torso and sweaty earnestness helped turn the original series into Starz's biggest ratings hit, was diagnosed with early-stage non-Hodgkin lymphoma after the first season wrapped. Starz delayed the second season to accommodate his treatment, then plugged the long hiatus with the six-episode prequel Spartacus: Gods of the Arena, which was pretty good for a period piece thrown together in a hurry. Production of the mothership show was supposed to resume after Whitfield was declared cancer-free, but the actor relapsed and died September 11 of last year. Starz approached McIntyre as a contingency; McIntyre says he had some contact with Whitfield near the end, though they never actually met, and took over with Whitfield's blessing.
This would be a tough situation for any performer, and I'm sure some fans will feel that the show can't or shouldn't continue with a different star no matter who he is. But I like McIntyre. He doesn't have Whitfield's odd sweetness and Joseph Gordon-Levitt eyes, and he has a somewhat more square, old-movie presence (except for the fussed-over eyebrows), but he's a good actor, and his Tom Cruise–like relentlessness suits the story.
Spartacus: Vengeance picks up after Spartacus and his fellow gladiators have killed their master Batiatus and fled his gladiatorial training school. They're roaming the land and spending much of their time and energy trying not to get killed. The character is a political and military leader now, somebody who has to worry about governing and coalition-building within his small but determined group. In tonight's premiere, one gets the sense that the character feels trapped or hunted even in repose. If a bounty hunter isn't trying to kill him, he's having to fend off challenges to his authority. I suspect that McIntyre didn't have to try very hard to imagine what that must have felt like.
There's not much point trying to parse this or any other version of the show, much less judge it against previous sword-and-sandal epics and find it lacking, because the franchise never had any pretensions of being anything other than what it is: a sexy, gory exercise in low-rent spectacle. Spartacus's men, their often contentious Gaul allies, and their Roman enemies all plot attacks, argue among themselves, wade into battle, and lop off limbs and heads, then retire to the nearest whorehouse or bacchanal to get their freak on. Rinse, repeat. Much of the principal cast is back, including Nick Tarabay as Ashur, Manu Bennett as Crixus, Viva Bianca as Ilithyia, Craig Parker as Gaius Claudius Glaber, and Peter Mensah as Oenomaus (who gets the premiere's baddest fight scene). Lucy Lawless is also back — improbably at first — as Lucretia, who spends her first few scenes looking dizzy and helpless but gets her bad mojo back faster than you can say, "Slave, peel me a grape."
As always, filmmakers trick out both sex and violence with ostentatious, post-Gladiator speed shifts, and from the look of the first couple of episodes they're leaning even more heavily on CGI backdrops and 300-style production design than before. This is all exceptionally cheesy, but it works because it pushes the franchise even further away from history and reality, to the point that you don't fixate on anachronisms. The names and situations are drawn from history, but this tale might as well be unfolding in a postapocalyptic landscape, or on another planet.
Starz's version of Spartacus was always naughty adolescent escapism anyway, a swords-and-sandals piece that concentrated on the fun parts of the genre: intrigue, violence and rutting. (The Starz franchise has always been way more comfortable with interracial and same-sex coupling than most toga melodramas, which tend to get white-hetero-normed by modern filmmakers; there's a graduate thesis in there somewhere.) When I told a friend I was writing about this series, she sighed contentedly, pretended to fan herself, then asked to borrow a screener. This show knows what it is.