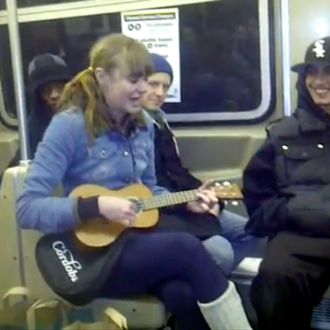 Jessica Latshaw, enlivening the A train.
Remember in early January when you were feeling crabby because the holiday season was officially over and you saw the rest of winter unfolding before you as one long, unbroken cold trudge back and forth to your office … and then someone sent you the link to a YouTube video taken in the New York subway that made everything okay for a moment: In this viral smiler, a conga player strikes up an adorable impromptu duet on the A train with a pig-tailed, ukulele-strumming woman, and together they eke out smiles from the beaten-down commuters and make the MTA look like a big ol' Fame schoolbus.
It's a month later, and the winter seems no less interminable, so perhaps an upbeat update to this story will help you make it to April: The singer-rapper in the video, Jessica Latshaw, has gotten quite a boost from her viral moment. First, she hooked up with manager Mark Adelman, who is part of the team behind Maroon 5, Sara Bareilles, and Gavin DeGraw, among others, and he is helping her field offers from at least one record label (she won't name names). She's being flown to the U.K. and back for a ten-minute performance at the Sage Gateshead Music Centre. She's been asked to audition for a Broadway show that had rejected her, pre-video. She's playing sold-out shows for the first time (including next month at Delaware's World Café Live, which was flooded with calls for "tickets to the Internet girl"). And "Ain't My Friend," the original song she belted out on the subway and her only single, is selling briskly on the iTunes charts. So you see: Subway videos can be a force for good, not just for showcasing crazy fistfights.
So how did this impromptu jam session come to pass? We called Latshaw for the backstory, hoping to wring every drop of heartwarmth out of it. Mission accomplished!
As it happens, Latshaw is not a busker; she's a musical-theater performer who moved to New York City less than a year ago, shortly after finishing a tour of A Chorus Line. She explained to us that she got her ukulele this past fall and takes it on the subway in order to (quietly) practice finger positions during her commute. In the minutes before the video was taken, Latshaw was standing on the 59th Street platform and the conga player, whose name is Quoom, struck up a conversation about her ukulele. He was trying to get her number when the express train pulled up, and when he couldn't find a pen, he hauled his congas onto the A train to ride with her.
"So we sit down," says Jessica, "and Quoom's friend — he's the hype man in the video, calls himself MC Boogie — he's like, 'You gonna play that thing? Are you gonna be like 'yo-de-lay-hee-hoo?' And I felt a little defensive, and I was like, 'I'm gonna sound better than that.'"
Quoom started drumming, and Latshaw launched into "Ain't My Friend," an anthem for women who have been blindsided by the "let's just be friends" conversation. In the video's best moment, the passenger next to Latshaw visibly startles when she breaks out into a rap, then grins as he processes the fact that she's actually quite good at it. And clearly people on their computers were grinning, too, as her career has gotten a kick start. "My friend put it really well," says Latshaw. "It's like an indie-music fairy tale."
And just to make this happy ending feel happier, let's all collectively assume that Quoom is very close to getting a one-man conga show and now can't stand on a subway platform without being showered with women's numbers.