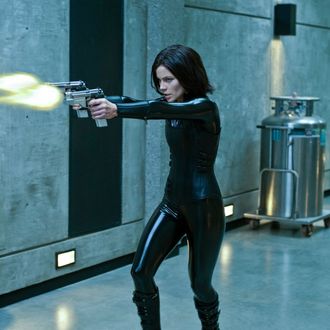 Still of Kate Beckinsale in Underworld: Awakening.
Photo: Screen Gems, Inc
Following the protracted box-office slump that was the closing weeks of 2011, the New Year is off to a strong start with moviegoers spending $125 million this weekend. Leading the field, with a $25 million opening, is Underworld: Awakening, the fourth installment in the vampires-versus-werewolves series — doubtlessly helped along by the return of a spandex-ed Kate Beckinsale. Clocking in at $20 million is George Lucas's surprisingly successful Tuskegee Airmen drama Red Tails. In third, Mark Walhberg's Contraband, which earned a bit over $12 million. (While respectable, that's down nearly a half from last week, perhaps helped along by the backlash to Wahlberg's unfortunate 9/11 gaffe.) A further three films earned more than $8 million, a healthy showing all around. Interestingly, though, Oscar favorite The Artist pulled in just $2.3 million. Seems the talkies really are here to stay.