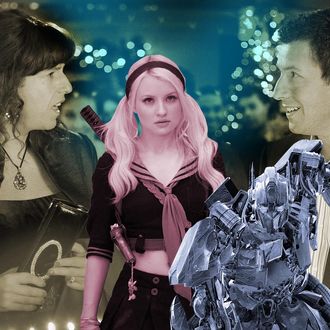 So you've read the slideshow of our 2011 Worst Movie's Critics Poll, but you demand even more venom over the awfulness of the past year? Well, then this is the post for you: Read on for the full bilious, cathartic commentary submitted by the 40 prominent critics surveyed by Vulture. Who told Jason Reitman to "burn in smug rich person hell" for Young Adult? And who said Zookeeper "lacked the subtlety and depth of feeling that made Paul Blart: Mall Cop merely soul-crushingly horrendous"?
But first, a quick note on methodology for the poll: Each mention of a film earned that film one point, with a bonus point awarded each time a critic specifically named the film the absolute worst of the year. A link associated with a critic's name indicates that we pulled their picks from a previously published list.
Thelma Adams, Yahoo! Movies
1. War Horse. Some people weep over Steven Spielberg's emotionally manipulative movie. It made me weep for other reasons. And that telegraphing John Williams score sent me into a murderous rage.
2. Martha Marcy May Marlene. This is the movie that proved that Elizabeth is the Olsen half-sister who can act. Beyond that, it was all very pseudo, without a coherent insight into cult behavior. Give me Helter Skelter.
3. The Smurfs. Oh, smurf-off! Is nothing sacred? I am un-curious blue. A desperate attempt to separate children from their money.
4. Green Lantern. Just having Ryan Reynolds in a skin-tight outfit is not enough. Okay, it's nearly enough but a coherent story really, really would have helped.
5. Transformers: Dark of the Moon. Noise pollution.
And while David Fincher's The Girl With the Dragon Tattoo is not the year's worst movie, it seems to me to be the most unnecessary remake.
Melissa Anderson, Village Voice
Extremely Loud and Incredibly Close. The Worst Day, the Worst Child Actor.
I Don't Know How She Does It. As pleasurable as chewing pieces of glass (ceiling).
Like Crazy. Str8, definitely narrow.
Margin Call. A weepie for the one percent.
New Year's Eve. Garry Marshall ushers in the eternal hellfire predicted by the Mayans.
Michael Atkinson
War Horse
The Change-Up
Fast Five
Transformers: Dark of the Moon
The Help
Zach Baron, The Daily
Green Lantern. If People Magazine is to be believed, there are indeed those who are willing to wait 114 excruciatingly dull minutes to watch Ryan Reynolds coax his broken lantern into working order but alas, I am not one of them.
Young Adult. Burn in smug rich person hell, Jason Reitman.
Trespass. Kind of awesome actually, if you just pretend this home invasion/mortgage "thriller" is actually a documentary about Nicolas Cage's woeful real-life financial situation. "I am a middleman living on credit!" would make for a delightful voice mail greeting, no?
Sucker Punch. One of an improbable two sleep-rape fantasias starring Emily Browning in 2011. But at least Sleeping Beauty didn't require Browning to warble an awful cover of "Sweet Dreams (Are Made of This)."
Friends With Benefits. Not one but two flash mob scenes, plus a street artist uncritically named after noted My Lai war criminal Lieutenant William Calley. Not even the slut-shaming What's Your Number? — in which Anna Faris was forced to wear an Anne Taylor pantsuit and play lingerie basketball against Chris Evans — was as excruciatingly detached from basic human reality.
Richard Brody, The New Yorker
Four stood out; the worst shall be first.
Hesher. Isn't violence cute? 
Submarine. Isn't intellect cute?
Beginners. Isn't homosexuality cute?
War Horse. Ponderous banalities delivered like graven tablets from on high.
Tom Charity, CNN
1. Sucker Punch
2. Extremely Loud and Incredibly Close
3. Cowboys and Aliens
4. Your Highness
5. The Beaver
Roger Ebert
The Human Centipede Part 2: Full Sequence
David Edelstein, New York
Arthur. Those donkey teeth … that falsetto bray … Is there anyone more repulsive — anyone who could make us miss Dudley Moore more — than Russell Brand in his career-killing performance? I'd see Jack and Jill twice more rather than rewatch the first scene of this ghoulishly terrible remake, the worst movie of the year. You notice I left Jack and Jill off my list because it's too easy. It was awful but there won't be a legacy of awfulness in its wake, as there will be in all these other cases.
Shame. Watching Carey Mulligan slowly torture "New York, New York" to death, I passed the time writing my Opposite World review: "Mulligan strips away the song's facile optimism and lays bare her heartbreaking need for affirmation. Devastating!" Most hilarious moment: Michael Fassbender's silent scream of despair in mid-orgy.
Pirates of the Caribbean: On Stranger Tides. Endless, pointless, rudderless. You will not spend a two duller hours.
The Undefeated. A clamorous, two-hour hagiography/infomercial that opens with a series of degenerate celebrities making vulgar remarks about Sarah Palin followed by a shot of her as an angelic little girl in a church choir. Riotous! Then the movie goes downhill.
Extremely Loud and Incredibly Close. It took me a while to reach the active loathing stage, first because I cried — it's not easy to steel oneself against phone calls from the World Trade Center on 9/11 — and second because I respected (if didn't particularly like) Jonathan Safran Foer's novel, in which he attempts to link his own pet themes to America's worst terrorist attack. But in conclusion, this is a vomitous movie using a largely irrelevant story of a boy's search for his father's last message for specious uplift. Yuck. Gross. Horrible.
Jim Emerson, Chicago Sun-Times
We Need to Talk About Kevin. I consider myself fortunate that I no longer have to see (or review) most of the bad movies that routinely pass through the multiplexes each week on their way to ancillary markets. No Jack and Jill for me. I've always found bad comedies and bad "art house" pictures to be the most painful to sit through, and What's the Matter With Helen, Kevin? is a hoot, because it tries so very, very hard. I'm not sure what it's trying to do, but it really works at it. Is it an unbearably arty horror film? A parody of "Bad Seed" movies in the broad style of Mel Brooks? A parody of sixties Antonioni movies as imagined by Dario Argento? Another take on Mommie Dearest? There's a hilarious Rosemary's Baby black stroller for the evil child, a pediatrician's office with faded pictures of killer clowns, an entire wall of tomato soup cans (hommage de Warhol?), little sis bound and gagged with garlands ("We're playing Christmas Kidnapping!"), a guinea pig and a garbage disposal, William Tell archery practice that you know cannot turn out well … and more red than Sugarpuss O'Shea's sore throat. (John C. Reilly daddy-comedy double-bill of the year: Kevin and Carnage.)
Owen Gleiberman, Entertainment Weekly
1. I Melt With You 
2. Battle: Los Angeles
3. Carnage
4.  Another Earth
5.  Bad Teacher
Ed Gonzales, Slant
1. The Human Centipede 2 (Full Sequence). Just when you thought it was safe to rim again.
2. Now & Later
3. My Week With Marilyn
4. The Hangover Part II
5. In a Better World
Tim Grierson, Screen International
1. Bucky Larson: Born to Be a Star. From the director of The Hot Chick. From the creator of Gay Robot. And yet somehow still even worse than you could have imagined.
2. Zookeeper. Lacked the subtlety and depth of feeling that made Paul Blart: Mall Cop merely soul-crushingly horrendous.
3. Shark Night 3D. If you're going to name your tacky horror movie Shark Night 3D, please have the good sense to at least let it be R-rated.
4. No Strings Attached. Obnoxious, self-centered people deserve to have awesome sex lives too, guys.
5. Just Go With It. Just slightly more terrible than Jack and Jill. I think. I'm not going to be back and compare 'em.
Mark Holcomb, Village Voice
Bad Teacher/Horrible Bosses. Why is Hollywood trying to get me to identify with sociopaths?
Paranormal Activity 3. The cinematic equivalent of somebody explaining why a joke is funny. For the second time.
Incendies. I'm as susceptible to pathos and plot twists as the next person, but Denis Villeneuve's brand of overblown, telenovela-style miserablism wore me out. Points for a great opening sequence, but Radiohead deserves at least half the credit for that.
Restless. Every artist has a right to coast once in a while, but this was slapdash to the point of mockery.
Elektra Luxx. Sleazy serendipity: Carla Gugino was a semi-regular on Californication last season, and this starring vehicle (written and directed by her boyfriend, no less) is the kind of gauzy, pseudo-feminist porn paean Hank Moody might cook up.
The Girl With the Dragon Tattoo. Sodomy, She Wrote.
Glenn Kenny, MSN
1. I Am Number Four
2. Trespass
3. Hop
4. Miral
5. Thor
Mark Kermode, BBC
1. New Year's Eve
2. Film Socialisme
3. Transformers: Dark of the Moon
4. The Hangover Part II
5. The Dilemma
6. Love's Kitchen
7. Sucker Punch
8. I Spit On Your Grave/Straw Dogs
9. Human Centipede 2: Full Sequence
10. Lion King 3D
Michael Koresky, Reverse Shot
1. Shame. Steve McQueen's tale of pursuit-of-sexual-gratification-as-stations-of-the-cross punished its hollow shell of a protagonist (a too-game Michael Fassbender) as much as it flattered its audience by making them feel superior to him. Its acclaim isn't mind-boggling only because it's so clearly calibrated — in artful composition, self-serious score — to make you think you're watching something of import. It's actually childish, chastising, moralizing drivel so histrionic it has its main character literally wailing on his knees in front of the New York City skyline at the end. Nice dick, though.
2. Crazy, Stupid, Love. This preposterous, cliché-riddled, singularly unfunny studio product got really good reviews by otherwise sensible critics — which made me wonder if I was born into the wrong species, let alone profession. Color me confused: No one in this film acts in any recognizably human way — not Steve Carell's rote doofus dad; not Ryan Gosling's pickup artist, who seemingly has endless amounts of free time to waste on strange middle-aged male sadsacks he meets in bars; not the teen girl who takes nude photos of herself for her middle-aged crush; and certainly not the obnoxious preteen whose crush on said babysitter is presented as an example of soulful romanticism we can all learn from. It's all almost as gag-inducing as the improper punctuation of the title.
3. J. Edgar. A cagey, enervatingly time-jumping script can barely hide the utterly unconvincing performance at its center. Leonardo DiCaprio — who really needs to get himself a romantic comedy, pronto — scowls from under mounds of bad latex, talks strangely like a cartoon JFK, has to contend with Judi Dench (doing a mean Mrs. Bates), and coyly holds hands with poor, struggling Armie Hammer, whose aging makeup as lifelong partner Clyde Tolson makes him a dead ringer for Donald Moffat. Whatever (simplistic) insights the film might have had about the connection between Hoover's sexual repression and his tireless battle against the red phantom are unrecognizable beneath all the camp.
4. Tanner Hall. The long-awaited debut film from co-directors Tatiana von Fürstenberg (yes, designer Diane's daughter) and Francesca Gregorini (that's Countess Francesca McKnight Donatella Romana Gregorini di Savignano di Romagna, to you) hit the festivals in 2009, and certainly could never have been released if not for then unknown lead Rooney Mara's presence. But there we were in 2011, lucky enough to have a chance to see this inane exercise in its makers' prep-school nostalgia disguised as a universal coming-of-age drama.
5. New Year's Eve. It may seem pointless to waste a slot on a knowingly silly romantic comedy that no one expected to be more than a trashy lark. But at one point during the film — each successive subplot of which seemed on a mission to continually outdo the prior one in stupidity — I glanced around at the viewers in the packed theater, and they looked like they we were watching Sophie's Choice.
Mick LaSalle, San Francisco Chronicle
1. Sherlock Holmes: A Game of Shadows
2. What's Your Number?
3. Pirates of the Caribbean: On Stranger Tides
4. Kung Fu Panda 2
5. Happy Feet 2
Kevin B. Lee, Fandor
Beginners. This is what a terminally twee movie looks like.
The Descendants. It's not "Hawaiian"; it's plain lazy filmmaking.
A Good Old Fashioned Orgy. Though when they light to Pier 1 Imports to furnish their sexfest with the perfect harem-themed decor, perhaps this is meant as a knowing satire of bourgeois decadence? Nah, it's just dumb.
In A Better World. Last year's Oscar foreign film winner is a sterile study of neocolonialist and family drama clichés.
Tabloid. A career low for one of the great documentarians of our generation, this investigation into the culture of sensationalism merely exposes the shallow gimmickry of his Interrotron technique.
Nathan Lee, Film Comment
Midnight in Paris. I'm not sure what I hated more, Allen's misogyny or the unrelenting tedium of his received ideas, but either way it made me want to stab myself in the face. 
Moira Macdonald, Seattle Times
Your Highness. Maybe you have to be stoned to find it funny.
The Hangover Part II. Ditto.
30 Minutes or Less. If only it had been.
Something Borrowed. Can I give it back?
I Don't Know How She Does It. And I don't care.
Nell Minow, Movie Mom
Just Go With It. Adam Sandler did not remake the delightful Cactus Flower — he mauled it to shreds. The film is appallingly clueless about its own offensiveness, with even the unpleasant good guy characters portrayed as heartless mercenaries.
Red Riding Hood. Oh, Grandma, what a big, bad movie this one is. 
What's Your Number? We are supposed to root for the heroine to realize she has not thrown herself away in a series of unpleasant and demeaning sexual encounters. But she has.
Crazy, Stupid, Love spoiled a clever comedy with ugly misogyny and a portrayal of a teenage girl giving nude photos of herself to a middle schooler as generous and compassionate instead of pervy and felonious, and Anonymous for incoherent storytelling and sheer stupidity in its portrayal of just about everyone including Shakespeare and Queen Elizabeth. 
The two worst movies for children: The Smurfs (Joan Rivers cameo? Really?) and Hop (a Hugh Hefner sexy bunny joke? Really??) Character design by New Yorker artist Peter de Sève and some subversively cheeky asides from Russell Brand are not enough to make up for a dull script, pointless celebrity cameos, and an overall nutritional content lower than a stale Peep.
Wesley Morris, Boston Globe
In a Better World. Because being bullied a Dane is just like being an African rufugee!
I Melt With You. Written by Rogaine.
Dream House. Written by a toaster.
Just Go with It. Not written at all.
The Dilemma. A Very Fred and Barney clusterfuck.
Noel Murray, The AV Club
The Dilemma
The Change-Up
Zookeeper
Larry Crowne
Salvation Boulevard
Michelle Orange, Movieline
Battle: Los Angeles. Aliens from planet Shakey Cam invade Santa Monica. This movie would nauseate a methed-up mosquito.
The Change-Up. My relationship with Jason Bateman can survive everything but contempt.
Just Go With It. I'm writing a book about Adam Sandler's producing career, it's called I Don't Know How He Does It. Just kidding, it's called Zookeeper.
I Am Number Four. Harder to follow than a 4-year-old on a Skittles high, and less fun.
I Melt With You. Four unsatisfying answers to the question: When will death come?

Christopher Orr, The Atlantic
Just Go With It by a vast margin, the worst film-going experience of my year, though I confess this may be in part because I was unable to bring myself to see Jack and Jill. Adam Sandler's decision to follow up Funny People — and his indelible portrait of a comic filled with disgust for his witless, "family comedy" output — with those two films and Grown Ups can mean one of only two things: He is either the least self-aware actor in Hollywood, or the most.
Michael Phillips, Chicago Tribune
1. Sucker Punch
2. A Good Old-Fashioned Orgy
3. Atlas Shrugged: Part 1
4. Sherlock Holmes: A Game of Shadows
5. Larry Crowne
6. The Three Musketeers.
7. Just Go With It
8. Mars Needs Moms
9. Transformers: Dark of the Moon
10. The Hangover Part II
Mary Pols, Time
1. Jack and Jill
2. Sucker Punch
3. Red Riding Hood
4. Your Highness
5. Zookeeper
Steven Rea, Philadelphia Inquirer
Trespass. Nic Cage and Nicole Kidman!
Season of the Witch. Nic Cage and Ron Perlman!
A Good Old Fashioned Orgy. Jason Sudeikis group-gropes in the Hamptons.
The Son of No One. Al Pacino cashes a check, Channing Tatum flashes back to his traumatic inner-city youth, clichés run like rats through the grafittied stairwells of the "projects."
Machine Gun Preacher. Gerard Butler muscles it up as a drug-dealing biker dude turned mercenary and missionary in East Africa.
Rene Rodriguez, Miami Herald
1. Jack and Jill. A comedy so desperate, so starved for humor or jokes of any kind, I kept waiting for Al Pacino to Method-fart.
2. Cars 2. Pixar's answer to the Saw series — a phenomenally successful film franchise that nobody likes.
3. Cowboys and Aliens. Even on paper, it sounded like a bad idea.
4. A Dangerous Method. Respectable David Cronenberg makes me long for exploding heads and gash fucking.
5. The Sitter. The Birth of a Nation of lowbrow comedies, featuring running gags about mincing homos and scary black people. 
Nathaniel Rogers, TheFilmExperience.net
1. (TIE) I Am Number Four and Beastly. This Double Feature of Dickery tops the list (bottoms the list?), with both of the films starring Prince Charmless himself Alex Pettyfer.
2. Abduction. Answer: violins, totem poles, Grandma Willow, trees, "Mr. Pointy," antiques, wardrobe, pianos, chaise lounge, picket fence, Treebeard, staves, matches, witch's broom … Question: THINGS MADE OF WOOD THAT ARE MORE EXPRESSIVE THAN TAYLOR LAUTNER?
3. Cars 2. Cars was Pixar's previous worst film. So naturally all of Cars' worst impulses were jacked up for the sequel. Mater as the lead? Really?! My friend said it best when we were leaving the screening: "It's like George Lucas deciding to make another Star Wars prequel with Jar Jar Binks as the protagonist!"
4. J. Edgar. Less outright terrible than an epic failure to meet any reasonable person's (i.e., non-Eastwood acolyte's) expectations of entertainment value, aesthetic range, or historical insight.
5. The Other Woman. Every scene in this utterly unfocused drama seems to play out like so …
Jonathan Rosenbaum, JonathanRosenbaum.com
Drive. Extreme violence as a function of specious and hypocritical morality was already the selling point of The Passion of the Christ; this clever and talented celebration of  carnage employed it as a function of specious and hypocritical "sensitivity," which makes it in some ways even more offensive.
Shame. More "sensitivity," tied in this case to sexist and homophobic complacencies and diverse brutalities.
Contagion. Like so many other Soderbergh films these days, another tiresome example of cynicism viewing corruption as inescapable, everyday, and deeply profound.
J. Edgar. Even though this had its points and moments, it winds up being dangerously close to an apologia for a creep who doesn't deserve this sort of pity or "understanding."
Rampart. The sort of Oscar-mongering that can cast a liberal activist (Woody Harrelson) as a racist thug to show us how "complex" the modern world is supposed to be.
Lisa Schwarzbaum, Entertainment Weekly
1. I Don't Know How She Does It
2. Sucker Punch
3. Jack and Jill
4. Larry Crowne
5. The Twilight Saga: Breaking Dawn—Part I

Choire Sicha, the Awl
It's easy to pick on the movies that we knew were going to be garbage (like Jack and Jill, and Drive Angry, and Abduction), but 2011 brought a heap of movies by talented people that should have been good that were absolute crap. Such as: Contagion, J. Edgar, and Source Code. (All movies that were worse than Green Lantern, which was not so good!) Those are unacceptable! Still, the movie I found to be personally the most wounding, because I love YA and sci-fi, was I Am Number Four. What a terrible thing it was! So sad.
So my top worst five this year (and I spared myself the worst of the worst!) are:
5. J. Edgar. Pompous boring garbage on a stick.
4. Source Code. Where were the other two thirds of the film?
3. Contagion. Cheapo production looks cheap; sloppy script omits point.
2. I Am. Tom Shadyac's well-intentioned and very sweet documentary is the worst kind of disastrous mess. Shadyac started on a journey of discovery after almost dying (after spending his life making a bunch of big-budget Hollywood comedies) and what resulted is an incoherent, inconclusive journey into the mysteries of the universe, California-style.
1. I Am Number Four. My poor Timothy Olyphant! I hope he bought a small house somewhere (and invites me over).
Charles Taylor, New York Times
Shame. A supposedly open examination of sexuality in which the only thing more depraved than gay sex is a heterosexual threesome. At last, an art movie for Santorum voters.
The Tree of Life. "Father? Mother?" Oh, brother.
Bridesmaids. Ugly in both technique and spirit. For this to be hailed as a breakthrough for women in a year when the most ambitious American film, Sucker Punch, also the strongest feminist film to ever come out of Hollywood, was condemned as sexist suggests that film critics have collectively lost their fucking minds.
Cold Weather. The Big Zzzzzzzzzzzzzz
Anything that Miranda July ever does in this life or the next.
Scott Tobias, the AV Club
My worst five (in order of most to least execrable):
Extremely Loud and Incredibly Close. No film in recent years has agitated me quite as much as this one — I wanted to reject it from my system like some invasive, malevolent body laying waste to the heart. The conceit of a boy's five-borough quest in the wake of his father's death on 9/11 probably would have been too precious for me under any circumstances, but between our hyperprecocious hero and Stephen Daldry's relentless prodding — does that score ever fucking stop? — I think I'll be screaming "too soon!" from here to eternity.
Jack and Jill
Just Go With It
Atlas Shrugged, Part 1. It's hard to tell whether Taylor Shilling's turn as a capitalist robot/Fox News–ready super-blonde is the most laughable performance of the year or the perfect realization of Ayn Rand's stilted vision. Either way, it's mesmerizing.
Dirty Girl: A little over ten years ago, the Weinsteins famously overpaid for a garish indie-redneck comedy called Happy, Texas. Here, history repeats itself, William H. Macy and all.
Peter Travers, Rolling Stone
Transformers: The Dark of the Moon. 2011's second biggest box-office hit is a sad reminder of audiences participating in their own brain deaths/Michael Bay is the Antichrist of cinema.
Jack and Jill. Two Adam Sandlers/one a woman/enough said.
Twilight: Breaking Dawn, Part I. Vamps & wolves minus teeth/just like the movie.
New Year's Eve. Garry Marshall's all-star debacle debases another holiday event/what's next, Purim?
Pirates of the Caribbean:On Stranger Tides. No more sequels! There ought to be a law!
Seth Colter Walls, Slate.com
1. The Ides of March
2. The Descendants
3. The Rite
4. Transformers: Dark of the Moon
5. Shame
Showing my work: The extremely dumb and incredibly loud thing about space-robot/car changelings was, for me, less sad to watch than another Anthony Hopkins cash-in (the latter managing to insult its lead actor's talents to a greater degree than the movie in which Michael Fassbender was ordered to cry those ever-so-perfect tears). But at least none of those pictures, schlock or not, was fooling itself in a manner akin to Alexander Payne's mistaking solipsism for humanism — which appeared cogent only when compared to the drunken gesturing toward political substance that originated from George Clooney's own personal director's chair. And no, of course I didn't subject myself to the actual Extremely/Incredible movie. I beg my leave of Lord Rudin on this score. Does not the soul, finally, have an embargo all its own worth respecting?

Alynda Wheat, People
1. Jack and Jill. So offensively lazy and stereotypical that I'm convinced that Adam Sandler hates us — not just critics, ALL of us.
2. Restless. Mia Wasikowska dies so beautifully … pity she couldn't do it faster.
3. New Year's Eve. Half a dozen couples and not one that has any chemistry or any sense.
4. The Green Lantern. And ten minutes of exposition is usually such a good sign.
5. Bad Teacher. I thought Justin Timberlake dry-humping Cameron Diaz would be hotter, somehow.
Armond White, Movie City News
We Need to Talk About Kevin. Must we?
The Help. A return to Jim Crow, now called "Viola Davis."
Bridesmaids. Feminism defeated. Frat girls (imitating frat boys) win.
Straw Dogs. Wrestles the Insult to Film History Award from Hugo and The Artist.
Super 8. A movie only Spielberg-haters could love.
Stephanie Zacharek, Movieline
Extremely Loud and Incredibly Close. 9/11 gets the "I can has cheezburger?" treatment.
Waiting for Forever. If your idea of a great Valentine's Day is to ring up your secret beloved and breathe heavily into the phone, this is the movie for you.
Cars 2. The first one was a lemon, too. And I don't care what your 4-year-old thinks.
Larry Crowne. Proof, supposedly, that Julia Roberts is too old to be bankable. Has it occurred to anyone that maybe it's Tom Hanks we don't want to look at?
Something Borrowed. Please, keep it. No, really.