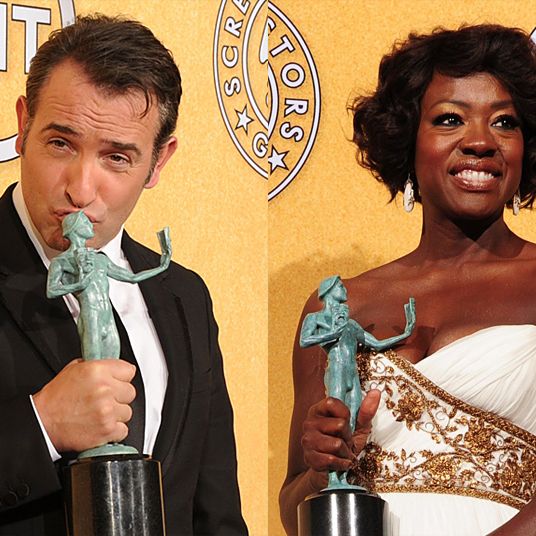 Jean Dujardin, Viola Davis.
Photo: Jason Merritt/Getty Images, FREDERIC J. BROWN/AFP/Getty Images
The Oscar nominations this year held quite a few surprises, but should last night's SAG Awards have come with a spoiler alert? After all, the men and women picked to win by the Screen Actors Guild almost always go on to repeat on Oscar night: The last two years, they've matched exactly, and the year prior to that was only messed up by the fact that Kate Winslet's SAG-winning supporting performance in The Reader was bumped up to Best Actress by the Academy. This means, then, that you can absolutely assume that SAG victors Christopher Plummer and Octavia Spencer are mortal locks to win in the supporting categories, but how will SAG affect the more volatile Oscar chances of Viola Davis, Jean Dujardin, and even The Help in the race for Best Picture? Let's take them one by one.
Viola Davis
Best Actress is considered to be a very close Oscar race between Viola Davis for The Help and Meryl Streep in The Iron Lady, and despite the fact that Streep won the Golden Globe, things are definitively tilting in Davis's direction. Most matchups between awards veteran Streep and another actress will go to the insurgent, and that's partially owing to the expectation that Streep will return the next year with something else that's Oscar-caliber (which is how Sandra Bullock and Helen Mirren have both beaten highly regarded Streep performances). While Davis has been nominated for an Academy Award before, it's unlikely that another opportunity will come along for her to give a lead performance in a box office blockbuster as big as The Help, and Oscar voters will seize their chance to reward her for it. As proven by the standing ovation she got while accepting the SAG award last night, affection for Davis is high in the industry, and it should carry her to an Academy Award.
Jean Dujardin
We've thought for a while that Best Actor was a three-man race between The Artist's Jean Dujardin, The Descendants' George Clooney, and Moneyball's Brad Pitt. After last night, though, it may be time to remove Pitt from contention. Like Clooney, Pitt gave a movie-star performance that's solidly in his wheelhouse, but awards voters don't necessarily respond to what seems "effortless." Instead, they like to see the lengths that you went to for the role — whether that's uglying up your pretty face or layering or gaining weight for a biopic — and there isn't anyone in this category who did more capital-A acting than Dujardin, a one-man charm offensive who carried The Artist without any dialogue. If Clooney hadn't already won an Oscar, he'd be more of a threat here, but Dujardin has gone from dark horse to front-runner over the course of the season.
The Help
SAG's predictive power, though, falters when it comes to the award for Outstanding Performance by a Cast in a Motion Picture, the closest thing it's got to a Best Picture corollary. The Help won that award last night, finally depriving The Artist of one key laurel, but it's incredibly unlikely that The Help can make a run for Best Picture at the Oscars without other nominations in Best Director, Best Adapted Screenplay, and Best Editing. (And this category doesn't always match up: Inglourious Basterds triumphed at SAG over The Hurt Locker just two years ago.) Instead, last night's SAG victory should be taken as further proof of how well regarded the actors of The Help are, and how potent a threat Davis and Spencer will be in their own individual races.