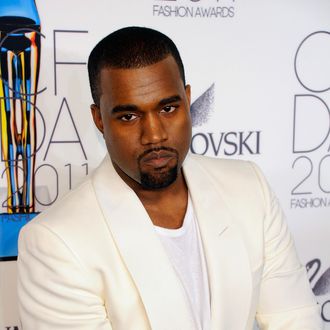 Photo: Andrew H. Walker/2011 Getty Images
Last night, around 11 p.m. EST — but, it should be noted, around 4 a.m. in London, where 'Ye was at the time — born-again social-media enthusiast Kanye West took to Twitter to share a little bit about his fashion line. Then he started talking about inspiration. And elementary school. And … the Jetsons movie? As usually happens when it's after hours and he has the mike, Kanye segued into a full-blown Twitter-rant — though, thankfully, this particular diatribe was mostly positive, focusing on the new company he's founding to change the world through design. Or something. The business is called DONDA, that much we know. Anyway, it was truly excellent. The highlights, below!
Baby Kanye had good taste.
"She said I would always point to the most expensive furs even as a child LOL"
So did his Mom.
"My Mom would wear blue jeans with a fur and an embellished "Cosby Show" sweater : ) to pick me up from school"
There will be a Jetsons movie?
"I was just discussing becoming the creative director for the Jetson movie and someone on the call yelled out.. you should do a Jetsons tour!"
Kanye will probably not be doing a Jetsons tour, though.
"This just happened a few hours ago. I was very insulted of course becuase for anyone that's seen the Watch the Throne Tour…Or Coachella or Glow in the Dark or Runaway.. you know I have real ideas…"
Kanye is still so-so on awards.
"I appreciate having the most nominations at the Grammies but I feel so conflicted by the fact that award shows sometimes are completely…illogical."
But he's starting a company! It's called DONDA (after his mom).
"DONDA is a design company which will galvanize amazing thinkers and put them in a creative space to bounce there dreams and ideas…"
Anyone can work there?
"I am assembling a team of architects, graphic designers, directors musicians, producers, AnRs, writers, publicist, social media experts…"
Don't worry, app guys, you too.
"app guys, managers, car designers, clothing designers, DJs, video game designers, publishers, tech guys, lawyers, bankers, nutritionist …"
Also, these dudes:
"doctors, scientist,teachers…"
And together they will all save the world, or at least make it very pretty.
"We want to help simplify and aesthetically improve everything we see hear, touch, taste and feel. …To dream of, create, advertise and produce products driven equally by emotional want and utilitarian need.. To marry our wants and needs."
They would also like to design the MTV Awards.
"We would also like' to design the MTV awards"
And fix education!
"Help education. School systems were designed to turn people into factory workers. Schools should be designed to prep human beings for real life."
Spike Jonze is in on that last one.
"Spike Jonze and I want to do a Summer school that tries new forms of cuuriculim"
Also, Kanye knows the education thing is ironic given his grammar, and he would like to apologize.
"excuse me… I just get excited at the possibilities… the more excited I get… the more grammatical errors you'll see…"
One more thing: DONDA's on Gmail!
"If anyone would like to reach out email us at contactDONDA@gmail.com"
There's actually so much more. Please go take it in.