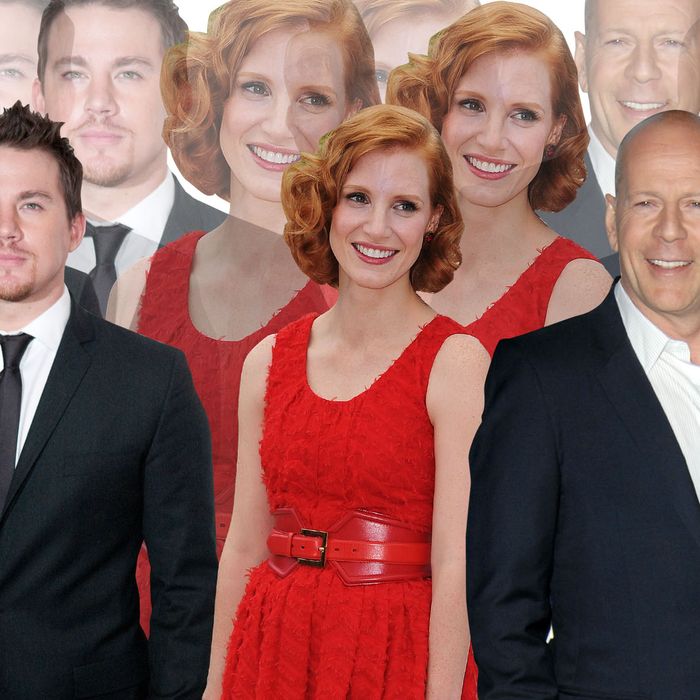 In 2011, it seemed like you couldn't walk into a multiplex without passing by a new film starring either Michael Fassbender or Jessica Chastain, two acclaimed actors who had the good fortune (and career heat) to suddenly line up movie after movie. This year, Fassbender can relax a little bit, as he's only got two films on the docket (this weekend's Haywire and Ridley Scott's space epic Prometheus), but Chastain will remain busy: The likely Oscar nominee for The Help will be seen in the next projects from Terrence Malick and Kathryn Bigelow, in addition to Wettest County, Mama, a voice role in the third Madagascar movie, and festival holdover Wilde Salome. She's not the only overachiever, though: Here are the other hardworking men and women who'll be 2012's most prolific actors.
The ultra-ubiquitous:
Channing Tatum has been acting for about eight years, but 2012 promises to take his career to a whole new level. In addition to a Saturday Night Live hosting stint coming up in a few weeks, he'll be seen this weekend in Haywire, next month in The Vow, and the month after that in 21 Jump Street. In fact, Tatum's schedule is so crowded that he's then got the male stripper epic Magic Mike and G.I. Joe: Retaliation opening on the same day in June; later in 2012, he toplines the high school reunion dramedy Ten Year, and he may even close out the winter with fast-cutting Steven Soderbergh's The Side Effects (provided it's finished in time). Get ready to see several new sides of Tatum, and only some of them will be unclothed!
Meanwhile, expect an unlikely career renaissance from Bruce Willis, who's also got a septet of starring roles this year. His Stephen Frears movie Lay the Favorite premieres at Sundance, while action movies like The Cold Light of Day, G.I. Joe: Retaliation, and The Expendables 2 are all on the way. Willis has linked up with a few of this year's young auteurs — Wes Anderson for Moonrise Kingdom and Rian Johnson for Looper — and the undated Fire With Fire is also likely to debut in 2012.
The very busy:
James Franco and Olivia Wilde are typically prolific in 2012, with each slated to appear in at least five projects, though some of them are mere supporting roles (don't expect to see too much of Franco as Hugh Hefner in Lovelace, no matter how enticing the idea). Far busier is last year's breakout, Chris Hemsworth, who toplines two huge tentpoles (The Avengers and Snow White and the Huntsman), two long-shelved genre flicks (The Cabin in the Woods and Red Dawn), and Ron Howard's race-car movie Rush, which may come out this winter.
Other five-film wonders: Joseph Gordon-Levitt, who has his own starring roles in Premium Rush and Looper, but three supporting parts besides (in Lincoln, Django Unchained, and The Dark Knight Rises), Elizabeth Banks (who'll probably get her biggest boost from The Hunger Games), Amanda Seyfried (who just added Les Misérables to her busy 2012), Ewan McGregor, and Robert De Niro.
The fairly familiar faces:
And then there are the stars that only have three or four movies coming out next year, but those projects are so significant that you should still expect to see a whole lot of them. That's a list that includes veterans like Liam Neeson and Emily Blunt, but it's topped by Jennifer Lawrence, who'll be in a whole different strata of superstardom after lead roles in The Hunger Games, House at the End of the Street, and David O. Russell's potential awards player The Silver Linings Playbook. Tom Hardy didn't quite break out as expected in last year's underperforming Warrior, but he's got bigger co-stars to give him a boost in The Dark Knight Rises, This Means War, and Wettest County. And Taylor Kitsch will attempt to smash into the big leagues with the one-two-three punch of John Carter, Battleship, and Oliver Stone's Savages. Well, if we're going to be seeing these faces every time we go into a movie theater, at least they're pretty!