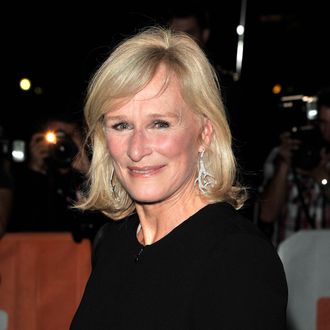 Glenn Close.
Photo: George Pimentel/2011 George Pimentel
Unless you're Mo'Nique, who famously won an Oscar without bothering to do a press push for it, virtually everyone with a stake in the awards race spends the winter relentlessly flogging their movies to pundits and voters, touting them on talk shows and at intimate Hollywood parties, and patiently attending every related Q&A they can. In fact, many actors won't even take on a new movie if it shoots during awards season, because their publicists make sure they're available for any and all Oscar-flogging from November to February. What's our point? When these same people then claim to have slept through the Oscar nominations or forgotten that they were today … well, let's just say we're a little skeptical. Forthwith, some of the more eyebrow-raising reactions (via the very comprehensive THR), rated for their unbelievability (with a 1 being genuine surprise, and a 10 representing outlandish, publicist-aided spin).
Glenn Close told THR that she was "just elated" to receive her Best Actress nomination for Albert Nobbs. How did Close learn of the nomination for a film that she has spent nearly 90 consecutive days promoting via countless interviews and awards soirées in Los Angeles? Oh, why, she had just gotten a green tea latte in the East Village and claims the Oscars were not even on her mind when her publicist called her with the news.
Unbelievability: 10. Aside from the sadly snubbed Albert Brooks, nobody flogged their movie harder this season than Close. We love you, Glenn, but if you're really claiming that you had no idea the Oscar nominations were today, then we fear the early onset of a stroke.
"I was sleeping and my phone started going crazy," Rooney Mara said. "I knew there was a small chance but I wasn't expecting it … [The Girl With the Dragon Tattoo] came late in the game and it seems to me that a lot of the movies that got the awards came out early."
Unbelievability: 5. It's her first nomination, so Mara was probably on more pins and needles than she's admitting … but at least she confessed to tracking the awards buzz on Dragon Tattoo.
Dark horse nominee Demian Bichir says, "I got the news in Mexico City, where I am rehearsing a play that goes up in two weeks. We are two hours later than L.A., it was 7:45 a.m. I am feeling sick, I started to feel it last night. So I went to sleep early and slept through the nominations because I have to be well by the time the play opens."
Unbelievability: 9. Wait, did we say nobody flogged their movie harder than Close and Brooks? We forgot about Bichir! Sure, you may be unfamiliar with him, but Summit had Bichir working the cocktail circuit early and often, which led to his surprise SAG nod and Oscar nomination. Also, the time zone excuse is a little confounding: We can believe it when L.A.-based celebrities plead sleep (since there, the nominations are announced at a super-cruel 5:30 a.m.), but didn't those extra two hours work in Bichir's favor?
Christopher Plummer also claims he was sleeping and was told of the nominations through a phone call.
Unbelievability: 2. The man is old! Wouldn't you sleep in, too, if you knew you had the Oscar all sewn up?
THR claims that Martin Scorsese also slept through the nominations, and though he has "a strict phone-free policy until 1 p.m.," he accepted a call from his agent to learn that he had been nominated.
Unbelievability: 6. C'mon, Marty. Yes, you have an Oscar now, but we know by now how much the Academy Awards mean to you.
Says Bridesmaids co-writer Annie Mumolo, "I was sleeping and my husband came in and said, 'You should come in here for a second. You got nominated for an Academy Award.' I almost passed out."
Unbelievability: 4. We're side-eyeing you a little, Annie Mumolo. Comedians want love, and lots of it! They don't sleep through the biggest measure of adoration they may get in their careers!
And now, as a palate cleanser, two nominees who admitted they really, really wanted it:
"Nobody woke me," said The Descendants producer Jim Burke, savvy to that ol' little white lie. "I set my alarm. I've never been nominated for an Academy Award before, and I was hoping today would change that." Honest!
Even more candid? Jonah Hill, who gave a hoarse interview to the Los Angeles Times and explained that he'd lost his voice after staying up all night, fretting over whether he'd be nominated. Hill was so encouraged by his nod for Moneyball that he said he'll only be doing dramas for the near future. "I'm making that the focus of my next couple of years," said the actor. "I mean, wouldn't you?"