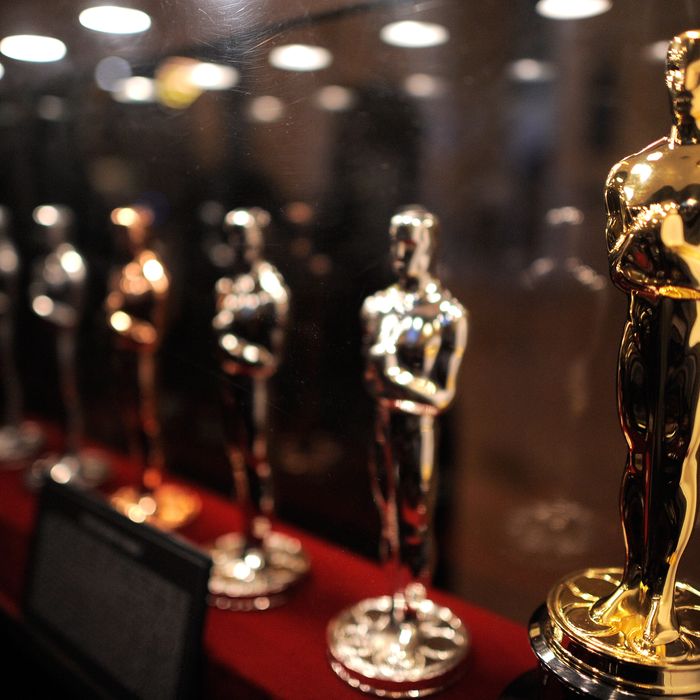 Photo: Jemal Countess/Getty Images
The Oscars have been restless over the past few years, and in an attempt to restore suspense and surprise to a ceremony that's already preceded by countless other awards shows, the Academy's board of governors has instituted a whole bunch of surprising changeups. Two ceremonies ago, the Oscars opened up the Best Picture category to ten nominees, and for the 2011 crop of movies, any number between five and ten movies could be recognized for Best Picture (assuming they pass certain voting thresholds). But exactly how do those weirdly convoluted rules work, and what surprises could we have next week when the Academy announces its nominations?
Ballots were submitted last week, and voters were asked to rank their five favorite films of the year in order — in a system of preferential voting that's been used since the sixth academy awards back in 1934 — even though this year, more than five films may be nominated. Here's how the Academy determines the ultimate nominees.
First, counters determine an initial threshold for Best Picture qualification using the following formula: the amount of submitted ballots divided by the amount of potential Best Picture nominees (ten) plus one*. When a movie has enough first-place votes to hit that number, it's an automatic nominee and it's removed from the pile. In other words, expect this year's consensus pick The Artist to sail through the first phase quickly.
Meanwhile, any movies that received less than one percent of the first-place votes are eliminated from contention, and on the ballots that touted them, the No. 2 choice now counts as a first-place vote. Did you go against the grain with a first-place vote for Transformers: Dark of the Moon? Well, that won't count, but your second-place vote for a film that needs it — say, Bridesmaids — could matter. And if Bridesmaids managed to pull a stunner and immediately qualify for Best Picture in the first phase, counters will continue down your ballot until there's a vote they can use. They'll also do this if your No. 1 pick already earned more than 10 percent of the total it needed to qualify for Best Picture, but in those cases, the No. 2 votes will count for less.
And here we come to the new 5 percent rule. Now that all the ballots and votes have been reallocated, counters will weigh the votes for each movie against 5 percent of the total ballots submitted. The Academy has fewer than 6,000 members and not every member will mail in a ballot, so ultimately, a film will need fewer than 300 votes at this stage to potentially earn a Best Picture nomination.
Who does this favor? Movies with small-but-devoted followings, mostly. The Tree of Life hasn't factored into Oscar precursors very much (even one of its producers isn't optimistic about its chances), yet there's a contingent in the Academy that venerates director Terrence Malick, whose film The Thin Red Line was among the five Best Picture nominees in 1998. Surely, it'll receive at least the one percent of first-place votes it needs to qualify for contention, so the challenge is to score highly on at least 200 other ballots.
Helping matters with smaller, more challenging movies like The Tree of Life is the Academy's highbrow bent: The organization will often sub out popular movies for well-respected ones, especially at the outskirts of its membership. The Dark Knight was famously snubbed for Best Picture in 2008 in favor of The Reader, and while the expansion in recent years to ten nominees was intended to let in more populist picks like Toy Story 3 and Inception, the Academy also excluded sleeper hit The Town in favor of the micro-budgeted Winter's Bone last year, and neglected big movies like Star Trek and Invictus (which both made the ten-film PGA short list) in 2009 in order to nominate the Coen brothers' barely seen A Serious Man.
So, while it's entirely possible that we might end up with another expansive, everybody-wins roll call of ten nominees next Tuesday, the uncertainty may actually favor eclectic dark horses like Tree of Life, Bridesmaids, and persistent awards season player The Ides of March (which counts even Harvey Weinstein among its fans), while leaving films without a deeply devoted base — like War Horse, which has picked up precious few craft nods and precursors — out in the cold. At the very least, after last night's predictable Golden Globes telecast, it'd be nice for the Oscars to throw us a few genuine surprises.
* The initial version of this story switched the order in which two figures were divided.