Wiz Khalifa Hit With Timely 'Black and Yellow' Plagiarism Suit
Surely you have heard "Pink N Yellow."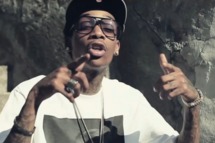 Over a year after the breakout single hit No. 1 on the Billboard chart, a songwriter named Max Gregory Warren is claiming that Wiz stole "Black and Yellow" from his own, lesser known "Pink N Yellow." Warren's suit states that he wrote "Pink N Yellow" in 2007 and copyrighted it in 2008; he alleges that Wiz "engaged in a scheme to defraud plaintiff out of the fruits of his copyright of the Subject song." And he wants $2,375,000 in punitive damages. Okay! Maybe the time to file this suit would have been before everyone and their weird cousin had written their own "[Color] and Yellow" knockoff song, but we do not claim to be legal experts. Just people who will now be singing "Black and Yellow" for the rest of the day, against our will.