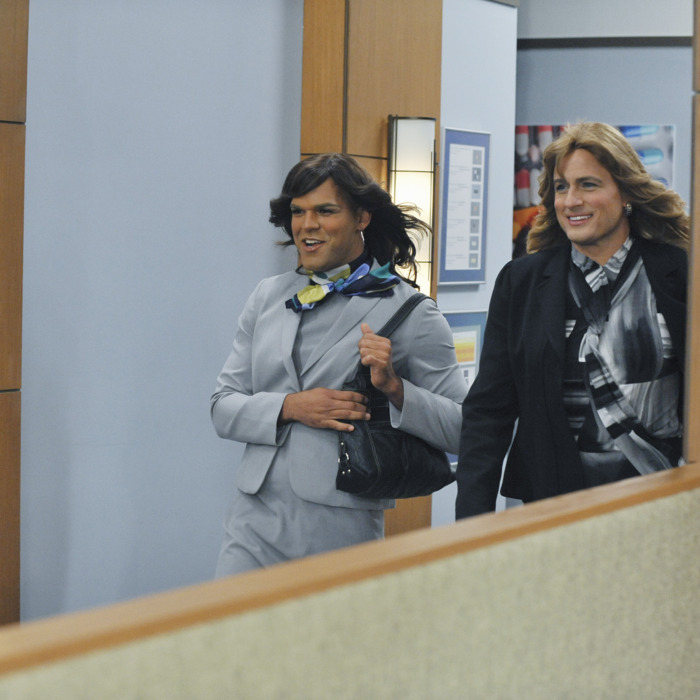 Photo: Eric McCandless/ABC
Work It's abortive two-episode run has left a sad hole in our hearts where the collective disdain for cultural entropy is supposed to go. That show was so bad, and so fun to ridicule, that it was the perfect vessel for the ambient but persistent disappointment in the fact that the adult world is far less intelligent and spectacular than we are led to believe in our young lives. The world will let you down, said Work It, with its dumbness, with its sexism, with its unoriginal crassness. Years from now when we think of Work It, let's remember its transphobia and overall terribleness (never forget), but let us also remember that for two brief half-hour installments in 2012, all of pop culture had a common enemy, this agglomeration of the toxically unpleasant that we surrounded, pushed to the surface, and expelled, like white blood cells attacking a splinter in a garish wig. In memoriam, Work It:
And now what of stars Amaury Nolasco and Ben Koldyke? They're hardly the only actors to have been trapped in a disastrous sitcom, and they could easily never speak or think of this show again. Chi McBride and Dann Floreck escaped The Secret Diary of Desmond Pfieffer unscathed; Erika Christensen, Cloris Leachman, and Jim Rash recovered from Thanks just fine; Evan Handler's stint on Woops! is barely a blip. Even the cast of Shasta McNasty seems to have done okay. Ill-conceived comedies tend to vanish in ways ill-conceived dramas tend to linger; Cop Rock will never truly leave the lexicon, but someday, Work It certainly will.