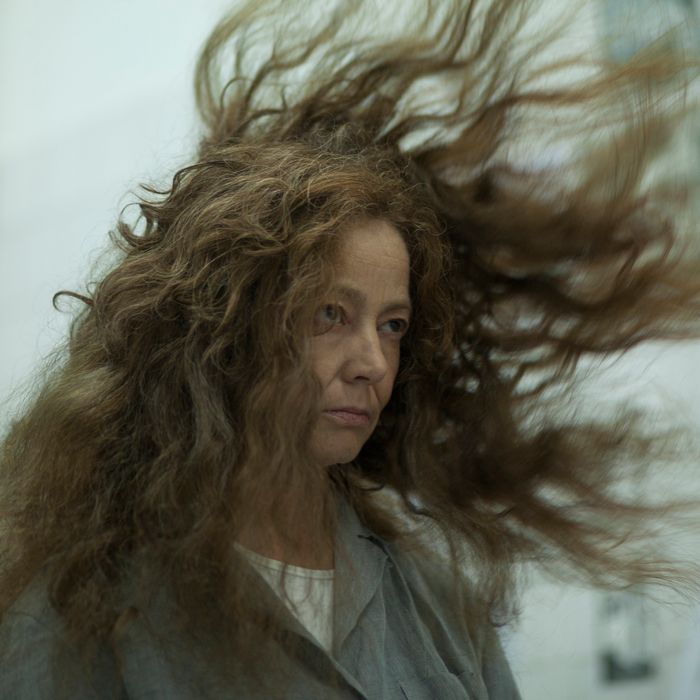 Photo: Photo credit: Toni Salabasev/? 2011 Paramount Pictures. All Rights Reserved.
This Weekend's Winner: Paramount's pickup of the ultracheapie horror film The Devil Inside — made for a hair less than a million bucks, which is what Michael Bay usually spends on Snapple for his crew — now seems like a devil of a bargain after it tripled expectations and grossed $34.5 million in its opening weekend.
This Weekend's Losers: It's strange days indeed when two Steven Spielberg movies are in theaters and neither one seems to have gotten any traction with the American moviegoing public. Say what you will about their overseas numbers, but War Horse ($8.6 million this weekend) and The Adventures of Tintin ($6.6 million) have both floundered here at home, with Horse barely in a working trot at $57 million and Tintin at $62 million.  Even stranger is that an execrable R picture like Devil Inside could open three times higher than David Fincher's The Girl With the Dragon Tattoo, which managed only $11.3 million last weekend.
How It All Went Down: Still, you have to give the Devil its due, or at least, the marketing department of Paramount Pictures. The studio not only hoped Devil Inside might become the studio's next Paranormal Activity, it even cut its TV commercial campaign to resemble the grainy, camcorder texture of Oren Peli's 2007 sleeper hit, even if the "found footage" movie was far slicker in its appearance.
More, in a marketing master-stroke, Paramount surreptitiously screened the R picture in a Pasadena church last month to obtain worth-its-weight-in-gold footage of parishioners screaming in horror from their pews. The commercials' implicit message: If God-fearing, churchgoers are this scared sitting cheek-by-jowl on hallowed ground, just how frightened will you be when you and your crew of godless knuckleheads see it in a theater?
The ploy worked, but with notable differences: Compared with Paranormal Activity, Devil Inside is an unquestioned suck-fest, as proven by critics unanimously eviscerating it and JWOWW unabashedly enthusing over it. Devil Inside also becomes one of the rare movies to actually receive an actual "F" CinemaScore from audiences, putting it in the company of just six films, including Bug starring Ashley Judd (2006) and The Box with Cameron Diaz (2009). As such, we cannot imagine a universe in which a sequel performs anywhere near this level, but have little difficulty envisioning it ultimately out-grossing Spielberg's War Horse. Now that is eerie.
Finally, the news was also good for Tinker Tailor Soldier Spy, which enjoyed the highest per-theater average, even after Focus Features added some 750 additional houses. Mission: Impossible: Ghost Protocol, meanwhile, gave up less than a third of last weekend's audience to take an estimated $20.5 million, putting it solidly in second place; it's well on its way to becoming the highest-grossing film of the Mission franchise.