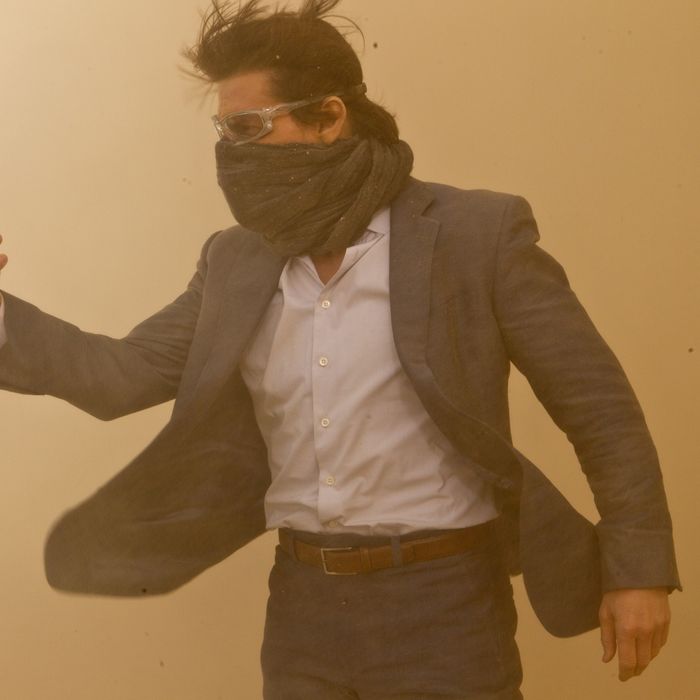 Photo: Paramount Pictures
This Weekend's Winner: Mission: Impossible - Ghost Protocol ($38 million) lost barely an eighth of its opening weekend audience to save the world if not the weekend, which was down just a hair compared with the same time last year.
This Weekend's Losers: Sherlock Holmes: A Game of Shadows ($21 million) is now $30 million short of where the original film was around this time, while Chipwrecked is about $45 million short of where the first iteration of Alvin and the Chipmunks was in its third weekend out. But the real hurt is on David Fincher's The Girl With the Dragon Tattoo, which managed only $19 million for the four-day New Year's holiday weekend, bringing the film's cumulative gross to a teaspoon over $60 million.
How It All Went Down: The real story of the weekend is why Ghost Protocol has kicked The Girl With the Dragon Tattoo out the window of the Burj Khalifa like it was some anorexic assassin. Two weeks ago, we tried to warn you: The ladies who made the Stieg Larsson books one of the biggest literary franchises of the last decade weren't buying Fincher's version. And sure enough, Christmas weekend came and went, with the film grossing less than $29 million over six days; by the time New Year's came around, the Wall Street Journal was openly speculating about the future of the trilogy, forcing a Sony flack to issue an "Of course we're still making a sequel!" statement yesterday.
Tattoo, of course, has a hard R rating, while Ghost Protocol is a PG-13. Fincher's film is 158 minutes, while Bird's is only 133, which means fewer screenings are possible in a given weekend. But Tattoo faces other hurdles both at home and abroad in the weeks to come: As one former CAA agent put it to us, "Domestically, [Mission: Impossible] is based on a known American franchise, not some remake of a foreign novel," and internationally, "the people who wanted to see Dragon Tattoo already saw it."
That is, since Niels Opelev's Swedish-language version grossed nearly $100 million overseas a little over a year ago, Sony can't look to international audiences to save its aquavit this time around, either.