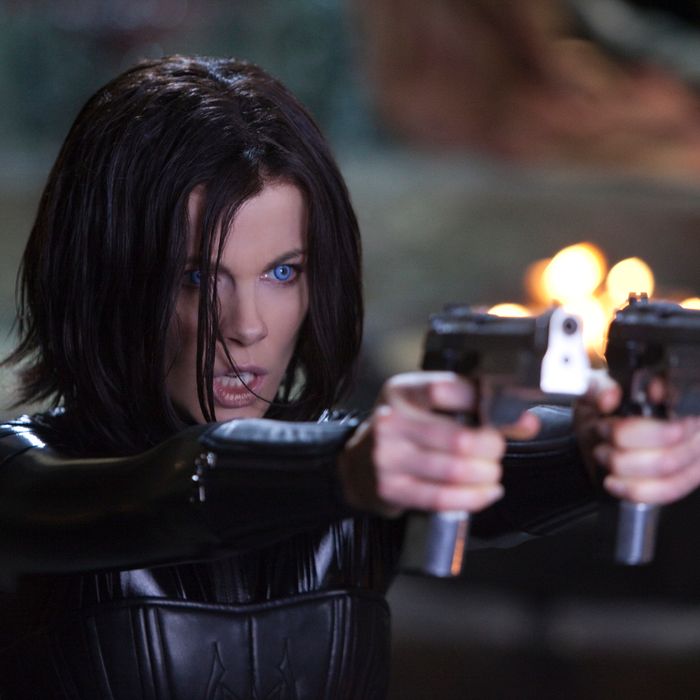 Photo: Joe Lederer/Screen Gems, Inc.
This Weekend's Winners: Underworld: Awakening (No. 1 with $25.4 million) improves on the penultimate Underworld, which did not have Kate Beckinsale (2009's Rise of the Lycans), but comes up short compared with vintage Beckinsale of 2006 (Underworld: Evolution), which opened to just million and a half more. Runner-up: George Lucas's wholly self-financed Red Tails out-flew considerable critical flack to land a $19.1 million second place finish. Also: box office overall, which is up a third over the same time last year.
This Weekend's Losers: Having retired from Muay Thai ass-kicking, Gina Carano's transition from martial arts to the cinema arts has not gone so smoothly, despite critical accolades: Steven Soderbergh's Haywire (No. 5 with $9 million) was clearly the odd girl out. Meanwhile, the poorly reviewed Extremely Loud and Incredibly Close expanded to over 2,600 theaters but earned a only $10.5 million.
How It All Went Down: If ever there was a weekend in which film critics proved their obsolescence, this was it. The critic-proof Underworld franchise returned, guns-blazing, to open at No. 1, and perhaps not by accident, Red Tails was close behind. Could it have benefited from the Underworld overflow? The Screen Gems vampire franchise has always had what many studio execs nervously and privately call "an urban and ethnic component," and some of them theorized that one reason why Red Tails could have performed much better than the studio's tracking indicated was that very "urban and ethnic component" from Underworld also sampled Red Tails and spread positive word of mouth. Indeed, Underworld managed a 9 percent increase from Friday to Saturday, but Red Tails got a whopping 44 percent bounce from Friday to Saturday.
Meanwhile, speaking of bouncing: The Descendants lost 100 theaters, but was up nearly $2.5 million this past weekend, thanks to the Golden Globes. So, too, Iron Lady, which added some 275 theaters and fell just outside the top ten with $3.7 million — a drop of less than a third of last week's audience, again likely aided by Meryl Streep's Golden Globe win. But sadly, by comparison, the awards hardware acquired by The Artist doesn't seem to have done it much good thus far: It finished with only $2.4 million, way back in seventeenth place.