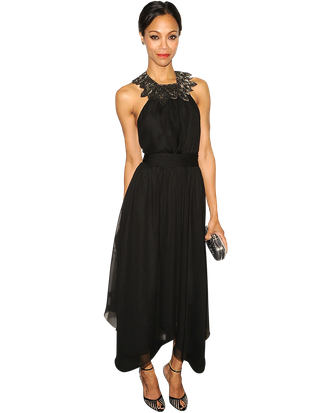 Zoe Saldana.
Photo: Frazer Harrison/Getty Images
Zoe Saldana has had an interesting week: Though she spent the first part of it shooting J.J. Abrams's megabudgeted sequel to Star Trek in Los Angeles, she jetted to the Sundance Film Festival yesterday, a place that's light-years away in terms of intimate, low-budget filmmaking. Saldana's in Park City to support The Words, which is admittedly a starrier production than many other Sundance films: She stars alongside real-life beau Bradley Cooper in this story of a writer who steals someone else's manuscript in order to pass it off as his own. Still, as Saldana told Vulture, when it comes to picking movies, it's character that counts to her, not the size of the enterprise (or Enterprise, in this case). We sat down with her yesterday to discuss her Sundance experience and to pry some sci-fi out of her.
Is this your first Sundance?
No, it's my first time with a movie here, but it's my second time coming. Last year my sister had produced a movie, so I came here as her plus-one. And this year she's my plus-one. [Laughs.]
Did your sister give you any tips for surviving Sundance as a creative?
She was just so fly last year! So I'm learning from her to just enjoy the fact that I'm here and to not allow the pressure to get to me. But it's to my advantage, too, that my movie sold before I got here, so I'm really relieved.
Since this is a very literary movie, what have you read lately that's good?
I'm reading a book called Geek Love [by Katherine Dunn] right now. It's like Big Fish with a little bit of Misery, and you can't put it down.
All of us have these stacks of books on our bedside table that we're trying to get to, but I would imagine that you also have a stack of scripts keeping you from that, too.
Yes, yes I do. But the good thing is that I get to read more books when I'm working because I've already prepped for my character, I know my lines, I already know what I'm supposed to be doing. So to distract my brain, I usually pick up a book, and I'll start reading. When I was shooting Colombiana, I started reading Dune all over again.
Do they ever sort of bleed together?
Oh yeah, I had to put it down. Because at one point, I had to think about my Colombiana character, who's like, "Vengeance, vengeance, vengeance," and I kept getting caught up in Lady Jessica from Dune, Muad'Dib's mother, and I was like, "I want to be a Bene Gesserit so bad." And I'm like, "No! Lady Jessica's all about love and wisdom, and I'm playing this girl who wants to kill everything in sight!" I had to put it down. [Laughs.]
Since you're the star of two enormous sci-fi franchises, does that make it a safer career bet to take an independent film now and then?
No, I wish I could think like that. I have so many friends that pick projects artistically and spiritually, but they also pick projects because it's a good business decision, and I'm not there yet. I don't think I ever will be — I would hope I would be, you know, when I grow up. But literally, it's just so hard. Like, I'll read a script and it doesn't matter what package it comes in, it doesn't matter who's attached to it, what director's doing it … to me, it's all the story and the characters.
So much of The Words is about the anxiety that an artist feels when one's dreams of success exceeds one's reality. Early in your career, did you ever have that same sort of self-doubt?
I mean, the human response is "yes" because I feel like it's part of human behavior to be on this quest for identity. Also, not a lot of us are able to make money by doing what they love, so to literally be able to do that, you feel very, very grateful. But at the same time, there are challenges. We live in a very unstable business, especially as artists, as the actors, because it's up and down. So there are moments of high insecurity, but you have to always know that it's normal, and accept it for what it is because I feel like that's what keeps me grounded — the fact that I never feel entitled to anything. I literally want to fight for all the roles that I earn because when I arrive the first day on the set, I'm going to give 150 percent because I know how hard I've worked for it.
But is it nice to fight a little bit less than you might have had to earlier in your career?
Oh, are you kidding me? Yeah. And that's when the monetary compensation comes in. What also eases a little bit of the tension for me is when you're part of a project that got the attention of all your peers in the business, and they can see you at a coffee shop and you bump into them and you might be auditioning for them or working with them, and you have their respect. That to me — because I'm from New York — to me, once you get that approval, you're legit, you know?
Let's talk briefly about Star Trek 2. The studio let J.J. Abrams have a little bit more time than most directors would have to prep the sequel, but for a while there, were you like, "C'mon, I want to get back on the Enterprise"?
I kind of was, yeah. The film came out in 2009, we shot it in '07, and now it's 2012. So yeah, around last year, I was like, "Come on, come on already," because I had such a wonderful time working with J.J. and the cast and doing science fiction, which is my biggest passion and my preference as an audience and as a reader, too. But when you're around J.J. and you're around [Avatar director] Jim Cameron, you sense that there's this absolute consciousness that if they don't focus on the quality of what they do, then their formula's not going to work. That's the one thing they have in common; they're amazing storytellers, so J.J. probably would have fought for the time that he needed for the sequel.
Might we see some more "close encounters" between you and Zachary Quinto in this movie?
If I'm elusive, will that spoil it for you?
You mean you can't say anything, and that in itself might be indicating something?
I just don't want to spoil it for you. All I'm going to say is, if you put all the time and energy and wit into setting these two characters together in the first movie and didn't follow through, it would be a shame.
Got it.
I hope I didn't say too much!
I don't think you did.
I feel like J.J. is going to pop up out of the corner and say, "Come with me, Zoe."