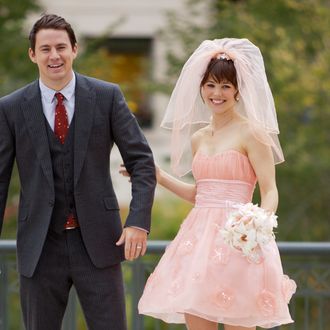 Channing Tatum and Rachel McAdams star in Screen Gems' THE VOW.
Photo: Kerry Hayes SMPSP/Screen Gems/Sony Pictures
Happy day-after–Valentine's Day, everyone! How did you spend the most romantic evening of the year? Did you totally boycott the festivities and spend all night tweeting about Jeremy Lin's game-winning three-pointer? Or did you, like a record number of Americans, decide to embrace the spirit of the holiday with a Valentine's viewing of Nicholas Sparks–wannabe weeper The Vow? The Channing Tatum–Rachel McAdams rom-non-com took in $11.6 million on Tuesday night alone, making it the biggest February 14 box-office earner in history. (The previous record holder was, of course, Hitch, with $7.5 million.) We are still waiting on the numbers for how many fights were held outside movie theaters last night because "You don't love me the way Channing Tatum loves her," but let's assume they will also be impressive.