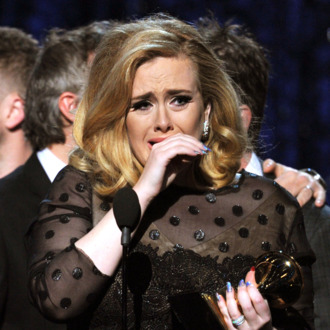 Photo: Kevin Winter/Getty Images
Adele, recording industry savior and winner of all the Grammys, is going to chill for a while. "I am fucking off for four or five years," she tells Vogue in her adorably British, brusque way. "If I am constantly working, my relationships fail. So at least now I can have enough time to write a happy record. And be in love and be happy. And then I don't know what I'll do. Get married. Have some kids. Plant a nice vegetable patch."   Update: she was just kidding about that break! But hopefully not about the happiness.  The profile is still charming, though.
The long-form profile was reported entirely before the Grammys, and a victory lap like Adele's could alter even the most relaxing, best-laid plans … but if she's really taking it easy for half a decade, it's better to know in advance than to be sitting around in 2017 wondering where the hell that new Adele record is, right? (And hey, later in the profile she says, "I will need at least three years to write a record.")
Other tidbits gleaned from the Vogue piece:
• Adele is "wifey material" and resents the idea that a gentleman need fear her wrath: "It's not like, 'You fuck me over and I'm going to write a record and make you the most hated man in the world.' I am never writing a breakup record again, by the way. I'm done with being a bitter witch."
• Adele, hiatus aside, is looking to be a famous, beloved singer for the long haul: "I don't want to be disposable. You're only as good as your next record. I'm not scared of losing this. I won't come out with new music until it's better than 21."
• Adele's break will include experience-gathering: "I have nothing to write about! I'd be lying. And that would go against everything I've ended up building for myself. … I want to evolve as an artist. There's so much music I don't know about yet. I want to go on the road with my friends who are artists. I want to go and see things as a fan again."
Adele, seriously, do anything you want — we'll catch up when you're ready. But if that sweet vegetable patch inspires you to record a new masterpiece a little sooner than you planned? That's cool too.