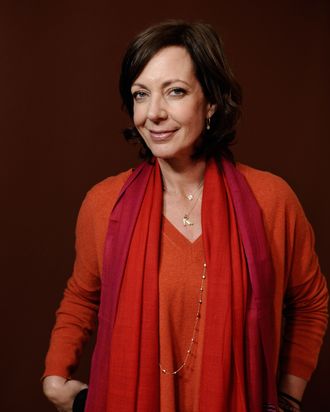 Actress Allison Janney poses for a portrait during the 2012 Sundance Film Festival at the Getty Images Portrait Studio at T-Mobile Village at the Lift on January 21, 2012 in Park City, Utah.
Photo: Larry Busacca/Getty Images
Allison Janney and Tony Shaloub are in final negotiations to star in Greg Daniels's new Britcom adaptation Friday Night Dinner, sources close to the show confirm. That would make a collective twelve Emmys between the two of the stars and the showrunner, which is a lot of Emmys. Janney and Shaloub would play the parents of two adult children who gather on Friday nights for Shabbat dinner; in the U.K. version, which has only aired one six-episode season, those roles are played by Tamsin Greig (Episodes) and Paul Ritter (Harry Potter and the Half-Blood Prince). CJ! Monk! The guy who created the American Office! Shabbat dinners! Oy, such potential.