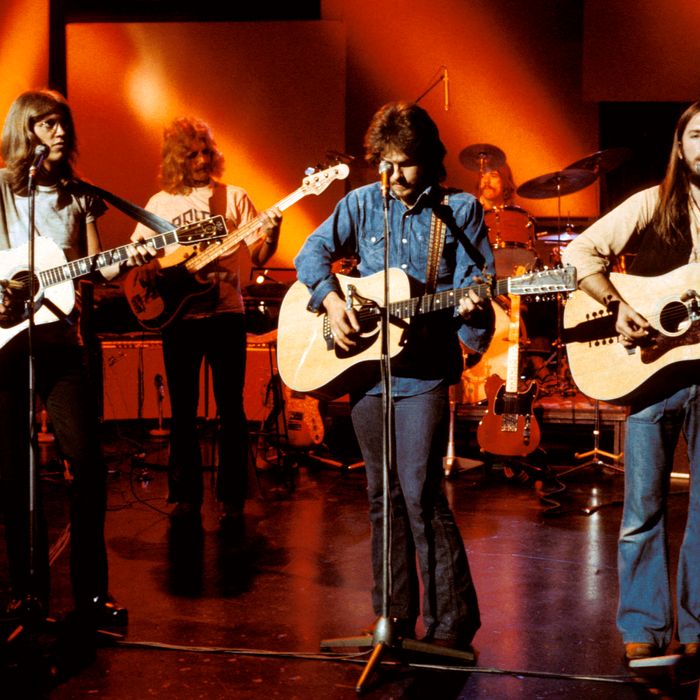 America, the Patient Zero of Frisbee Rock.
Photo: David Warner Ellis
To the satisfaction of anyone mesmerized by Time-Life Music's soft-rock infomercials, last week the band America became the 2,459th celebs to be awarded a star on the Hollywood Walk of Fame. Last Monday's ceremony marked the 40th anniversary of their signature hit, "A Horse With No Name," that alluring, Castaneda-for-Dummies folk-pop hit with the head-scratching lyric "the heat was hot." In 2012, this news probably only matters to those still kept awake at night wondering just how you call a horse that has no name. (Or how you get it to gallop: "Giddyap … you horse, you!") But though many dismiss the band as a guitar-strumming Crosby, Stills, Nash & Young lite, here is an immutable fact that may make music purists cringe: America is one of the most influential bands in popular music. Love it or cringe at it, America and "A Horse With No Name" helped launch an unkillable genre that stretches from peers like Dan Fogelberg all the way to Jack Johnson and newly minted Grammy Best New Artist Bon Iver: Call it Frisbee Guy Rock, and, in their way, America and their ilk are more influential than, say, the Velvet Underground and Radiohead.
Frisbee Guy Rock is the sound of laid-back, non-threatening, satisfied-but-still-in-need-of-love troubadours who are the physical and philosophical embodiment of a chill pill. When the concert is over, you can't imagine them partying or getting in a fight: You just picture them floating out to the nearest lawn and hurling an endless supply of Wham-Os. America was a different animal from CSNY, for whom they were often mistaken. CSNY pioneered the harmonizing genre, but their twenty-minute guitar jams, ego battles, anti-Nixon attacks, and punching out of a heckler in the crowd (as Stephen Stills did once) weren't very Frisbee. James Taylor, another soft-rock predecessor, had a known dark side (his drug struggles), and Cat Stevens, who broke through just before America, was a bit too reserved and British-prim; you had the feeling that if a Frisbee came his way, he'd duck and cower.
America, on the other hand, embodied the peaceful-easy-feeling aura of the Frisbee generation. Unlike Taylor and CSNY, they didn't appear to be burdened by anything other than their sensitivity, making them Patient Zero of mellow Frisbee Rock. The sons of American military men stationed in England, the trio — Dewey Bunnell, Gerry Beckley, and Dan Peek — attended the same London high school and had their earliest successes in Europe. Their immediate success, with "A Horse With No Name" and their eponymous debut album, paved the way for future Frisbee Rockers Kenny Loggins, Seals & Crofts, England Dan and John Ford Coley, and the Stephen Bishop scene in Animal House. (Frisbee Rock is largely a male domain, although a few women, like Melanie, Jewel, and early Joni Mitchell, have been admitted to the club as honorary Frisbee Girls.)
Some harder rockers clearly pined for an America-like existence, momentarily shelving their tongue-waggling and devil horns for the placidness of the Frisbee lifestyle: Extreme did it with "More Than Words," while Poison's "Every Rose Has Its Thorn" has a touch of the 'bee. Mind you, power ballads are not Frisbee Rock, as they inevitably ramp up into guitar-solo-fueled symphonies and histrionics (think "Dream On" and "November Rain"). Nor does the genre include Dylanesque unplugged folk-rock, either — that's too "edgy" for this field. We're talking pure folkie-acoustic ballads that stay steadfastly summer-breezy and are designed to prove that beneath the denim and hair are sensitive, easily wounded hearts. And in doing so, of course, the singers can hook up with more women than if they were cranking a Telecaster. (In Peek's memoir An American Band, published before his death last year, he revealed his surprising druggy, carousing days with the group. It is a good thing he kept this secret for years, lest he have single-handedly harshed the band's mellow.)
Punk, new wave, indie rock, hip-hop, and so forth were supposed to kill off this genre. But like that horse in the desert, it plows on and picks up new adherents along the way. An entire SiriusXM channel, "The Bridge," is devoted to what's called "stress-free music … nothing too hard, just great mellow rock." Jack Johnson updates Frisbee Rock with flip-flops, a Hawaiian tan, and a shorter haircut, and Jason Mraz does it with a porkpie hat and bromides like "I'm Yours." When he's not living out his Hendrix guitar-god fantasies, John Mayer oozes Frisbee sensitivity. Dave Matthews may try to deflect his inner Frisbee Guy by way of his band's interminable solos, but he can't hide his gargle-voiced Frisbeeness. James Blunt demonstrated his genre bona fides by actually covering "A Horse With No Name."
Even indie rock, home long ago to fierce types like Bob Mould and Henry Rollins, is now full of contemporary Frisbee Rockers: Bon Iver when he's singing Bonnie Raitt covers, Jim James of My Morning Jacket when he's unplugged, Sam Beam of Iron & Wine, and most if not all of Fleet Foxes' work. The forthcoming New Multitudes album by Jim James, Jay Farrar, and Anders Parker should come packaged with a Frisbee.
So mock "A Horse With No Name" if you will, along with other Great American Frisbee Songbook standards like "Tin Man," "Lonely People," and "Sister Golden Hair." (Please mock "Muskrat Love".) But they're having the last, melodious laugh. The late Captain Beefheart may have the critics on his side, but America — and their successors — wound up with the legacy and the ladies. On February 25, the band, still fronted by founders Bunnell and Beckley, are even playing Coachella. Actually, the show is at a casino there, but it's still sort of a validation, right?