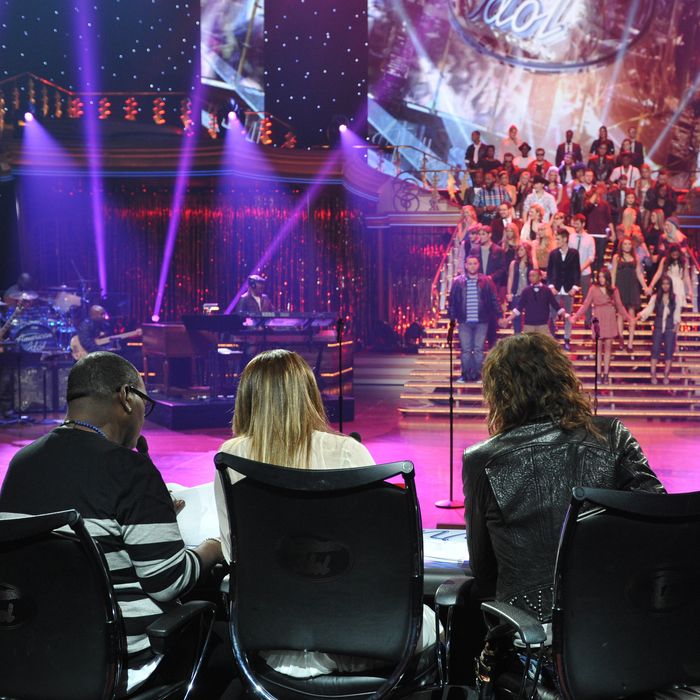 Photo: Michael Becker/FOX
Tonight! The 70 remaining singers must put in one last group performance! The judges put it like this:
Randy: "You all have won the chance to go to Las Vegas!"
Jennifer: "To sing songs from the '50s!"
Steven: "ON THE SET OF ELVIS PRESLEY!"
Now, in real life, their chance of going to Las Vegas is a 100% chance, because they're all going, and they'll be singing songs from the '50s and '60s on the set of Cirque du Soliel's Viva Elvis. Other than that, right on the money, guys. Here is a giant novelty check for a billion dollars.
The singers take the five-hour drive to Vegas in one giant bus, and I'd like for you to try to imagine something worse than driving that bus. You can't, right? Richie Law attempts to draw a Sharpie mustache on a sleeping girl, then when the same girl gives him a wet Willie as he dozes, he simply hits her in the face. Richie Law is television's greatest villain.
They arrive at the Aria hotel, where you will be relieved to know there are all new beds for them to flop into. But the fun won't last long, promises Ryan: "Even though these songs make you feel good on the inside, there will be cuts, and they will be painful." So … that's it? Don't want to do a second take on that, Ryan? You're the boss.
These performances are going to be shot like real Idol performances, with big swooping crane shots and dramatic lighting flourishes, yet they will still be miked and mixed to sound like live televised local church services. Why can't this show get its sound together? Also, the singers will all be in period wardrobe and full make-up, which must have taken longer than the rehearsals, but we never see this part. It's only a two-hour show after all.
The first group does "Dedicated To The One I Love," with Colton Dixon, Skylar Laine and Some Country Guy making it through, and Cory Quinones not. Seems a little arbitrary to me. The Group of Children is not the name of the group with David Leathers Jr., Gabi Carrubba, who is a monster, Jeremy Rosado, and Ariel Sprague who I am seeing for the first time. But they're all through! David Leathers, Jr. could be cast as Dr. Dre if they ever get around to making NWA Babiez.
Oh! The next group is really interesting: Adam Brock, Angie Ziederman, Erika van Pelt and Shelby Tweten. Angie is working kind of a Reform Jew Lady Gaga thing, which I guess our culture needs. They're all through! Next, a team with Reed Grimm and young Helen Hunt, Eben Franckiewicz, all of whom are through. What's the point of this if everyone keeps going through?
Schyler Dixon, Brielle von Hugel and Another Girl do an Andrews Sisters thing, which is not at all era-appropriate. Another Girl is kicked out, or, as Ryan puts it, "salutes the competition goodbye." BOY OH BOY, American Idol succeeds in spite of its writing and production, not because of it.
Richie Law and Jermaine Jones were the last two picked for teams, so they had no choice but to join together. Richie is an interesting case study here; you can tell he's struggling to fit in, but he comes off like a home-schooled 19-year-old who got all his social skills from a guide to being cool that was written by a different home-schooled 19-year-old. Jermaine has been reminding me of someone, and once he spoke and his lisp became apparent, it hit me: an enormous, black, dreadlocked-and-neckbearded Drew Barrymore as Gertie in "ET." You're welcome. They're both through.
Look: I know I've run the joke about how these young boys look like famous actresses into the ground. I'd love to stop relying on it, but if that's going to happen, they're going to have to stop selecting young boys who look like famous actresses. Incidentally, DeAndre Brackensick, the guy who looks like Jurnee Smollett, makes it to the next round.
Four guys who do not look like any actresses but somehow all look exactly like each other do "Jailhouse Rock." One of them says he's excited to do it "on the actual stage where Elvis performed," which I will not even dignify with a response. They all make it through except Curtis Gray.
And now another SHOCKING TWIST: there will be more groups in day two, and if there are better performances, the day one people who got through might get eliminated anyway. It will result in tears and probably more fainting.
The Neapolitans include Jessica Phillips with the stroke boyfriend, and Britnee Kellogg with the deadbeat basketball ex-husband and Courtney Williams who I've never seen before. And something incredible happens: There is actual musical criticism happening tonight! Jennifer and Randy agree that a singer should master the melody of a song first, before trying to do all kinds of runs and tricks. I have been waiting eleven seasons for someone to say this! Jessica doesn't make it through, and complains that the show "isn't looking for real artists," right in front of her groupmates who made it through. Classy!
Peggi Blu is the vocal coach from hell, who is not at all playing to the cameras. Now, the world of television is full of people who are desperate to brand themselves as unpleasant, but Peggy kind of just yells aphorisms: "Wake up and smell the coffee!" "Get a grip!" "A stitch in time saves nine!" "You want it when?" I could do this all day. (May I do this all day? It is much more enjoyable.) She is charged with vocal-coaching Heejun Han, my sweet Phillip Phillips, Jairon Jackson and Neco Starr. They do "I Only Have Eyes For You," and Phillip's attempts at dancing are so deeply awkward I fall in love with him anew. They all make it through! Thank you, Peggi! Heejun breaks down crying and cements his status as the breakout star of this season.
Groovesauce minus Reed Grimm becomes Lady and the Spectacles, and sings "Sealed With a Kiss." It's pretty great, and has interesting harmonies and dynamics and other things that I shouldn't be so surprised to hear, although Creighton Fraker sounds like what would happen if your nose could sing. All are through except Nick Boddington, so it's a good thing we never got to know him.
And then it's time for what I will call PSYCHE, in which people just start getting eliminated because the judges didn't do their jobs the first time around. Gabi Carrabba gets the ax, and her teammates pretend to cry about it. Colton Dixon's sister Schyler doesn't make it either. If Colton Dixon ate his sister Schyler, he would still be far too skinny. Angie Ziederman gets the hook too, as does — and this is genuinely shocking — Handsome Johnny Keyser! Britnee Kellogg gets let go and takes it poorly, saying "I don't want to go home," and maybe forgetting that we know she has children there. And now we're down to 40 singers, which is still way too many.
Next week, one more round of performances! This is at least the third time I've heard Ryan Seacrest say that, and I am starting to believe he might not be entirely on the level! And Steven Tyler is going to take off his clothes and jump into a pool. We'll cross that bridge when we come to it.