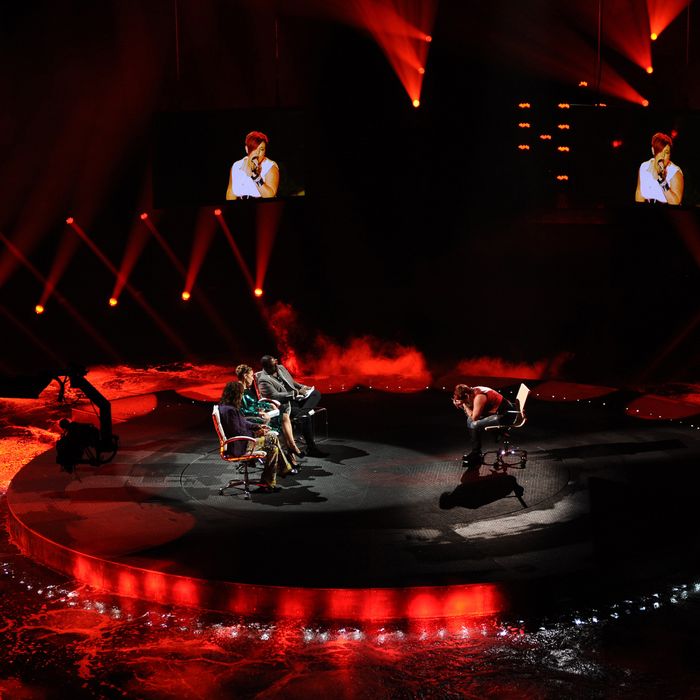 Photo: Michael Becker/FOX
Next week, we will finally — FINALLY — start being able to vote in this thing, but tonight, a grim Ryan Seacrest informs us, "FINAL JUDGMENT IS HERE." It is the American Idol rapture. 
The 42 remaining auditioners have moved down the Las Vegas Strip to the Wynn, where they will be performing one last time on the stage of Le Reve, which Ryan pronounces "Lay Rev." Do you mean to tell me that not one person in this massive production has taken high school French? Not even Cecile Frot-Coutaz? Appalling.
Ryan (who is not in a full suit and it feels strange, like seeing your homeroom teacher at the grocery store) reminds us that last year's Final Judgment was too much for Jennifer Lopez to take, by which he means she displayed human emotion, but still managed to keep her make-up game together. This year? I don't know. Probably fainting. Also, Jennifer is wearing a shiny green dress that reflects up into her face when she puts her head down. It looks like it is blinding. And Steven Tyler is wearing an ensemble from the Doug Henning collection.
This is stretched out to a degree that is outrageous even for American Idol, so I'm just going to tell you who made it and what I think of them. Cool? Great.
Jen Hirsh. If Rachel Berry were a real person and not a sloppily-written character on a show that's exhausting itself trying to be clever and relevant every fucking second, she would be Jen Hirsh. Brassy, brimming with the approximation of soul, a little too impressed with herself. There's no question she can sing, though. Bonus points for getting through that final Vegas performance while her outermost left fake eyelash was off playing its own game. She's through, and I see her making the top 12, and so does she.
Creighton Fraker. Jennifer describes him as "downtown New York but also Midwest." So, like, very tall but also short? All the way to the right but also all the way to the left? I describe him as Sam Harris but also Sam Harris. He makes exactly the kinds of noises I least like to hear, but his story is pretty touching: he was adopted as a toddler by a loving but stoic preacher's family, and never knew where his proclivity for shouting came from. And then one day he found his birth father, who is the lead singer for heavy-metal band Flotsam and Jetsam. When we finish up here, I recommend that you check out their Wikipedia page, because I am about to option the shit out of it. Creighton is through.
Lauren Gray. Remember her? The wedding singer from the St. Louis auditions? Who we haven't really seen since? She started strong but kind of lost her way in the last few rounds. Her final Vegas performance was so lackluster, all I could notice was the tube dress. (When you are backlit, no bare shoulders. That's a fashion tip from someone who is currently wearing pajama bottoms and Sanuk slippers.) She will not be moving on to the top 24, and they come right out and ask her if she'll try again, which she declines because she is a very young person who has just been cruelly disappointed in front of a camera crew and three billionaires. She handles herself well, considering. Oh, she'll be back.
Joshua Lidet. He is the Sienna Miller of this show, in that he is everywhere, and every time I see him, I think to myself, "who is this person I am seeing for the first time?" In fact, even looking at him and seeing his name on the screen, I have started to type JEREMY. Joshua is not a bit subtle; if he and Creighton ever do a duet, your speakers will hold out for a raise before they play it for you. But these judges love that kind of thing, so he is through to the top 24. I don't see him getting far, and I am almost always wrong about this kind of thing.
And then a montage of people who didn't make it, and we knew they wouldn't, because we've never seen their faces or heard their names before. Naomi Gillies. Blaire Sieber. Clayton Farhat. River St. James. Jo-Jo Potatoes. Susie Wilkes-Booth. Filthy Ol' Gayle. Goodbye to you all, and also to juicy-haired Neco Starr and ruffle-shirted Caleb Johnson, whose pleas to start his final Vegas performance again are met with silence from the judges and a cameraman straight-up submerging himself into the moat right in front of him. Caleb Johnson can't say he didn't see his fate coming.
Elise Testone. She is raspy and spunky and I like her even if she does look like Ke$ha's aunt. Of her singing, Elise says "I'm trying to convey every emotion I have," which is maybe a problem. Perhaps you could focus on one or two emotions per song going forward? She's in!
A tease from Ryan Seacrest promises that "later, more dreams will fall hard." Is "to fall" a verb we're using in reference to dreams now? Is anyone writing this show, or is Ryan just recording it on the fly between Shahs of Sunset edits?
Reed Grimm. Nobody on television is making more unsettling faces than Reed Grimm, not even anyone on the show Grimm, which is a show about monsters. He is definitely a compelling character, and there's no doubt he's talented, but there's something dark underneath all the grinning and drumming. The judges send him through, but warn him to cut down on the scatting. I say how about very little scatting, which we can round down to no scatting at all?
Erika van Pelt. She is the Jay Pharaoh of this competition, in that she does her job extremely well, but has no chemistry with any of the other singers, so nobody quite knows what to do with her. She really can sing, though, and she's through, and she has a massive, unfortunate mural of a back tattoo that I pray I never see again. I am rooting for her, and I understand that I'm not making that completely clear.
Chelsea Sorrell. I don't know who she is, but she's through. Congratulations, stranger!
Baylie Brown. She sang some kind of country thing at her final Vegas performance, and did so with leg-shininess levels of "Paltrow." Why are shiny legs a thing? I like my calves nice and matte. Steven Tyler puts her through thusly: "It doesn't give me pleasure to do this. In fact it makes me ecstatic YOU'RE THROUGH!" Guys, you don't have to banter if it's not coming naturally. Relax.
Richie Law. He has made it to the top 42, despite lacking the ability to sing well. He says "I feel like I've picked up a lot of cool things and incorporated them very fun." Oh, but he has not incorporated them fun enough, because he will not be going through. Ryan tells him, "Richie, I don't want to see your personality go." Ryan, I'd like to see your personality show up. I was worried Richie would be the Sanjaya of this season, but the producers made a wise choice here. Thank you, guys. Thank you very fun.
Heejun Han. He makes it through. I am typing this before they reveal whether he has made it through, because I am that confident about it. Think of all the trouble I will have to go through deleting that sentence if I am wrong! I am not. They play "Hey Jude" as he tearfully walks back to the holding area, because "Hey Jude" sounds a bit like "Heejun." I would like to salute American Idol's music supervisor, Someone Who Is On An Important Call.
Jessica Sanchez is one of those people that the producers just realized could do well, and are therefore hustling to give remedial screen time to. I think I like her? Though it's probably too soon to tell? Anyway, she is through, so we will have plenty of time to judge her.
I'm starting to wish they would just post a top-24 list on a bulletin board somewhere, like they do for high school musicals.
Phillip Phillips. You know how I feel about this gentleman. (For those who do not: this gentleman causes me to make turned-on Zooey Deschanel noises.) He does a Dave Matthewsy acoustic version of Usher's "Nice & Slow," and I enjoy it to a degree that makes me uncomfortable. He is through. He could stand to wear a collared shirt and a clean pair of pants, but love means accepting people the way they are.
Colton Dixon, who we're supposed to believe didn't intend to audition when his sister Schyler did, has made it through, as was his fiendish plan all along. He's got a lovely voice, and my advice to him is this: find a carbohydrate and eat the shit out of it right now.
Brielle von Hugel is the pushy girl with the pushy mom. She shouts all over "Killing Me Softly," while her mother talks about herself in the holding pen. It is all very unpleasant. Brielle makes it through to the top 24, where she will come in 24th, and it will be her mother's fault. Great job, Mom.
And tonight's cliffhanger, because they could not possibly list 24 names in only two hours, is whether prissy soul man Adam Brock will ascend to the next round, which he is absolutely going to. One more hour of this and then we can start voting, which I am anticipating very fun.