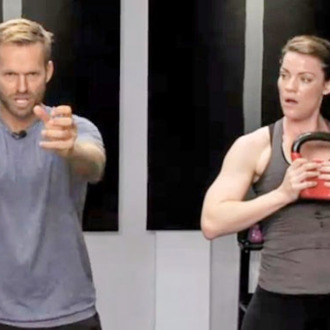 The Biggest Loser's Bob Harper, an Anchor Bay staple.
A little more than a week after its Planned Parenthood defunding/refunding controversy and a day after the resignation of the public policy chief who engineered it, Susan G. Komen for the Cure is still radioactive. Insiders tell Vulture that Anchor Bay Entertainment, one of Hollywood's largest producers and distributors of women's fitness, dance and exercise videos, is "submitting lists of new charities…to replace [long-time beneficiary] Komen," even after Komen's attempts to repair their PR damage.
While the home video giant (which first began partnering with Komen in 2008) is hardly a household name, its exercise icons definitely are: Pussycat Dolls. Tae Bo creator Billy Blanks. Walk at Home's Leslie Sansone. Indeed, if an American woman has exer-walked, punched, kicked, danced (or pole-danced) in front of a television in the last few years, there's a pretty good chance she did so with an Anchor Bay fitness DVD. And in a deal that lasts through October 2012, most of these videos come with a pink ribbon on the packaging, and a dollar from every $9.99 sale goes to Komen. The actual amount donated to Komen by the video company every year is unclear, but was described by an Anchor Bay insider as "a nice-sized donation: not huge, but six figures." (An Anchor Bay spokeswoman declined to comment.)
Unlike the rest of the DVD sales market, which plunged by 20% last year, the fitness video segment has actually been growing. Thank the recession, which has lead to massive cancellations of monthly gym memberships, and the popularity of reality TV shows like The Biggest Loser and Dancing with the Stars — the hosts of which have fitness video collections sold by Anchor Bay. (Bob Harper: Totally Ripped Core, anyone?)
An insider with knowledge of Anchor Bay's plans tells Vulture that senior leadership are seriously discussing their withdrawal, and are presenting charitable alternatives to Anchor Bay president William Clark. Whatever Anchor Bay's brass decides to do, of course, will still need to be approved by its corporate overseers at John Malone's Starz and Liberty Media. "This goes to the board," says our insider. "This isn't something we've come across in the past."
It will be interesting to see how Malone and his board will react to this politicized issue. A billionaire philanthropist who last year became the single-largest owner of private property in America (owning more acreage than the entire states of Rhode Island and Delaware combined), Malone is also a well-known conservative who serves on the board of directors of the libertarian Cato Institute. Komen's connection to Planned Parenthood is a political issue with conservatives, but if the Komen pink ribbon continues to make women see red, a continued affiliation with it could hurt video sales. Which will win out: business or politics?