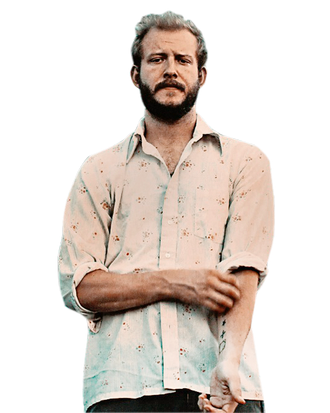 Bon Iver's Justin Vernon.
Photo: D.L. Anderson
There is much love in the month of February for ethereal-folk band Bon Iver and its helium-voiced singer-songwriter Justin Vernon: They are tonight's musical guest on Saturday Night Live, and, after an outpouring of critical acclaim last year for the act's self-titled second album, Vernon is up for a pair of Grammys. Vulture grabbed a few minutes with the front man at Manhattan's the Wooly, where his band hosted an event for Bushmills whiskey Thursday night. He started by telling us about his plans for the Grammys (as a reminder, Vernon has had an uneasy relationship with the Grammys since his multiple nominations were announced; he told Billboard at this very event that he refused to perform at the ceremony because he was asked to play with other musicians). An otherwise amiable Midwesterner, Vernon regaled us with stories about Japanese toilets, SNL, and Kanye West.
You seem like a dress-down kinda guy. What do you plan to wear to the Grammys?
I bought a suit from some really cool guys in St. Paul at a store called BlackBlue. They thought it was cool, and it was made in a good way with handmade shit. It wasn't imported from whatever. It was made well; it has a nice cloth.
And if you win, how will you celebrate?
The Grammys are as much for all of our parents. Brian's guest for the Grammys is his mom. Me and Nate's parents are going. [Editor's note: Nate Vernon, his brother, manages the band with Kyle Frenette.] We'll just celebrate in a way [to make them] proud.
So I guess you won't be partying with your friend Kanye West. What is it like hanging out with him?
He just came to our London show. He brought a date, and he wore a really nice suit. He's very capable of being very chill, actually. As a matter of fact, when we were working in Hawaii together [on songs for West's My Beautiful Dark Twisted Fantasy], I was definitely the guy that was partying more than him. He was more concerned with making the record good [laughs]. I think I drank more of his Hennessy than he did. He was mostly having bowls of Trix and making sure the session was going well.
In addition to performing on SNL, will you appear in any digital shorts or skits?
Nope. It requires a talent for acting and also a talent for having more time to give to acting that we don't have. So we kinda decided next time, maybe. We wanted to make sure we did well musically.
So in reality, how big is this week's host, Channing Tatum?
He's lean. Kyle's probably built bigger than him.
[Kyle Frenette chimes in.] I'm bigger than him.
I think Kyle works out more than him.
It's been reported you have collaborations in the works with Alicia Keys and the Flaming Lips. And yet your Volcano Choir side project is the most intriguing because it was reported as being "an album for the Japanese market." What does that mean?
Basically, all the guys in Volcano Choir are very into Japanese culture, Japanese music. We did a tour there that was very successful. All of us in Volcano Choir are from Wisconsin, and we want to be able to go to Japan once a year for the rest of our lives and make music that makes sense to those folks.
What's the best thing about Japan?
Their appreciation for the minute. The bidets in Japan are incredible — a lotta buttons. But you get super-clean, though. And there's, like, this bar in Tokyo run by this Japanese dude. It's a Texas cowboy bar. You go up seven floors, and all of a sudden you're in this dude's apartment — and you're in fucking Austin, Texas! He nailed it. He's playing George Jones. Wearing the full regalia. But it's nothing of a sexual nature, I assure you.
What is the preferred environment in which you like to drink whiskey?
Campfire. But not, like, stupid campfire — awesome campfire! We have a fire pit in our backyard in our house where we have meetings and where we record and sleep most of the year. We do s'mores or whatever, but basically drinking is more important than food.
Are your whiskey experiences more like Anchorman or Lost in Translation?
I'd have to say with the spirit of whiskey, Lost in Translation. I've watched Anchorman more times. [But] Lost in Translation, there's a spiritual essence to that film. There's nothing spiritual about Anchorman.