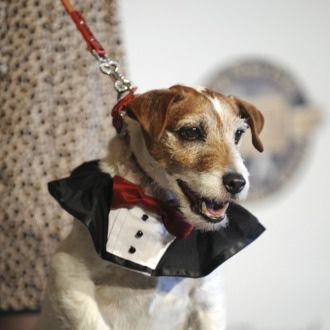 Bullied wonder-dog Uggie.
Photo: ROBYN BECK/AFP/Getty Images
When you're on top in Hollywood, there are plenty of jealous stars who'll try to take you down, and so it is that Uggie, the talented dog from The Artist, is the latest victim of a steadily mounting and increasingly vitriolic backlash (backleash?). The smear campaign has been heating up prior to this Sunday's Oscars, where Uggie's movie is expected to win Best Picture; just today, Tom Selleck took a few random swipes at the innocent Jack Russell terrier. What other celebrities have come out against Uggie? Vulture has a compiled a comprehensive list of Hollywood's anti-Uggie contingent, and the members may surprise you.
Tom Selleck: "I see [Uggie] do an awful lot of cute head-turns and winks and barks," Selleck sniffed to HuffPo, adding, "Joe won't do that." Joe is the golden retriever who co-stars with Selleck in his Jesse Stone movies, and according to Selleck, "I think Joe is the finest dog actor in the history of show business … He, in the audience's mind, is another person. He's Jesse's roommate, and he thinks like a human. That's hard to do." But is he really more capable than Uggie? "I haven't seen him in The Artist," Selleck admits, "but I still think Joe is better." Objection! Mistrial!
Michel Hazanavicius: You would expect the director of The Artist to be Team Uggie, and yet Michel Hazanavicius quickly nipped in the bud the nascent campaign to get Uggie an Oscar nomination. "He's a dog, not an actor," Hazana-vicious griped to the press. "He doesn't care about awards. And I would feel really uncomfortable if he was nominated in an actor category, because that means that he would take room from another actor, and that would not be fair." Hazanavicius dogpiled on even further: "He wants sausages, not awards." Mean!
Martin Scorsese: Upset that the Golden Collar Awards had snubbed his Hugo Doberman Blackie, Martin Scorsese penned an op-ed in the Los Angeles Times where he blamed you-know-who: "I listened in vain for Blackie's name to be called, and then to all the hullabaloo over a certain Jack Russell terrier named Uggie," Scorsese wrote. "Uggie plays a nice little mascot who does tricks … while Blackie gives an uncompromising performance as a ferocious guard dog who terrorizes children. I'm sure you can see what I'm driving at." Added the director, "I'm proud of Blackie, who laid it on the line and dared to risk the sympathy of her audience." Comedy is hard too, Marty!
Christopher Plummer: The Beginners star is firmly in the camp of Cosmo, the Jack Russell terrier who starred opposite him and Ewan McGregor. "We had the better dog," sniffed Plummer, who refused to be photographed with Uggie at Newsweek's Oscar roundtable. He went on to tell the Times, "Well you see, I think our dog was much more human, and actually much more professional, than Uggie. Uggie was such a circus dog. You never got to know him inside. The true Uggie never came out." Maybe because the true Uggie was dying of a mystery shaking disease? Have some compassion, Captain von Trapp!
Wendie Malick: According to Deadline, the Hot in Cleveland actress repeatedly mispronounced Uggie's name at the Golden Collar Awards, announcing that "You-gee" was the night's big winner. Way to ruin the best night of his life! How dare you!
Jean Dujardin: "It's just a dog!" Dujardin protested at the London Critics' Circle Awards. In fact, the human star of The Artist is trying to siphon Uggie's praise for use in his own Best Actor campaign: "When people say the dog is a good actor … I take it as a compliment for myself and the trainer." Selfish!
Billy Crystal: Like a tasty sausage, Crystal dangled before Uggie the chance to perform with him in a skit at the Oscars … and then cruelly snatched it back. That is no way to treat a dog who may have dragged himself out of retirement for your awards telecast! Would they do that to Sean Connery?
Kim Novak: We're just assuming.
Joshua Malina: How tired is this West Wing alum of Uggie's ubiquity? "I would like to hit Betty White over the head with Uggie," Malina recently tweeted. Lost co-creator Damon Lindelof picked up on the idea and expanded on it during his retweet, adding that he would like the attack to occur "while 'Moves Like Jagger' is playing." We are taking that as a tacit endorsement of anti-Uggie sentiment, Lindelof! Though we shouldn't be surprised, given that this is coming from a man who jealously curtailed the screen time of Lost's first-season breakout star, Vincent, and failed to give the dog even one flashback episode. (Even Rose and Bernard got one!)