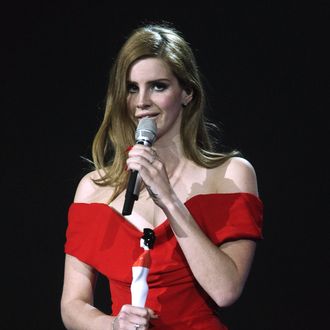 Photo: Dave J Hogan/Getty Images
The U.K.'s answer to the Grammys went down earlier tonight in London, and many musicians that you have heard of did things of note while at the ceremony. As she did at the Grammys, Adele swept the major categories, performed "Rolling in the Deep," and wore a black dress; unlike at the Grammys, she got cut-off and threw a hand gesture that could very definitely have been the bird. Update: Yup, it sure was! Meanwhile, Lana Del Rey, so soon forgotten in her native land, was given the "Best International Breakthrough award (over Nicki Minaj, Foster the People, Aloe Blacc, and America's own Best New Artist, Bon Iver).  She continues to look very nervous in public.
And then Rihanna, in her first public appearance since the Chris Brown double-remix decision (which, granted, was only a day ago), won the award for International Solo Artist. How did that speech go, you might be wondering, and did she go there? Not really, is the answer; she mentioned something about "feeling misunderstood," and she thanked her fans for their support "no matter what." But no names, and nothing rivaling her recent Twitter activity. (Low quality) video below.
Bonus Adele performance video (compare and contrast with the Grammys!):