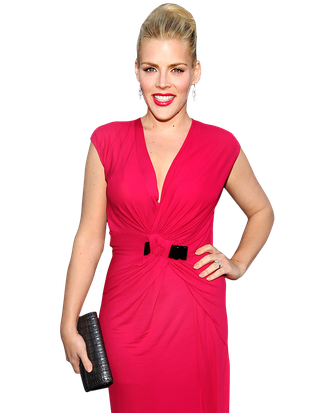 Busy Phillips.
Photo: Christopher Polk/Getty Images for VH1
Busy Philipps doesn't just have a cult following; she has at least four of them. Though the effusive blonde actress insists that it's luck and not discerning taste — "I audition for everything, all the shit," she assures us — her résumé is stacked with TV shows that inspire fervid devotion among fans, from the beloved-in-retrospect Freaks and Geeks to the Zeitgeist-defining Dawson's Creek. As Courteney Cox's crafty-but-scatterbrained sidekick Laurie Keller on Cougar Town, Busy has taken things to a new level: Her character has inspired countless animated GIFs, YouTube clips, and an in-character Twitter account (@thelarmy) with more than 30,000 followers. Off set, Philipps is the mother of a 3-year-old and nothing like scatterbrained Laurie. We spoke with her ahead of tonight's long awaited season-three premiere of Cougar Town about what's in store for Laurie, showing off her moles, and getting dissed on Dawson's Creek.
There was this moment of panic across the Internet when both Cougar Town and Community didn't have return dates.
I know, how sad! All they needed was to yank Parks and Rec for there to be some sort of mass suicide pact online.
Did you have flashbacks to Freaks and Geeks?
That was a crash course in the helplessness of being on a network TV show, because back then, we were on everyone's "must-watch" list — and I'm not kidding when I say I think I saw one ad for it. One. In the entire run of the show. It is really frustrating, and as an actor it's something that you have to come to terms with. I'm an actor who works, and a lot of this is luck for me, that I get to be a part of really great shows that have these cult followings.
You do have quite a track record.
It's surely by accident, because I audition for everything, all the shit. Well, I'm a little bit pickier now, but back in the day — certainly, with Freaks and Geeks, that was pure dumb luck that I got on that show and not one of the other 400 terrible teen shows that were around that same time. And then I went on to do sort of a terrible teen show! [Laughs.]
What can you tell us about what's happening with Laurie in season three?
She's really grown up in these three years. I'm really proud of her! Laurie starts a business in Gulf Haven, and it's surprisingly successful. She starts to have a real relationship with a man via Twitter and Skype, who is played by the adorable Edwin Hodge. And he's stationed in Afghanistan, in the army.
In the two episodes I previewed, you're wearing the same shirt in both episodes. Is there some kind of hidden meaning to that?
Anybody who works with me knows this: I always repeat wardrobe in my characters. We're trying to play real people. I think it was last season where people online were tweeting at me, "Why are you always wearing that yellow belt?" And I was like, "Durrr, because it's Laurie's favorite belt! Why do you think? She f-ing loves that belt. She got it at Claire's Accessories, and she wants to wear it all the time!"
I'm going to ask you a question and you don't have to answer it —
Is it about Michelle [Williams]?
No! But I do have one of those, so now that you mention it, I'll get it out of the way. I saw some really adorable pictures of you two celebrating after the Golden Globes. So in my head, your supporting role during awards season is like maid of honor. Is that accurate?
[Laughs.] You're totally right. I have the emergency kit in my purse that has double-sided tape and Tylenol, and a small energy bar. I'm the one that has an extra lip gloss just in case. I mean, look: I think the reason why people are interested in our friendship now is only because I'm a little more visible than I was five years ago, when I accompanied her to literally every awards show for Brokeback Mountain. It's funny to us. We just love each other and we're really good friends and we happen to have the same job, you know? Similar jobs. I mean, Michelle's not on Cougar Town.
Sadly.         
Sadly, I know. I remember I pitched her the first season, and I really didn't get much traction from the group on it! Like, "All right, well, forget it. I'm not gonna call in that favor!"
You talked a little about the weirdness of going from Freaks and Geeks to Dawson's Creek. Looking back, how do you compare those experiences?
Freaks and Geeks was a show where our individuality was really celebrated. Linda [Cardellini] and I were told by executive producers, "Please don't lose weight, don't change your bodies, don't do anything weird to your faces." I had been told early on by a [different] producer — this is no joke — that I should have all of my moles removed. And really, the thought is so fucking ludicrous. So I would have scars instead of black spots on my body? Now that I'm a wiser, older human, when I do photo shoots, I specifically say, "Please do not airbrush my moles out." Because they will do it, to make you homogenized.
Sorry, got off track. I do that. So I went from a show where our individuality was really celebrated and our input was encouraged, and we were encouraged to improvise, and Judd [Apatow] or Paul [Feig] would often say, "You guys know what this is about. Why don't you guys just do the scene and say the things you want to say?" And sometimes that would make it into the show and sometimes it wouldn't. But it was just the feeling that our voices counted.
And then I went to Dawson's Creek, which is a show that was, for better or for worse, all about the language. It was a word-perfect show, which I'd never had any experience with. And it was really shocking for me. I felt really hemmed in. At the time, it wasn't my favorite working experience. And here I was with six people who had been catapulted to stardom because of their show, and I was coming from a show where all we wanted was ten more viewers. It was a really different experience. And that being said, I enjoy watching Freaks and Geeks more. As a person, that's more my sensibility anyway than Dawson's Creek; I wasn't a watcher of Dawson's Creek before I got the part. I also felt — which is something that I talk about in therapy all the time, because I always feel disrespected — but they left my character Audrey out of the series finale and my feelings were really hurt. On top of everything else, I felt like I had done 44 episodes of the show, and then they didn't even want me in the series finale? I just felt like no one particularly cared about me. And in fact, I remember at one point somebody referencing us as "talking props." As an actor, not the best feeling! It's like, you're just so easily replaceable, we can literally put anybody in your place and they can just do what you do, because you just have to stick to the script, hit your mark, and say your lines. But it was also a good learning experience! And you know, I met my BFF. You get things out of every job.