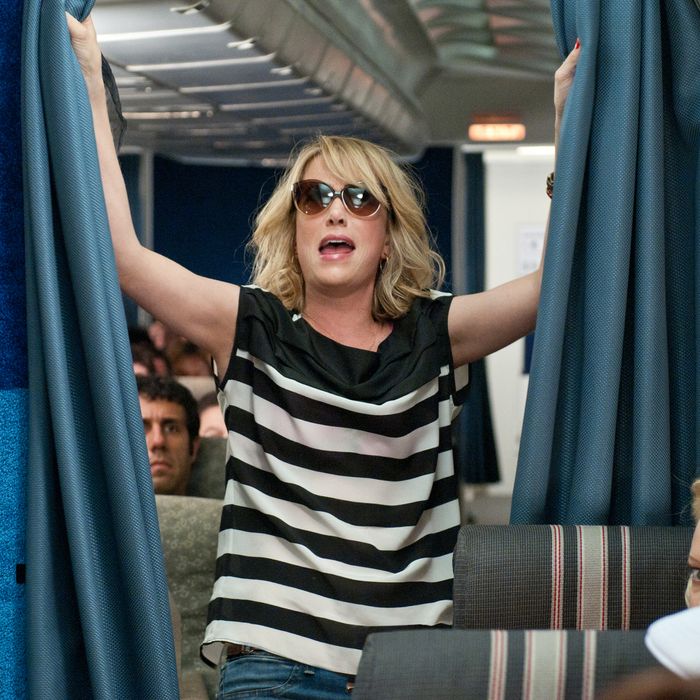 Kristen Wiig in 'Bridesmaids.'
Photo: Photo Credit: Suzanne Hanover/Copyright: ? 2011 Universal Studios. ALL RIGHTS RESERVED.
Once upon a time, we wondered whether Kristen Wiig was deserving of an Oscar nomination for her role in Bridesmaids, and though she wasn't able to crack the tough Best Actress category, Wiig did get a Best Original Screenplay nod for co-writing the movie with Annie Mumolo. It's one of two Oscar nominations managed by Bridesmaids, and while Melissa McCarthy will likely fall to Best Supporting Actress front-runner Octavia Spencer, we think Wiig and Mumolo actually have a good shot at triumphing in their category. It isn't a sure thing by any means — and there's one big obstacle in their way — but here are several things Wiig has in her favor.
FOR HER: The Academy likes actors who star in their own scripts.
Billy Bob Thornton (Sling Blade), Emma Thompson (Sense and Sensibility), and Ben Affleck and Matt Damon (Good Will Hunting) all famously won Oscars for movies they wrote and starred in. In fact, Woody Allen's been nominated more than any other screenwriter, but he's only won for two films he himself appeared in, Annie Hall and Hannah and Her Sisters (which doesn't bode well for his Midnight in Paris nod, since he's not actually in the movie). The system isn't foolproof — George Clooney, Owen Wilson, and Nia Vardalos went home empty-handed after scripting their own roles — but this is the sort of thing that can definitely give Wiig and Mumolo an edge.
FOR HER: Bridesmaids didn't get a Best Picture nomination, but that's okay.
Occasionally, the screenplay winner comes from a left-of-center movie that didn't even make the Best Picture cut. That bodes well for Bridesmaids, which had across-the-board guild support yet failed to make the Academy's Best Picture short list, much like recent Best Original Screenplay winners Eternal Sunshine of the Spotless Mind, Talk to Her, and Almost Famous. (It's much harder for a film with no Best Picture pedigree to break through in the Adapted category: The three most recent examples are Gods and Monsters in 1998, Sling Blade in 1996, and then The Bad and the Beautiful in 1952.)
FOR HER: Comedies often fare well in the screenplay categories.
Flat-out comedies Juno and Little Miss Sunshine have both won the screenplay Oscar, as have a bushel of comedy-dramas including Spotless Mind, Lost in Translation, Almost Famous, American Beauty, Shakespeare in Love, and Sideways (and several of those were simply classified by the Golden Globes as comedies, for what it's worth). Still, it's not enough to simply make an audience laugh: You've got to have heart, too, and Bridesmaids has that in abundance, as well as a surprising amount of genuinely sad, emotional scenes.
FOR HER: They'd give a great speech.
If voters make their decision partially on whom they'd like to see up at the podium, who better than two improv actors to riff and add some laughs to the Oscarcast? In fact, the Academy could seize the chance to honor two other Groundlings alumni in Best Adapted Screenplay, where Nat Faxon and Jim Rash (the dean on Community) are nominated for their Descendants script. Back-to-back funny speeches on Oscar night … what a great way to enliven the ceremony's often-dull second hour.
AGAINST HER: Bridesmaids is up against The Artist.
The Artist is practically a mortal lock for Best Picture at this point, and it's very rare that the Best Picture winner doesn't also scoop up a screenplay Oscar. It has happened: Million Dollar Baby and Chicago both won Best Picture after getting shafted in the screenplay categories, but they were competing in the Best Adapted Screenplay race. You'd have to go back further to find an example of this occurring in the Best Original Screenplay category, and it's not an instructive one: Good Will Hunting won the Oscar in the year Titanic won Best Picture, but famously, Titanic didn't even get a writing nomination. Still, we're pulling for Kristen and Annie: If there's any category a silent movie is weak in, it's the one that rewards dialogue.