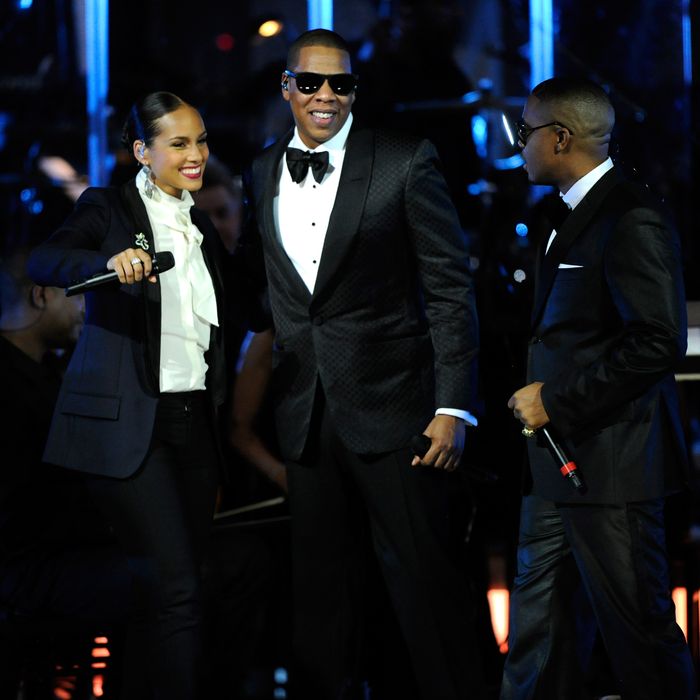 Alicia Keys, Jay-Z and Nas perform at Carnegie Hall to Benefit the United Way of New York City and the Shawn Carter Foundation on February 7, 2012 in New York City.
Photo: Kevin Mazur/WireImage
Shawn "JAY Z" Carter — that's how he's billed in the programs, sans hyphen — has now played his two nights at Carnegie Hall, two shows that were as much about social status, economics, and the various strata of New York society as anything Tom Wolfe has ever dreamed of writing. Fittingly, the concerts were also about all of those things for charity — the United Way of New York City and the Shawn Carter Scholarship Foundation. There was generous see-and-be-seen seating time before Tuesday's show, during which many, many people had their pictures taken with former Giant Michael Strahan in the center aisle. There were young guys in tuxedos and sunglasses excitedly mixing the kind of swagger that grows in Brooklyn with the kind that grows in midtown and on Wall Street. There were outfits that insisted the wearer comes here often; outfits that insisted the wearer does not come here often, and perhaps likes it that way; and outfits that said the wearer doesn't come here often but is self-conscious about dressing appropriately. There were preppy teenagers whose parents brought them and city natives who were proud to have brought themselves. There was also a lot of insistence that the night would "make history," which surely meant the social kind, not the musical one.
After all, these shows weren't about making use of Carnegie Hall's advantages as a performance space — things like sensitive acoustics and comfortable seating only get in the way of a good hip-hop show. They were about Jay-Z making use of what Carnegie Hall represents — a venerable gate hip-hop hasn't fully stormed yet — and about Carnegie Hall using a New York entertainment institution to remind people that it's one, too. It's a handy trade, makes for a fun night, and should provide a scholarship to someone who can use one. Onstage, Carter talked about tearing down the walls that divide different kinds of music, but no such thing took place, and I doubt anyone in the audience would have wanted it to. People wanted to hear Jay-Z play the same kind of music he always does, only in a fancier room.
Which he did, with a monumental amount of charm and an irresistible chumminess. Imagine standing in concert-hall proximity to the stage and hearing a bit of Billy Joel's "New York State of Mind," followed by a bit of Gil Scott-Heron's "New York Is Killing Me," followed by tuxedo-clad Jay-Z and tuxedo-clad Alicia Keys playing "Empire State of Mind" — in Carnegie Hall, which, incidentally, is in New York. Then: Queens rapper Nas emerging to do "N.Y. State of Mind" (plus "If I Ruled the World"). Meanwhile, Beyoncé — who is genuinely radiant, even seen from a hundred yards away through an outdated prescription — bumps and mouths along with everything from the balcony. Chris Rock is here, with the same friendly, beleaguered expression as usual, and recognizable from any angle by the way he moves his hands when he talks; Jay-Z asks the audience to wish Rock a happy birthday before doing "99 Problems." ("I got this language from him," says Jay-Z. The audience salutes Rock as if we all shared a cab with him on the way over.) The band features Questlove on drums, Bilal on backing vocals, and a largely inaudible orchestra conducted by Jeri Lynne Johnson, who appears to enjoy herself as much as anyone. The repeated insistence that tonight will "make history" seems a lot more plausible at the finale, which includes what will almost certainly be the universe's only instance of an entire Carnegie Hall crowd rapping the first verse of "Juicy," unaccompanied by anything but a couple scratches to suggest a beat.
It's all hard to top. Between the tuxedos, the height of the hall's balconies, and the extent to which the music flatters us for being in New York, the whole thing begins to feel as if Manhattan is a massive cruise ship, and the people here are the passengers lucky enough to visit the finest ballroom for the finest entertainment, and not even feel guilty about it because the songs they're hearing, and the significant amount of money they paid for the privilege, are all dedicated to the people in steerage.
Last fall, Jay-Z published a book, Decoded, about his life and lyrics. Its text is one of the most marvelously deft pieces of self-definition I have ever seen — a gorgeous rhetorical performance that seemed designed to persuade every last reader, and maybe especially the sorts of readers who spend time at Carnegie Hall, that they have to respect both hip-hop and Carter himself. It spoke of the lessons he learned as a youth in the projects, and from his work as a crack dealer, and how they play out in his songs — but it spoke of all that in the gentle, reflective voice of someone who's now a tuxedoed philanthropist and thoughtful wordsmith. (It's like reading a self-made billionaire sausage magnate look back at his years chopping meat on the cutting floor.) More than anything, the book — and the way Carter promoted it with events like an interview at the New York Public Library, with the editor-in-chief of The New Yorker in the front row — seemed like an introduction: Jay-Z explains himself in the language of the cultural elite, and they officially welcome him into their social stratum, thereby relieving themselves of the need to enjoy Mos Def. (Carnegie Hall performance: 2008.) After all, Carter is a rapper who, when co-founding a record label in the mid-nineties, didn't name it with a pun on, say, a crime figure like John Gotti. He punned on the name Rockefeller — the New York family of trustees, philanthropists, politicians, and so on running straight back to the mindbogglingly wealthy Gilded Age industrialist rivaled only by peers like … Andrew Carnegie, whose name is on this hall.
I mention this only because dextrously switching personas is one of the things that Jay-Z, onstage, is best at — he's picked up countless different roles over the years, and he manages to play several of them at the same time, charming everyone present. He can be the cheeky popular entertainer, or the tough guy, or the cold businessman, or the elite philanthropist. Like Sinatra, he could perform for wealthy businessmen while also being one of them. He can do a laid-back, giddy cool, which is how he spent much of Tuesday's show: always making that hand movement that looks like he's holding a needle and putting the final stitch in the line he's delivering, just so. Appearing on the third balcony for an encore, amid a crowd of people who seemed not to know what to do with themselves now that he was standing beside them, he even managed some avuncular teasing of the one guy who tried to set up a photo: "C'mon, homeboy — don't lose your cool, just rock with it." He now has "family man" in his pocket, too: "Glory," the song he recorded after the birth of his daughter, turned out to be one of the most gorgeous performances of the night. His mother Gloria, president of the scholarship foundation, sat down front. Lines that alluded to his wife came with a turn toward the balcony hosting Beyoncé and her whole air of resplendence.

Jay-Z is good at all of these roles. And now that I've seen him in a tuxedo doing "Young Forever" to stacked balconies in a concert hall — Alphaville's eighties slow-dance music pinging sentimentally off the walls, people in formalwear — I think we could add "cruise ship entertainment of your dreams" to your list. So the successful trading continues, in which Jay-Z gets to seem like he's crashing the cultural institutions of the old-guard elite (even if it'd be a million times more history-making to hear Kronos Quartet played on Hot 97), the cultural institutions of the old-guard elite get to play host to someone genuinely megapopular, a few passengers on the great ship Manhattan have a fine night, and even if you suspect there's an iceberg involved in all this somewhere, it's hard to get a clear look at where it might be.