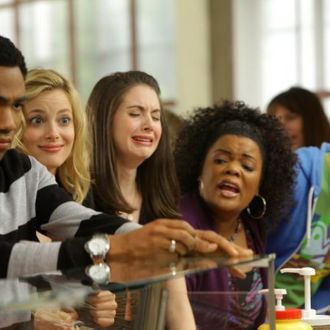 The Daily Beast collected the women of Community — Alison Brie, Yvette Nicole Brown, Gillian Jacobs, and writer Megan Ganz — in a room on the last day of shooting season three and got them talking about the hiatus, Chevy Chase's inappropriate jokes, and the chances Community will be canceled. While discussing the possibility of Community's demise, Jacobs and Brie started to cry. And then everyone hugged. And then they made jokes. Awww. Here's the very sweet scene that went down when the ladies were asked how they would feel if this was their last day on set:
Jacobs: I'm going to cry. It so far exceeded my expectations of what the show would be. This is one of the best pilots I've ever read, so already my expectations were high. Then shooting the pilot—[Jacobs begins to cry.]

Brown: Oh, it's OK, Stinkers. She's such a pretty crier. My God, she's a pretty crier.

Jacobs: I've never worked with a group of people that have impressed me so consistently on such a daily basis. I feel like given the nature of this show, we've been thrown everything from an action movie to a noir to My Dinner With Andre. Everybody rose to it every single week. The writing and the creativity and the scope and the ambition of the show has been—[Jacobs's sobbing becomes ragged.]

Brown: Oh, well. I can't sit here and not hug you. [Brown and Brie embrace Jacobs.]… Whether we come back or not, whatever happens, this will be a show that will be studied. There are people studying Community. The totality of this show, people will look back and go, they really did change every week.

[Brie begins to cry.]

Brown: Oh, Stinker, what's happening? Oh, my girls. Oh, my little pumpkins.

Brie: This is so cliché for the women-of-Community interview. "Then they all cried."

Jacobs: And they got their periods simultaneously!

This deserves another awwww. So, awwww.