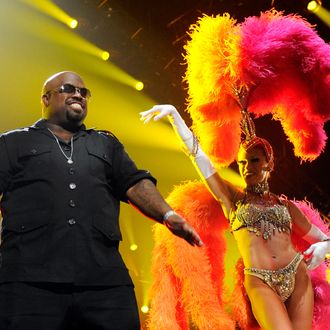 Photo: Ethan Miller/2012 Getty Images
Cee Lo Green is writing a memoir, which will be published in 2013, Grand Central Books announced. The book will also include "insights" from Big Gipp. If Green's author's statement from the press release is any indication of what the book holds, we are all in for a real magical treat:
"Talk about art imitating life? Enter into the super-natural, the surreal and the extra-ordinary that is [Cee Lo Green.] Do you think this is by chance? CRAZY? FORGET YOU? After reading this book, there will be no doubt that I am meant to be. CEELO GREEN A.K.A 'everybody's brother' will make you a believer, not only in me, but also…yourself."
The book is thus far untitled, but we bet Cee Lo can come up with something.