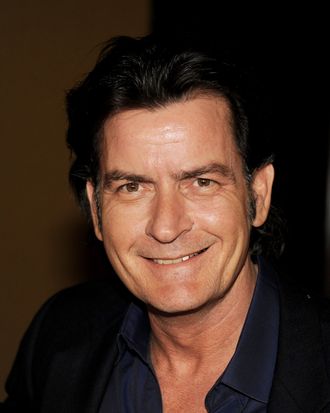 Actor Charlie Sheen appears at Fox's All-Star Party at Castle Green on January 8, 2012 in Pasadena, California.
Photo: Kevin Winter/Getty Images
Charlie Sheen once had nothing but compliments for his Two and a Half Men successor Ashton Kutcher, but in a call to TMZ Live today, Sheen decided to let Sheen be Sheen. "I'm tired of lying," said the actor. "I'm tired of pretending the show doesn't suck, I'm tired of pretending like Ashton doesn't suck. I'm tired of pretending that they're not completely adrift, because when you take away the anchor of the show, which they stupidly did, you go adrift." Added Sheen, who recently signed a deal with FX to star in the comedy Anger Management, "It's nothing personal, I just feel bad for him. He's saddled with such bad writing. I mean, I had some pretty bad writing over the years, but when the show was good, it was great … There's just nothing about it that's fresh or interesting. I forget it's on the air." That's very clear! He is forgetting it's on the air so hard right now!