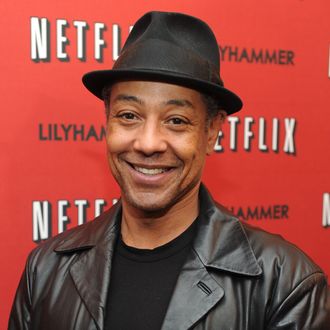 Photo: Jason Kempin/Getty Images
Tonight, comedy-loving Americans will suffer through another NBC Thursday night lineup devoid of the joy that is Community. So how 'bout some news to salve your pain: Vulture has learned that Breaking Bad star and future Emmy-winner Giancarlo Esposito is paying a visit to the Greendale gang. If your face hasn't melted off yet, read on for some details about his character.
We've confirmed that Esposito will appear in an upcoming episode as a business associate of Pierce's late father, Cornelius Hawthorne. While the exact reason for his visit is being kept under wraps, we're going to assume that anyone related to Pierce's racist dad can't be a particularly nice guy. Which is just fine by us, since Esposito (who played chicken-and-meth-king Gus Fring on Breaking Bad, just in case you didn't know) has the whole "antagonist" thing down pat. Esposito began work on his Community episode this week. Just when Esposito's half-hour will air is unclear, in part because NBC has not yet set a return date for the show. If you need an Esposito fix sooner, the actor is currently recurring as the Magic Mirror on ABC's hit Once Upon a Time. Or you could just do what we do: Devour episodes of Breaking Bad on an endless loop.