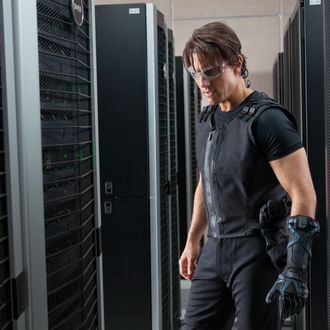 Left to right: Tom Cruise plays Ethan Hunt, Paula Patton plays Jane, Simon Pegg plays Benji, and Jeremy Renner plays Brandt in MISSION: IMPOSSIBLE – GHOST PROTOCOL, from Paramount Pictures and Skydance Productions.
Photo: Paramount Pictures
We all have parents who occasionally embarrass us in front of our friends, but rarely do they go to the extent that Cuba Gooding Jr.'s father went to during the filming of Jerry Maguire. Gooding Jr. taped an episode of U.K. chat show The Graham Norton Show this week, and he revealed that he once had to bar Cuba Sr. from the set after a very, very awkward first meeting with the movie's megastar. "He gave Tom Cruise a hug and said, 'I love you, man. Now seriously, are you gay or not?'" recalled Gooding Jr. "I almost fainted. And thought, Please, lord, let me disappear." Cuba Sr., you went there. Fortunately, Cruise took it in stride: "Tom just laughed and said 'No.'" And then sued? No? He didn't? Phew.