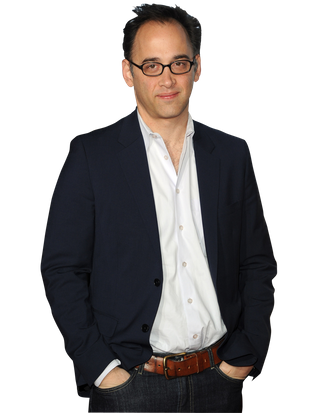 David Wain.
Photo: Jason Merritt/Getty Images
The nineties sketch-comedy troupe The State has bred much talent, including Ken Marino (Party Down), Thomas Lennon (Reno 911! ), and David Wain, whose latest movie, Wanderlust (co-written by Marino), opens this weekend. Vulture spoke with the director of the yuppies-meet-hippies comedy (starring Paul Rudd, Jennifer Aniston, and Justin Theroux) to ask him inappropriate questions about nude scenes, kissing, and that Wet Hot American Summer sequel.
This movie is rife with one-liners. Was there a lot of ad-libbing?
Everyone in the cast was at liberty to improvise. Even during the editing process, we'd record audio lines off-screen. There's always a chance for more.
There's this bit with Paul Rudd riffing in a mirror about propositioning a woman. Were you shocked by the filth that came out of this nice guy's mouth?
Um, no. [Laughs.] He certainly has that ability to be that bawdy in real life. "Like your erection selection," that was just another thing that was written on the page — and Paul just kept going. That's what makes that scene so crazy. "I wanna get it all up in your vadge!" I was pretty amazed. We were laughing so hard on set. But that's part of the reason I work with Paul Rudd over and over again.
One thinks of Jennifer as a rom-com person, but not necessarily as a comedienne. Did she play along?
She absolutely did. She jumped right in with everybody else. I was really pleased. I think it was fun for her, to jump into a different type of comedy with a group of people she didn't know, as well. She has the comfort zone with Paul since she worked with him [on 1998's The Object of My Affection and also on Friends].
Was she your casting coup?
And also Alan Alda [who plays the leader of the commune]. He was a dream choice. It never occurred to me he'd say "yes." He initially passed on it, but then we e-mailed a little bit. Then coincidentally we were both in Chautauqua, New York, the same weekend. It was very random. We had the chance to meet each other, sit down, and talk about it. I think he liked the script but wanted to make sure there was an intelligence to it or something like that.
How did Justin Theroux come to mind to play a hippie leader?
The only other time I worked closely with him was when he played Jesus in my film The Ten. So he had the long hair, the beard, and was larger than life … so it was almost a cousin to that character. In fact, Justin Theroux was really the only person that we wrote the script with in mind.
Do you feel like a proud papa now that Justin and Jennifer are dating?
Having done a few films now, there are always some people who hook up on sets, 'cause it's a very intense environment. Everyone in the cast and crew really got along. We were all on location in Georgia, and the communal bonding experience on the screen was [the same] among the cast and crew. But there was certainly no specific relationship between Justin and Jennifer.
If Jennifer and Justin marry, would you offer to be a Flower Man or Drunken Speech Guy at the wedding?
I'm officially, publicly offering on Vulture right now.
Have you ever been stuck in a situation with a lot of hippies around you?
When I was younger I went to a Rainbow Gathering, which was this really hardcore stepping out in the summer with naked people making rice and stuff. But I think that if anything directly inspired this movie in my life, it was more working in comedy groups like The State, where you're working as a democratic group different from the way mainstream society tells you to.
How did you prepare everyone for your old State-mate Joe Lo Truglio's persistent nakedness?
He was naked a lot! It was really awkward at first, but after a couple of days nobody thought about it anymore. There were so many naked people in general around the set. Also, his penis was fake. It was a stunt penis.
Was this so Wanderlust could get an R-rating and not NC-17?
No. Honestly, it was so that we weren't looking at a real penis all day long every day.
What does your wife make of the star-studded Wainy Days Make-out MegaMix going around online?
She said, "I'd rather you do that onscreen than off-screen." I also made out with my wife in Wainy Days, so that's something.
What is the key to kissing onscreen?
Just relax and get that tongue-wag.
While we're on the topic of bad kissing, what's going on with that Wet Hot American Summer sequel?
Michael Showalter and I are writing a script as we speak, making our early arrangements to get it done.
Where is it going to pick up?
That is classified. I got no answers for you on that.
Which characters will return?
Most of them.
What's with all the secrecy?
[Cackles.] I'm trying to keep an air of mystique about it.