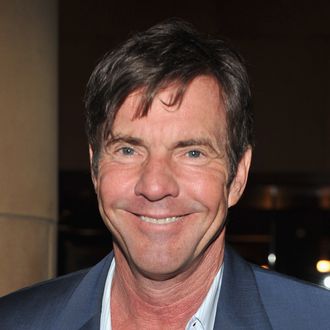 Our spies tell us that Dennis Quaid negotiating to star as the lead in CBS's newly green-lit Nicholas Pileggi pilot, Ralph Lamb, and he'll be squaring off with Michael Chiklis. Pileggi is best known for writing Goodfellas and Casino, and Ralph Lamb is his look sixties Las Vegas from the eyes of its lawman, a real-life former rodeo cowboy who became the longest-serving sheriff of Clark County during most of the sixties and seventies. Quaid would play Lamb, while Chiklis is signing on as his mobster nemesis. James Mangold, who directed Cop Land and 3:10 to Yuma, is directing the Lamb pilot.
It's not a done deal for Quaid yet, but word of the negotiations is intriguing, since we once heard a lot of credible chatter about the effort to recruit him to Shawn Ryan's own ABC pilot, The Last Resort. The medium is clearly on Quaid's radar.
Lamb had been previously approached by Sam Peckinpah, who'd intended to have Clint Eastwood play him on the big screen, but the Wild Bunch director passed away before he could move beyond the film treatment he'd crafted. Despite eighteen years on the job as sheriff, Lamb famously never shot anyone (despite being shot at more than a few times) but threw plenty of punches while helping the FBI build its cases against the Vegas mob. Having seen Quaid as Doc Holliday in 1994's Wyatt Earp ("All of you can kiss my rebel dick!") we think Lamb is one role Quaid was fairly born to play.
We say: Make the deal, laaaaaa-aa–aaads!