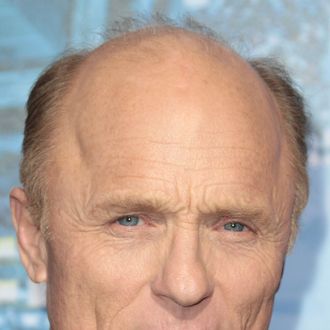 Ed Harris
Photo: Frederick M. Brown/Getty Images
Will the former co-star of The Rock now co-star with The Rock? Insiders tell Vulture that Ed Harris may be starring in Pain and Gain, director Michael Bay's long-gestating ripped from the headlines thriller about several boneheaded Miami bodybuilders whose plot to kidnap, rob and murder a wealthy businessman yields decidedly mixed results: The left-for-dead victim recuperates in secret, and then hires a private detective to track down his kidnappers and exact revenge. 
Dwayne "The Rock" Johnson is already aboard, and at a junket for his forthcoming Journey 2, he insisted the crime caper was "on the right track." While no formal offer has been made to Harris, we're told the actor is in talks about playing the P.I. in what has acquired the Hollywood sobriquet of "Michael Bay's Fargo." 
Pain and Gain, of course, is also the major carrot being dangled before Bay by Paramount to get him aboard a fourth Transformers movie, so Gain's development should be of keen interest to those interested in giant human and synthetic lunks.